Why should you choose a Sportsman Boat?
Welcome to the Sportsman family. We pride ourselves in being the fastest growing line of family-friendly center console boats in-class. Much of what we do is inspired by our families and as boaters ourselves, we recognize what makes a great family boat, ready to take you and your family on the best adventure of your life. Make memorable trips that you will treasure and daydream about for the rest of your life. Meet some great people along the way and discover why so many families enjoy the water on a weekly basis.
For more information about Discover Boating, please visit http://www.discoverboating.com/

Here are some reasons why so many families have chosen Sportsman Boats
NMMA Certified
All of our boats feature NMMA certified construction for the highest standards in safety, comfort and quality.
Did you know that an NMMA Certified boat is 7 times less likely to have a safety-related recall? Safety is a top priority at Sportsman Boats and this is just one of the many steps we take in making sure that all of our boats meet and exceed safety standards. Through the yearly certification of each model in our lineup, we are able to maintain our certification. One very important thing about NMMA Certification is that it is an all or none, a manufacturer can not pick and choose what models are certified and which ones are not. Either all models are certified or none of them are.
SportLink® Electronics Integration System
All of our boats include SportLink® Electronics Integration System, a comprehensive electronics package powered by Garmin and JL Audio featuring large color touchscreen multi-function displays with built-in integration for high-quality audio, GPS, autopilot, radar, weather, fishfinder and so much more. We have done the leg work for you, researching the perfect mix of high quality electronic components that all work seamlessly and are able to allow you to just focus on feeling confident operating your boat in any condition. Each model has a set of electronics that complements the boat's size and typical use. The standard package is more than sufficient to get you boating right away though some additional options are available to expand your system's capabilities.
To top it all of, all the components are backed by a 3-year product warranty from their respective manufacturers. This warranty is exclusive to Sportsman Boats and is not matched in any other boat.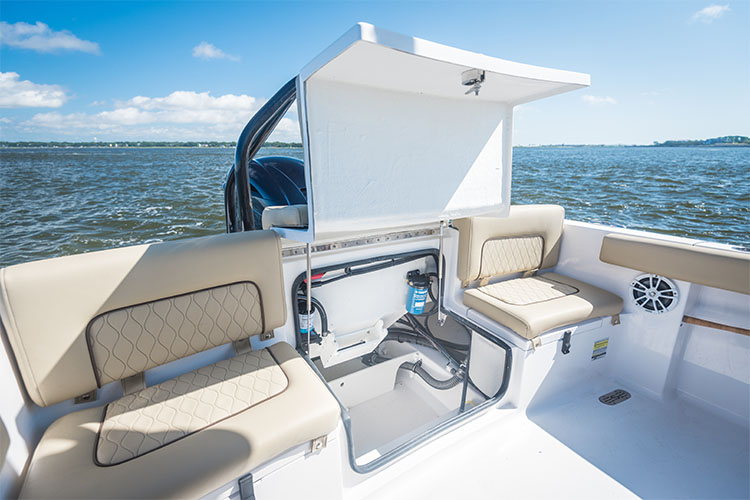 Total Access Hatch
We recognized that poor access to the bilge was a pain point for a lot of boaters and set to change this with our designs. All of our boats have patented large fiberglass total access hatches at the rear designed for easy access to all maintenance components. They also provide additional storage space for bulky things like lifejackets, casting nets and diving gear, just to name a few.
Ride
All of our boats have superior ride quality offering you unparalleled performance and fuel economy. Our manufacturing process ensures you will have a high quality boat for many years to come that is dry, safe, functional and comfortable.
Innovation
All of our boats are built with advanced composite materials on modern hull designs. Innovation is at our core foundation and is a daily endeavour for us. We work hard every day to offer you a superior product that puts your family first while maintaining great fishability, offshore capability and amenities for a serious angler.
Very happy with our purchase. Boat rides well in all types of conditions, and having the twin motors make it very maneuverable. I would recommend this boat to anyone!
- Daniel
With a perfect blend of family comforts and angler-driven features, the Heritage and Open series are designed for offshore family fun. Ranging from 21 feet to 31 feet, they blend features and amenities only previously seen on boats much larger in size. Some of the highlights include Total Access Hatches for easy maintenance and storage, Side Entry Doors, Anchor Windlass Systems and single/twin engine options. The features go on and on, making these models superior for offshore family cruising and fishing.
The Masters and Tournament series both offer unparalleled shallow water performance. Typically seen carving the more remote areas and finger channels, getting you where the big boats can't go. The Masters feature some of the same features as our offshore counterparts but with re-imagined bay boat layouts. The Tournament has a more shallow draft, while still retaining the family comforts you'd expect from a Sportsman Boat.