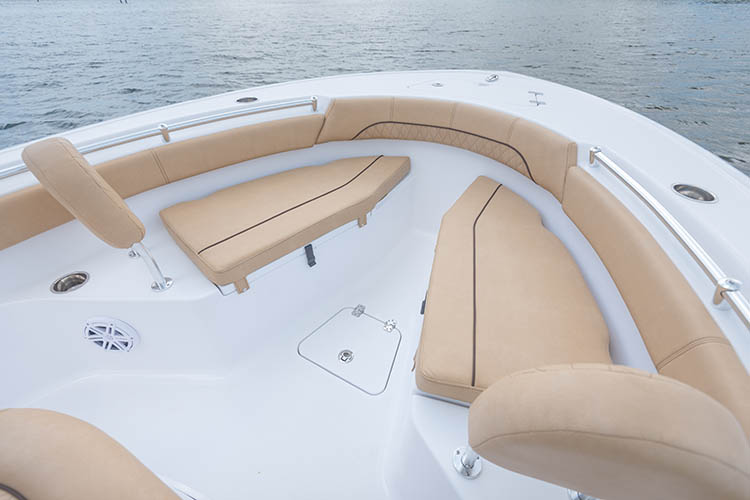 Comfortable Bow Layout
The bow of this boat is designed with entertainment and versatility in mind. Features wrap around seating with all the cushions, removable backrests, 2 easily accessible large insulated fish boxes, drink holders and speakers to play your favorite tunes.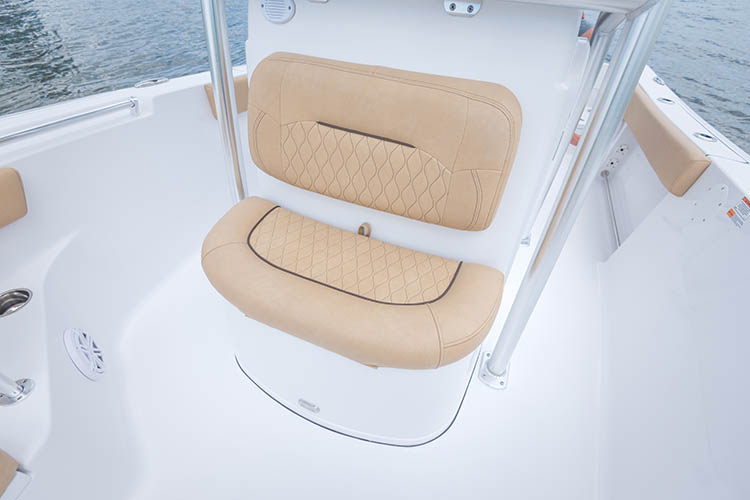 Console Front Seat
Comfortable console-front seat with backrest.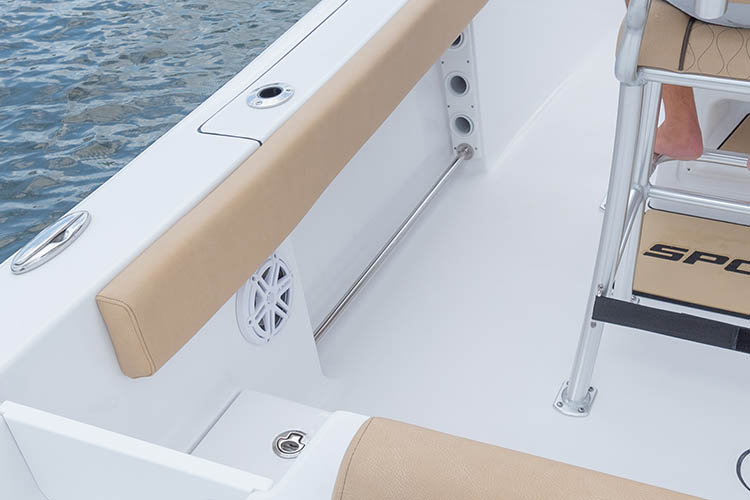 Port & Starboard Toe Rail
Located under the gunwale rod racks, the toe rail is designed as a brace point when heeling over the side of the boat to gaff or bring in a fish. You slide your toes under the bar and in conjunction with the bolster cushion, it provides a sturdy brace for your legs, even if the deck is wet or slippery.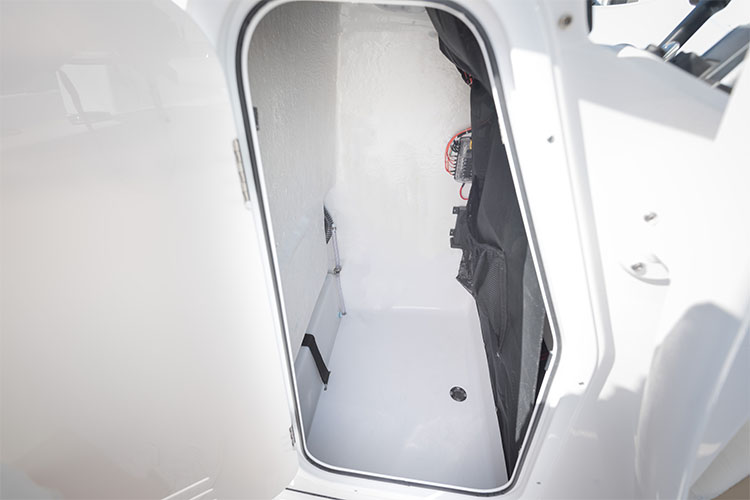 Enclosed Head
Inside the console, there is a built-in lockable storage area. This enclosed space can be used as a changing room or storage of bulky items. On the back wall, there's access to all of the connections to the electronics and fuses, very convenient for quick troubleshooting. This space can also be optionally fitted with a porta potti.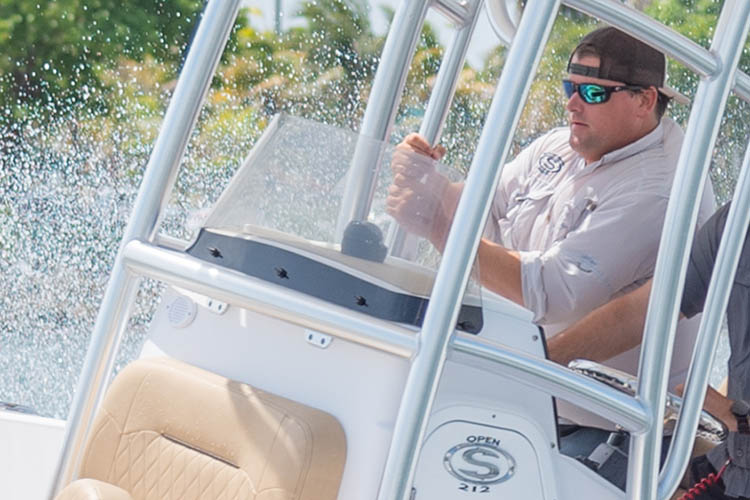 Console Windscreen
This console windscreen blocks and redirects some of the wind upwards for the comfort of those behind the helm.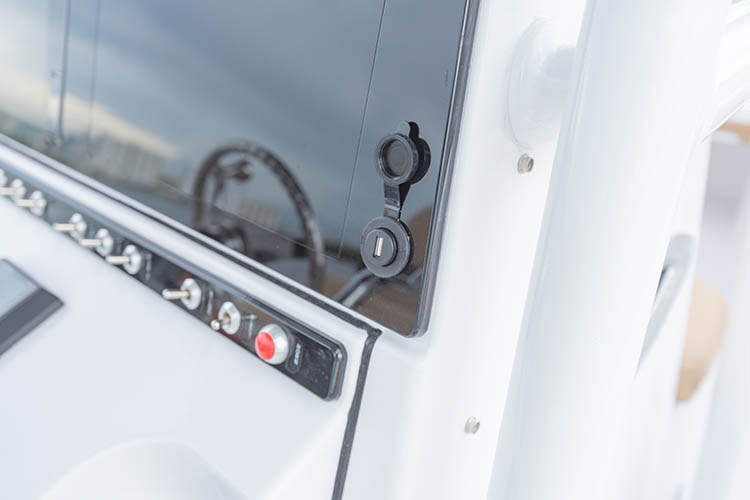 USB Plug In-Dash & 12V Receptacle
With the ever-growing demand to keep your devices charged, we include two USB plugs at the helm. The 2 included USB plugs are for charging and will keep your devices charged without interfacing with any other device. It also includes a 12 receptacle where you can plug in any cigarette-lighter style plug.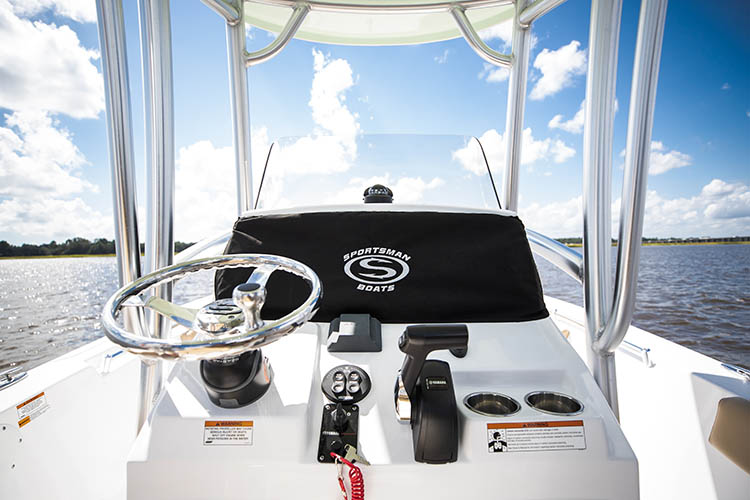 Dash Panel Cover
Protecting your electronics from the blaring sun is a breeze with the included dash panel cover. This custom made cover features the Sportsman logo embroidered and is made out of a tough outdoor fabric that will last for years.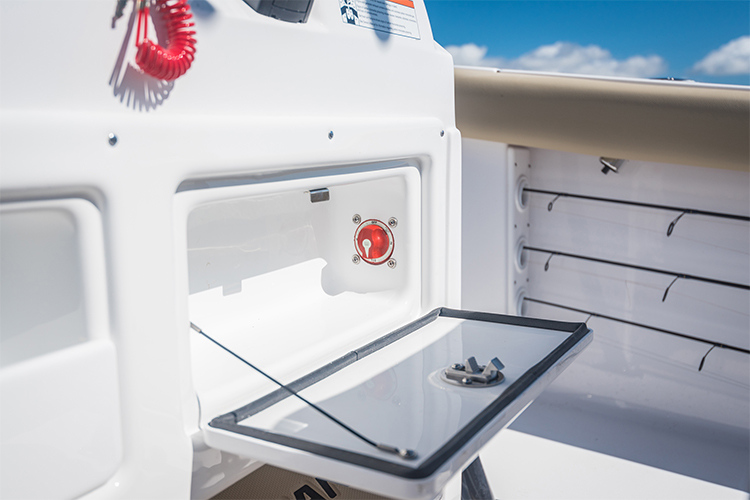 Dual Batteries w/ Switch
The safety and reliability of having 2 batteries on board is integral. This boat is equipped with 2 batteries and a selector switch conveniently located inside the console.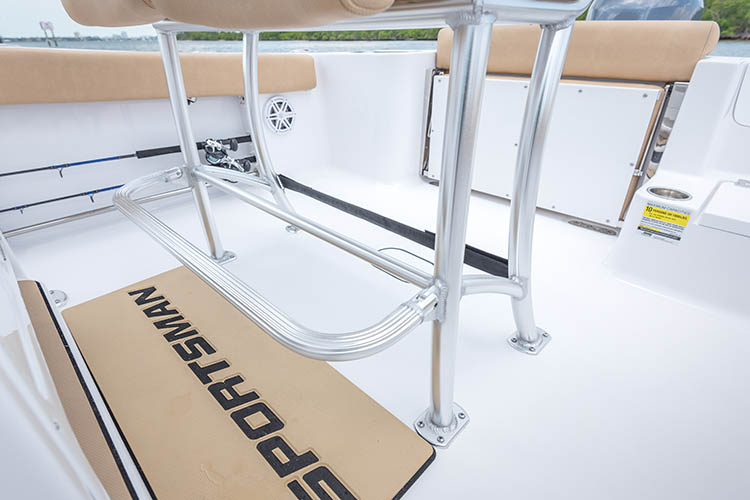 Under Leaning Post Space
The space under the leaning post allows you to fit a large cooler and strap it securely using the included velcro strap. For additional tackle storage, we offer the "Under Leaning Post Tackle Storage" option which adds additional plastic trays and a storage bin. The "Slide Out Cooler" includes a custom 75qt. ICON cooler in bonefish white.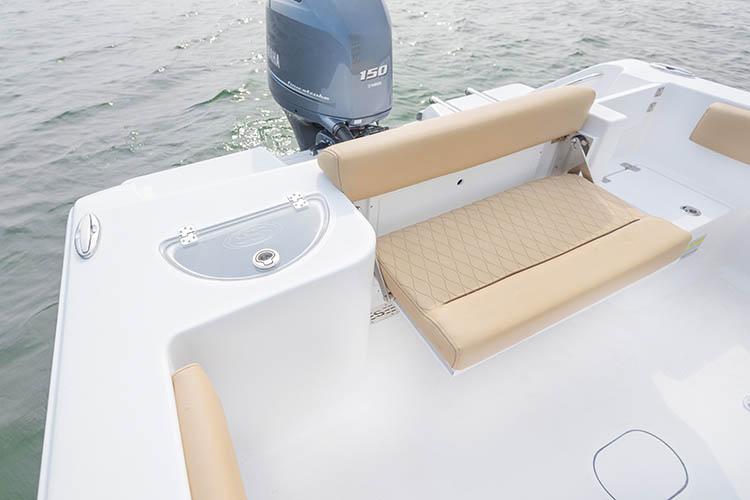 Rear Seating
When it's time to fish, the rear bench conveniently stows away to open up cockpit space and make it easier to walk around the leaning post. The seat bottom completely removes to reveal best-in-class access to the bilge. It seats 2-3 comfortably and has a deep design for comfort.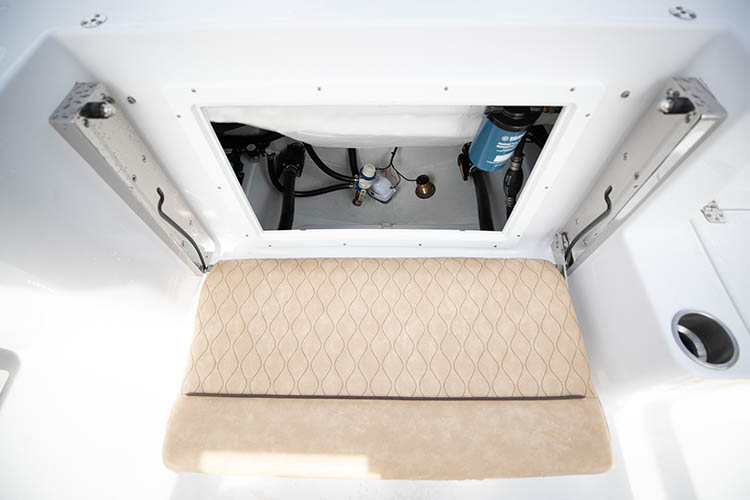 Rear Total Access Hatch
The rear Total Access Hatch gives you the ability to have large storage that's still incredibly easy to access. it's the perfect place for your life jackets, extra anchor, safety equipment, scuba gear and anything else you may need. When empty, it offers best-in-class access to your essential pumps and seacocks.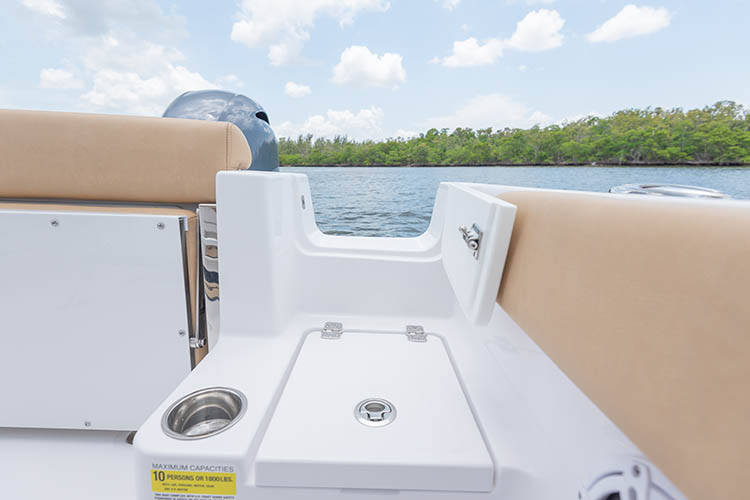 Transom Door
The transom door has a latch to secure it and it offers the convenience of not having to step over anything to enter the boat.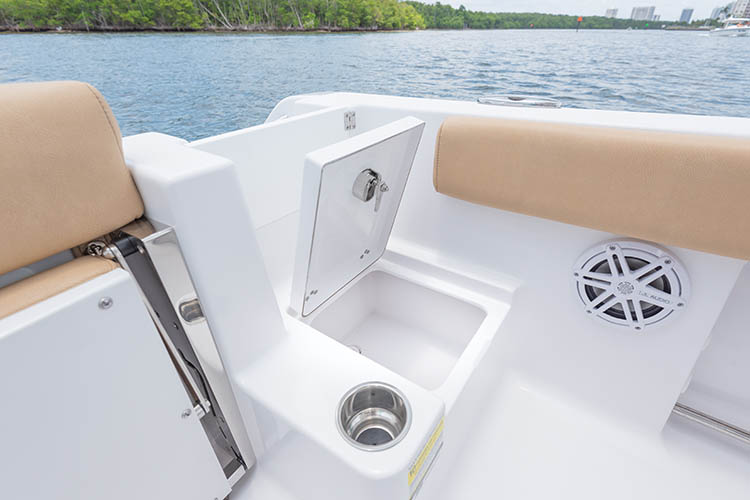 Transom Entry Storage
The step up for the door houses a small storage compartment ideal for docking lines and other small items that typically lay around the cockpit. The compartment does drain to keep your items dry.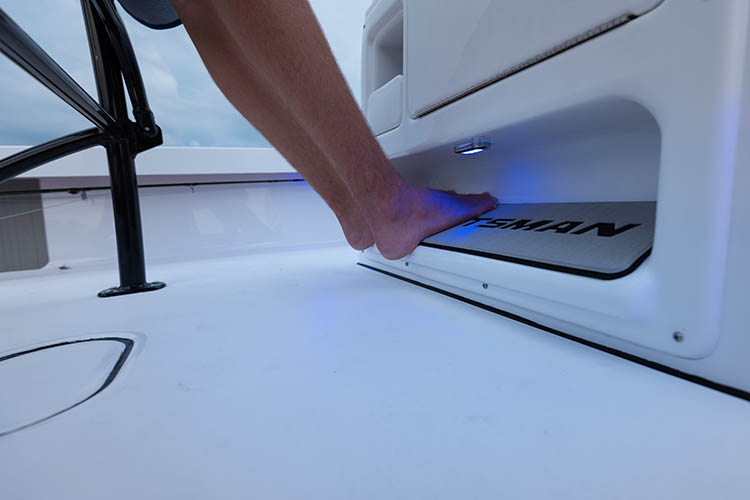 Interior LED Lighting Package
When the sun goes down, the cockpit comes to life. The included lighting package is as beautiful as it is functional, a blue glow covers every inch of the cockpit for safety and aesthetics.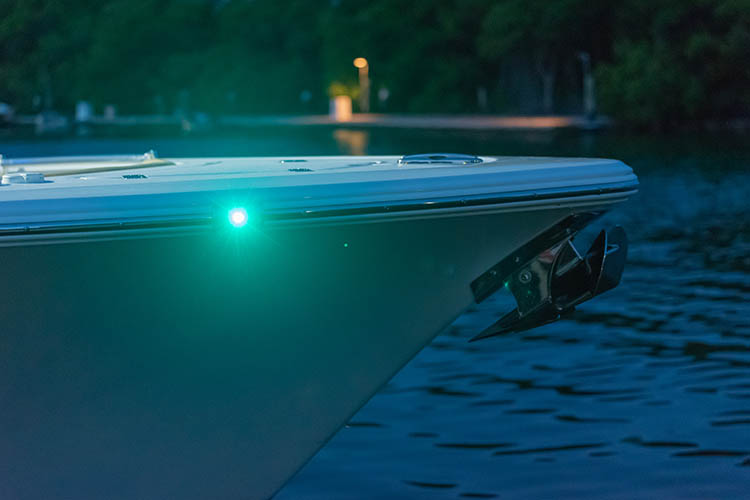 Rub Rail Navigation Lights
Traditionally, navigation lights are mounted somewhere on the bow in the form of a top mount or pop-up light but this exposes them as an easy damageable target. Our rub rail navigation lights are LED, super bright and barely noticeable. The lights are integrated into the rub rail on either side of the bow and provide the ultimate obstruction free installation.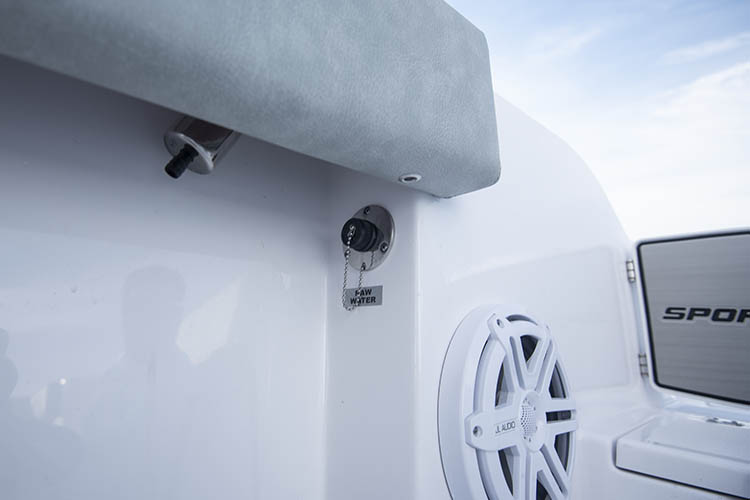 Raw Water Washdown
With its unlimited supply, it is the perfect companion for the freshwater washdown. This system pumps outside water to a water outlet where you can screw in a regular hose.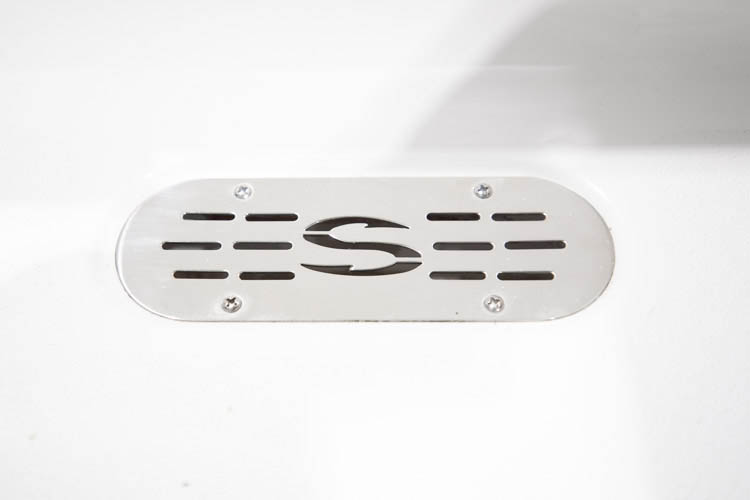 Self Bailing Cockpit
This important safety feature allows any water on the deck to drain overboard and not into the bilge area. Any water that seeps into the bilge, can only be pumped out by the bilge pump, which is slow at draining large amounts of water. All Sportsman Boats have a collector box drainage system that ties in all drains from the deck and redirects the water directly overboard without mechanical assistance.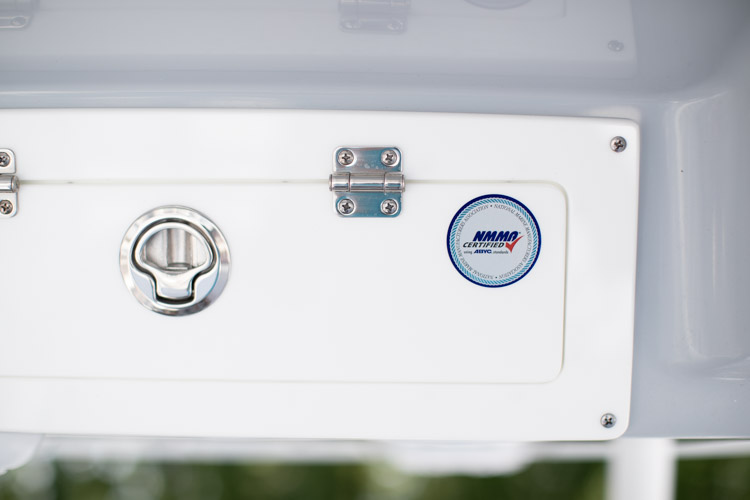 NMMA Certified
For a boat to be NMMA certified, it must follow all of the strict guidelines set by the NMMA for certification. Sportsman Boats diligently follows all of the manufacturing guidelines and is committed to only using certified parts and components in all models. Click to find out more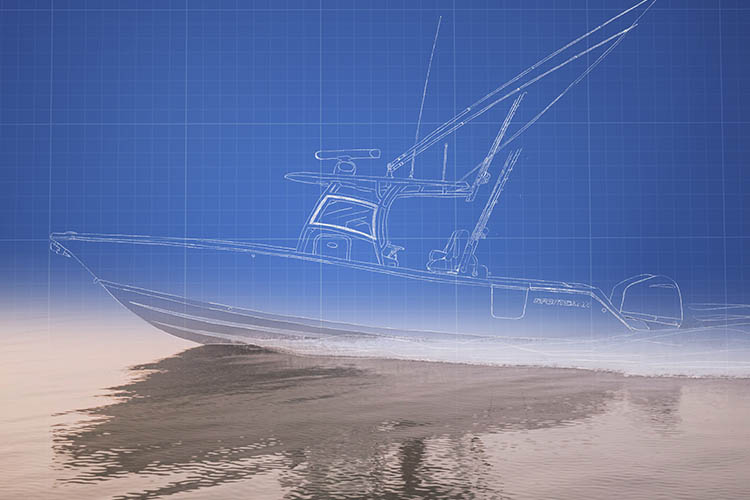 SportTech™ Advanced Fabrication Process
Our SportTech™ hulls feature a no wood, all fiberglass construction, meticulously engineered to withstand the test of time and built using advanced composite materials, resins and bonding agents. The hulls are crafted with vinyl ester resin for its ultimate weatherability and resistance to water intrusion, a 10-Year Limited Hull Warranty is standard on all Sportsman Boats.