Open 212 Center Console
The Open 212 features a larger capacity livewell and more open cockpit space for the more serious angler. Overall, more room behind the leaning post and a walk-through transom makes this 21 footer a great fishing platform. Standard amenities include a Garmin 9" touchscreen GPS, B60 thru-hull transducer, wrap-around bow seating, bow & cockpit bolsters and much more.
Open 212 Center Console
All models

Open 212 Center Console
Options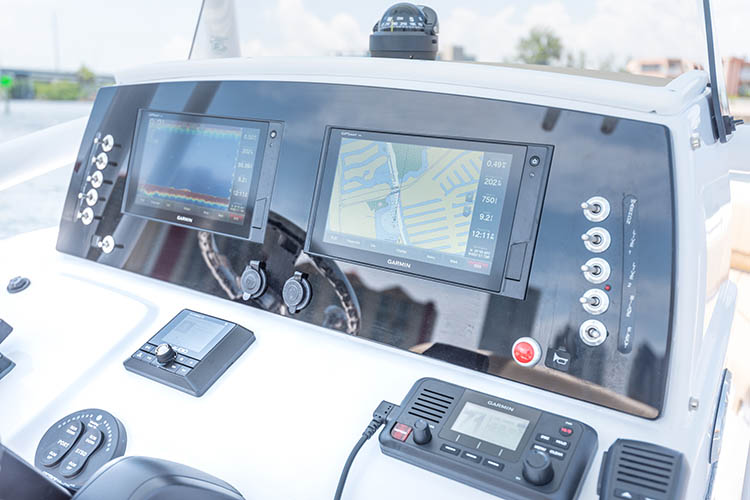 Second Garmin GPSMAP® 942xs MFD 9"
Adding a second screen duplicates all of the functions from the first screen and adds display real estate. Instead of having to split a single screen, you are able to split functionality across two full size displays. Keep in mind that all of the information is shared with both screens, meaning you are able to set each one to display exactly what you need.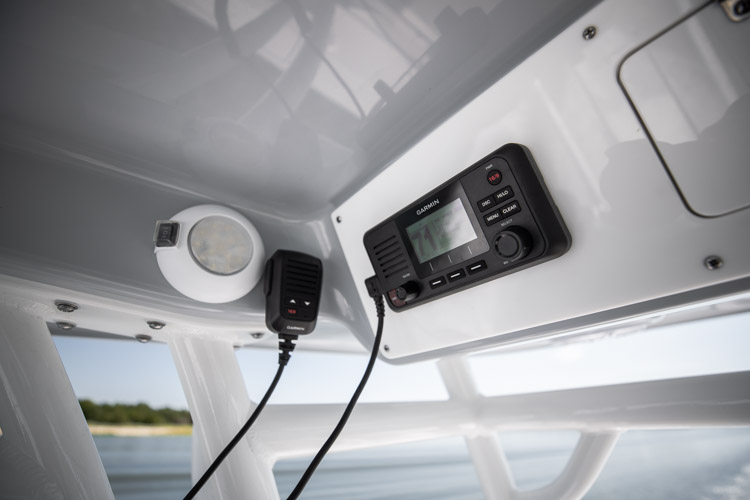 Garmin VHF 110 Radio w/ Antenna
Communication is critical on the water. With the VHF 110 radio, you can stay in contact with the shore and other boats in your area. So, no matter where you are or where you're headed, you'll maintain communication for a safer voyage. The radio has 25 watts of transmission power, all U.S., Canadian and international marine channels & 10 NOAA weather channels.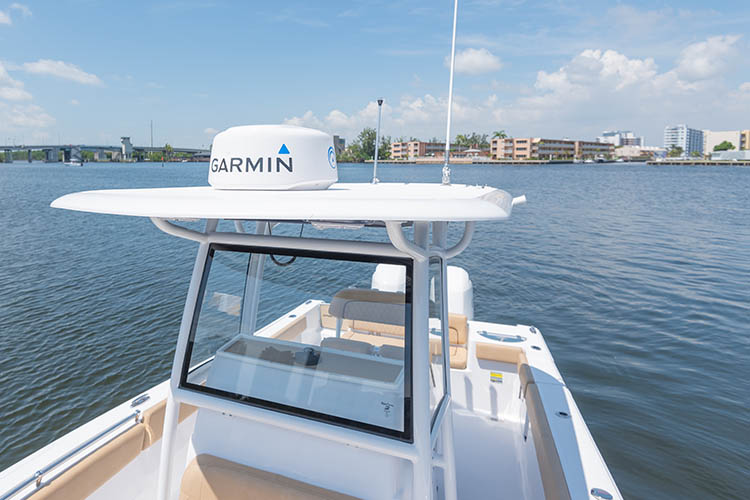 Garmin GMR™ Fantom 18 Radome
The 18-inch, 40 W solid-state Garmin GMR Fantom 18 dome radar features MotionScope technology, which uses the Doppler effect to detect and highlight moving targets to help you avoid potential collisions. Fully integrated with the Garmin chartplotter.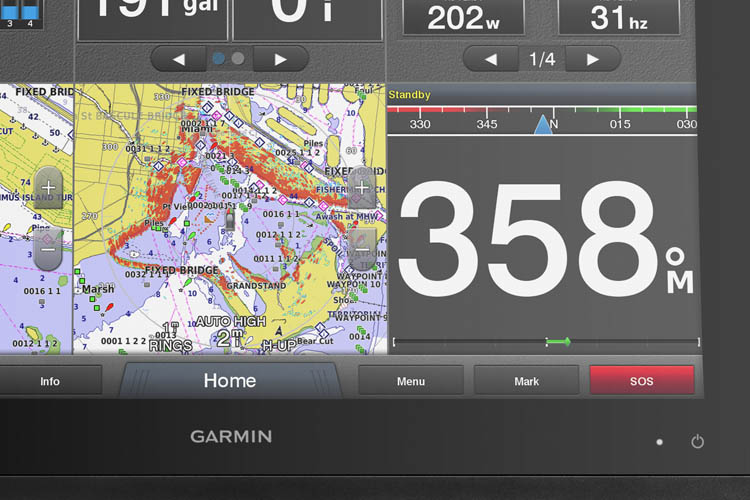 Garmin Reactor™ 40 Autopilot (req. EPS)
Reactor 40 autopilot provides relief from manually holding the wheel to maintain course, especially when cruising at moderate to high speeds. Sit back at the helm and enjoy your time on the water as the solid-state 9-axis AHRS technology delivers a comfortable ride. This option requires Optimus Electronic Power Steering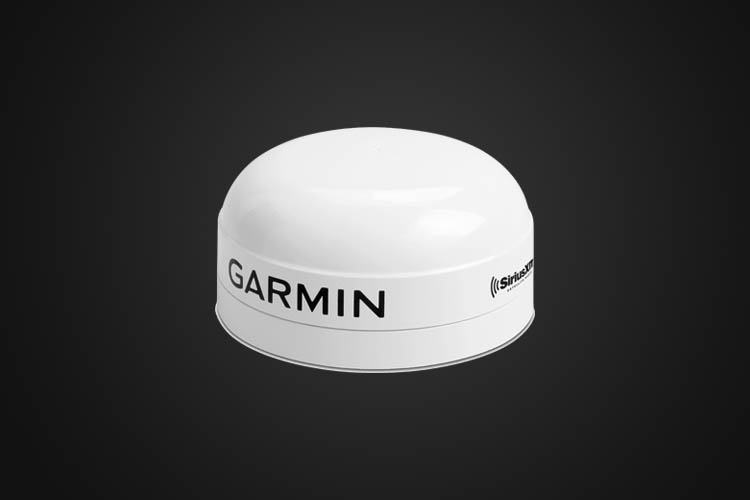 Garmin GXM™ 54 SiriusXM® Weather Antenna
The GXM 54 SiriusXM® weather antenna lets you enjoy added confidence and peace of mind on the water by always having access to the most current weather conditions and forecasts. The antenna adds highly detailed weather information directly to the screen including current weather information, NEXRAD, lightning, water temperatures, wind and wave current conditions and forecast data.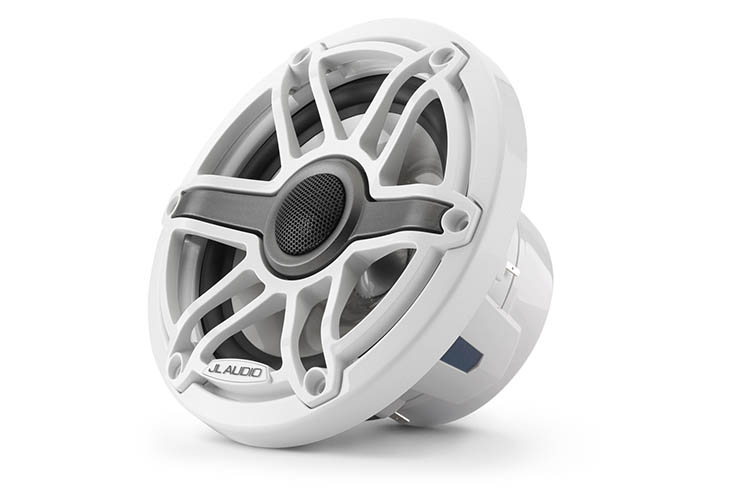 JL Audio Ultra-Premium M6 Upgrade
The JL Audio Ultra-Premium M6 upgrade features the all-new M6 marine loudspeakers, the benchmark for high-performance marine audio. The M6 speakers' low-distortion woofers and silk dome tweeters with tuned rear chambers spread audio energy evenly in every direction. This results in smooth, clean sound from a wide range of mounting locations. This package also adds the all-new MVi amplifiers with built-in DSP, powered by the MediaMaster MM100s-BE source unit.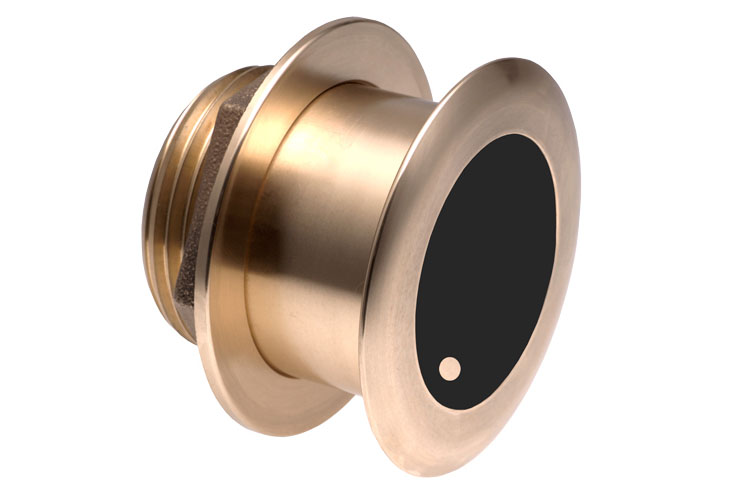 Airmar B175M CHIRP Thru-Hull Transducer Upgrade
With a range of up to 1500 ft, it is ideal for sportfishing. CHIRP technology delivers target resolution and depth penetration superior to traditional single-frequency sonar. This transducer is able to measure both depth and temperature in a single package, with a simple installation that requires just one connection to your Garmin multifunction display.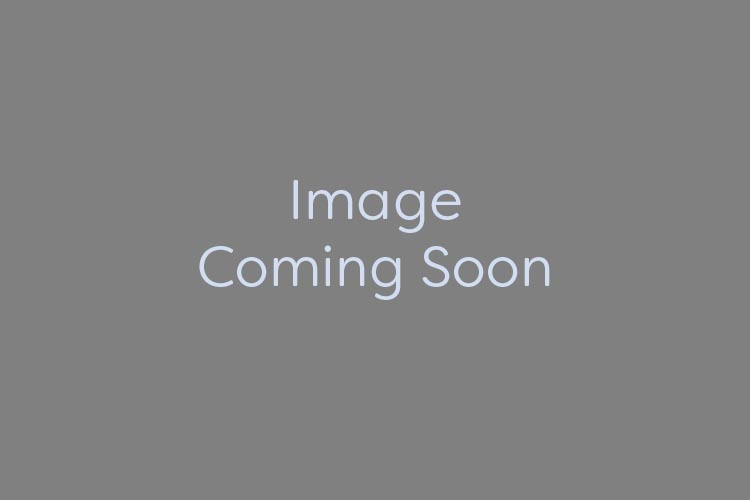 Bimini Top
For lower bridge clearance and coverage, the Bimini Top is a great option. Easily folds away allowing for the lowest level of clearance and when open, casts a wide area of shade.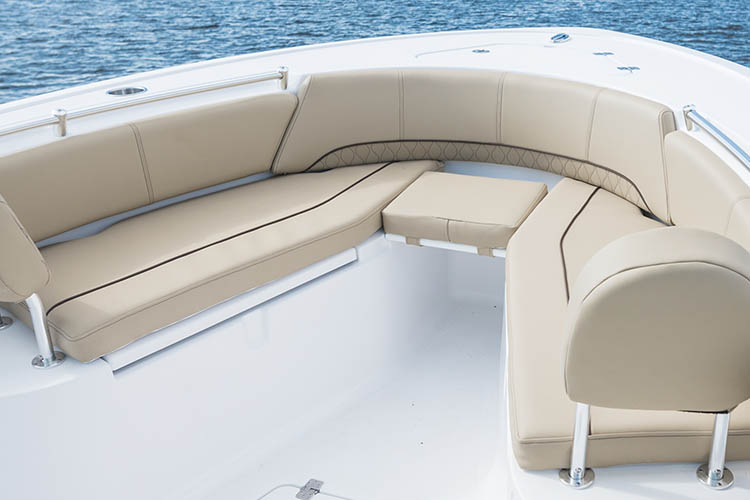 Bow Filler Board w/ Cushion
The Open Series offers the convenience of a full walk-through at the bow but sometimes you may need some additional seating, this filler board with cushion option latches securely and offers one additional seat and 2 cupholders.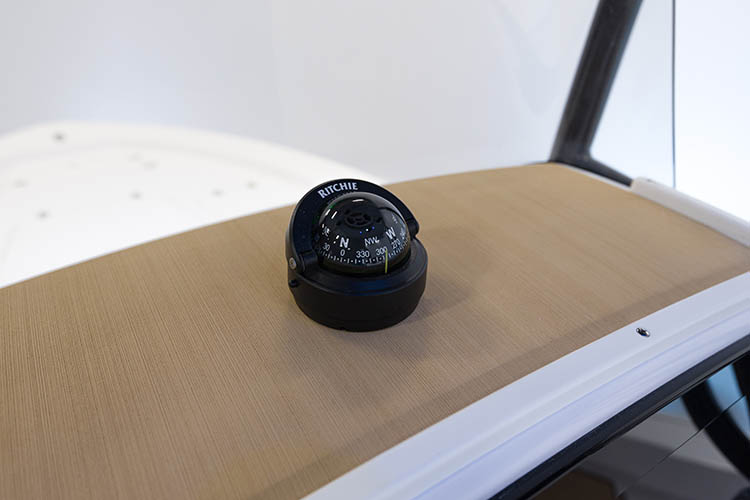 Compass
Considered one of the Four Great Inventions, the compass remains the cornerstone of any navigation system despite our advanced digital displays. Regardless of condition, your compass provides real-time heading and when used in combination with your GPS data, it allows you to optimize performance, fuel efficiency & improve safety. When it gets dark, there's a built-in light inside the compass for night use.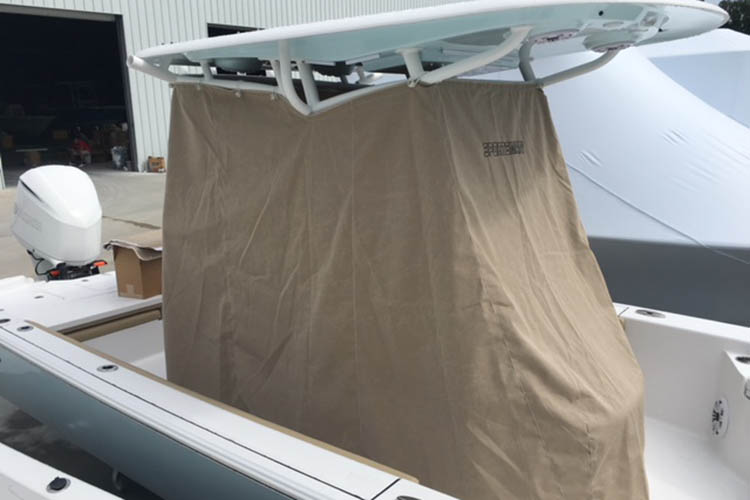 Console Drape (LP & Console, req. Top)
This console and leaning post drape cover is convenient and quick to set up. Attaches to the piping of the hard-top and creates a curtain coverage around the entire console and leaning post.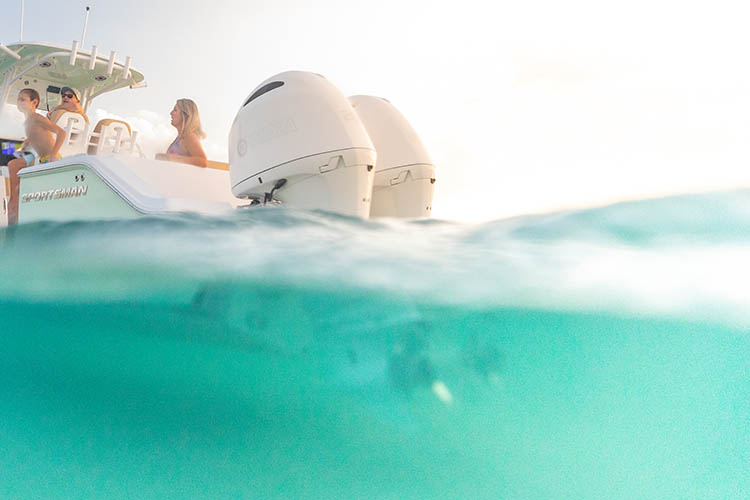 Custom Color Engine
If the original paint color of Yamaha is not for you, opt in for the custom painted engines. Offered in White and Black, they surely will match the color theme of your Sportsman Boat. The paint job includes new custom silver decals to replace the original ones.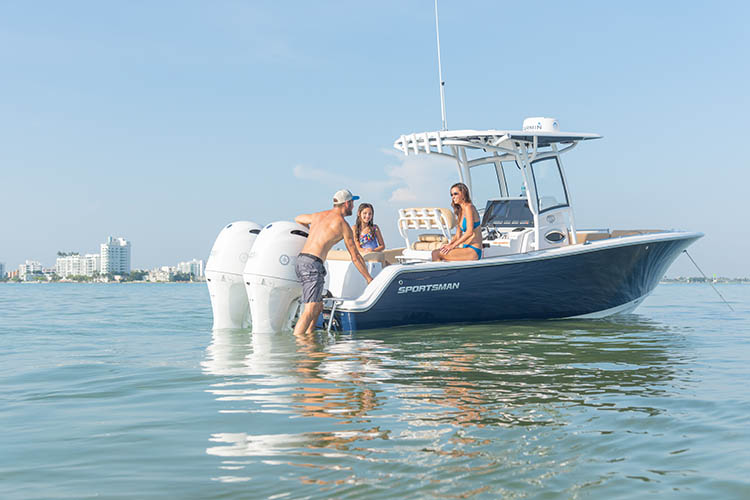 Dark Hull Color (Black/Steel/Shark)
This is the full option for the Black or Steel Blue hull colors. For more information on colors, visit the colors and materials page.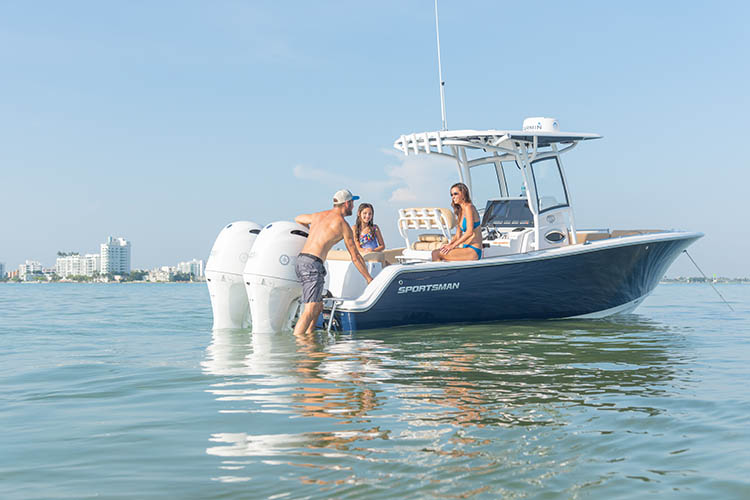 Dark Hull Color (Black/Steel/Shark) Upgrade
If the boat or package includes a light hull color already and you would like to a Steel Blue or Black hull color, this is the upgrade charge.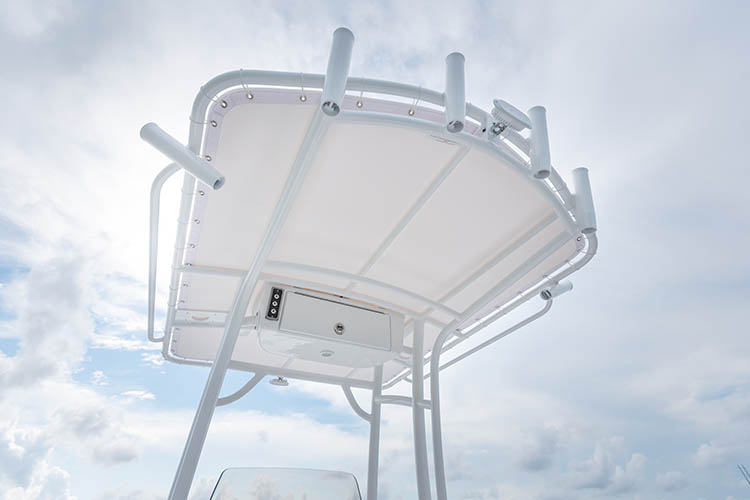 Deluxe T-Top w/ LED Lighting
This high quality canvas T-Top offers great shade and comes with an electronics box for storage, 4 rocket launchers, spreader lights, outrigger plates and anchor light.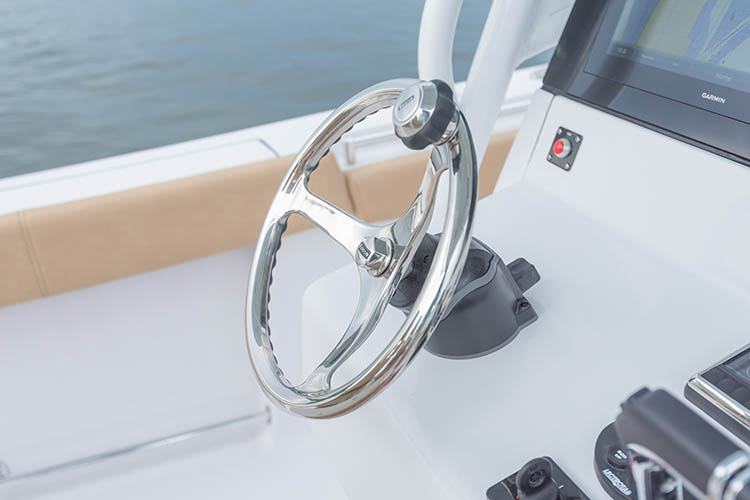 Edson 13" SS Comfort Grip Steering Wheel w/ PowerKnob
The perfect combination of durability, good looks and soft feel. The ComfortGrip PowerWheel features a unique rubber finger grip that provides ultimate comfort and with the ComfortGrip PowerKnob make precision turns.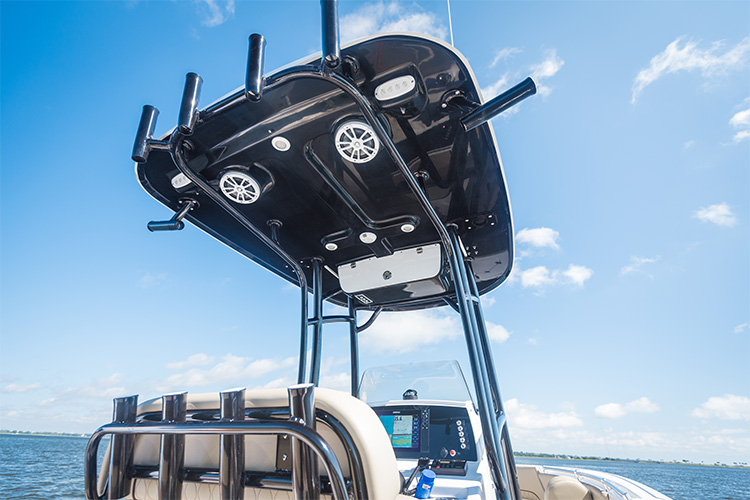 Fiberglass Hard-Top w/ LED Lighting
Beautiful fiberglass hard-top packed with features like JL Audio speakers, LED anchor light, map reading light, spreader light, rocket launchers, kingfish rod holders and Taco outrigger plates.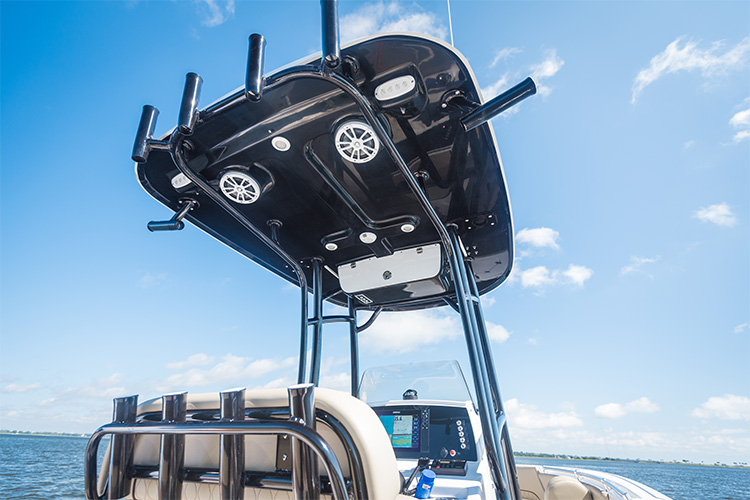 Fiberglass Hard-Top w/ LED Lighting(Upgrade)
If you select an options package group that includes a Deluxe T-Top, this option will upgrade that top to the fiberglass Hard-Top instead.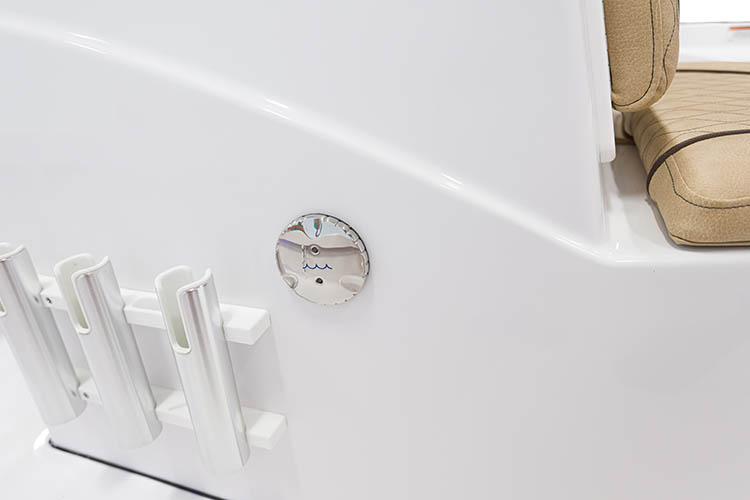 Freshwater Washdown w/ 15 gal. Tank
This complete freshwater washdown system with 15-gallon tank is a great convenience after a long day on your boat. Common uses include hosing down the deck, cleaning up the floor after you reel in a big fish or rinsing off yourself after a day at the sandbar.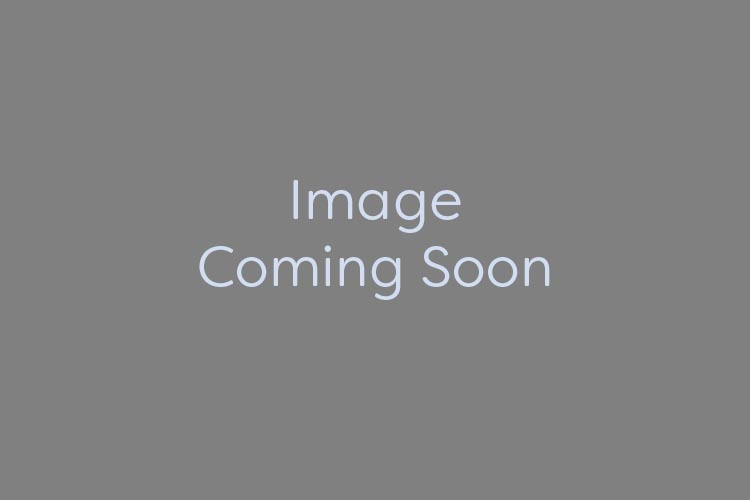 Gull Wings
This gull wings option serves as an extension to the spray shield with additional triangular coverage for both sides of the console and it is designed to block off any spray from the side.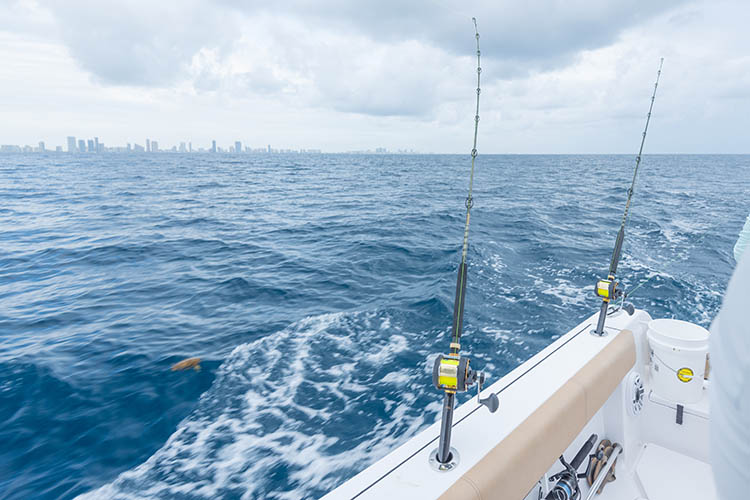 Gunwale Rod Holders / Each
Adds additional gunwale rod holders to your Sportsman.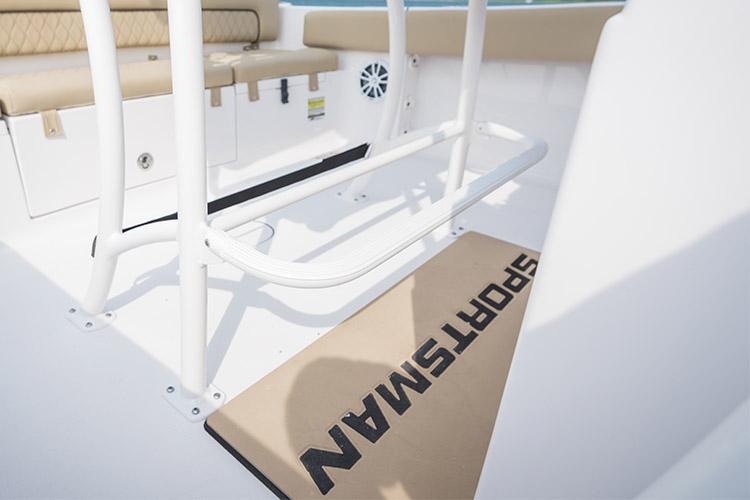 Helm Pad
Feel all-day comfort with our custom anti-fatigue helm pads. You will notice a difference at the end of the day, your feet will thank you for it. Custom engraved with the Sportsman logo for that extra touch.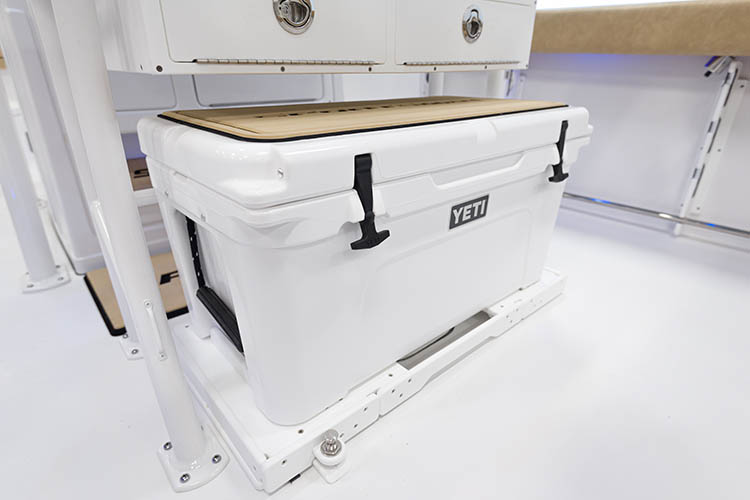 YETI® Tundra 65 Cooler w/ Slide Out Track
This popular option adds a full size YETI® Tundra 65 cooler with track that easily slides out even when fully loaded and includes a custom pad on top.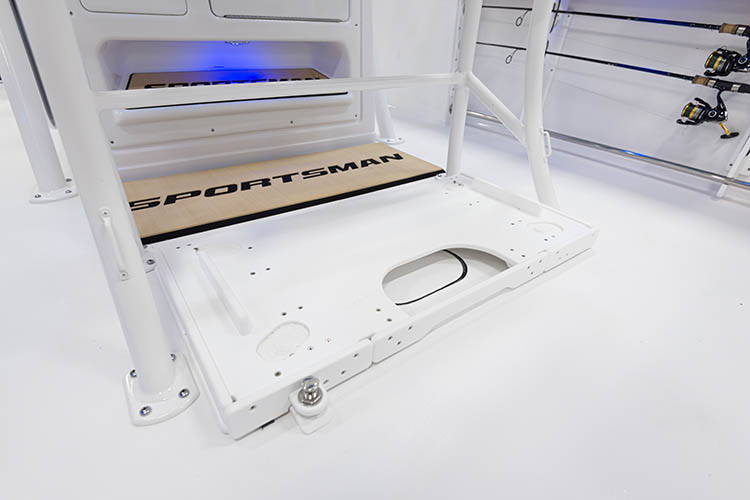 Slide Out Track Only
If you already own a cooler and would like to just get the slide mechanism only, this option adds the track but does not come with a cooler.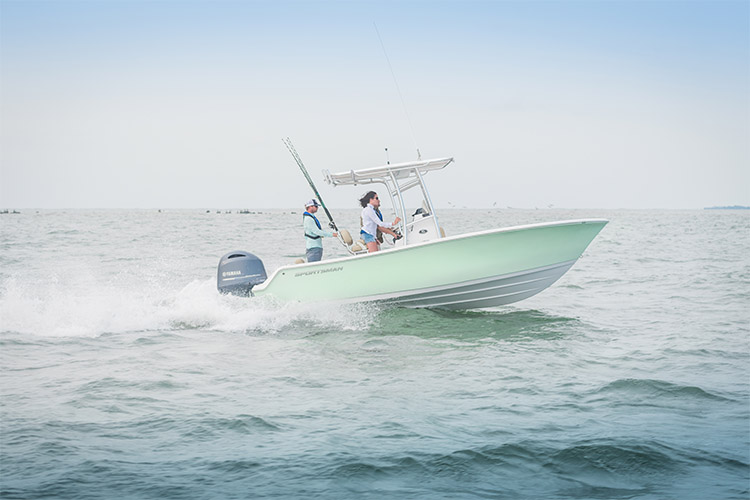 Light Hull Color
This model comes standard with a white hull. To add any of the light hull colors, you must choose this option. For more information on colors, visit the colors and materials page.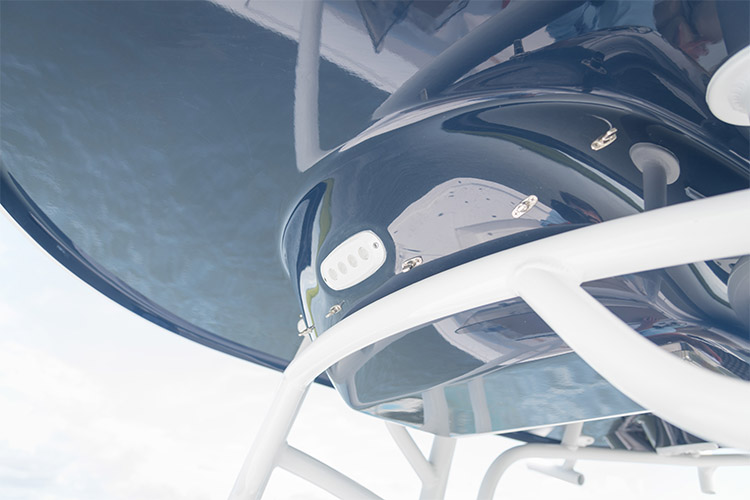 Matching Hard-Top Underside Color
A popular trend is to have the underside of the hard-top matched to the hull color, this adds additional appeal and ties in the color theme of the boat sides by bringing additional color to the cockpit area.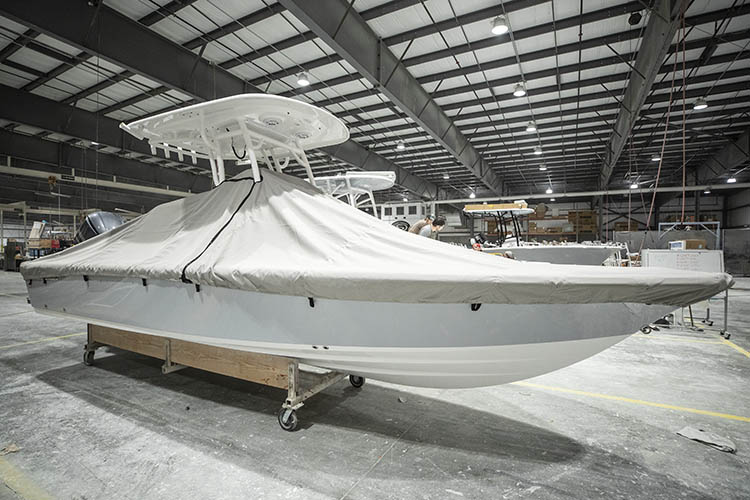 Mooring Cover (req. Top)
Full boat cover to protect your boat from the weather and debris. Image shown may not show the exact model, for reference only.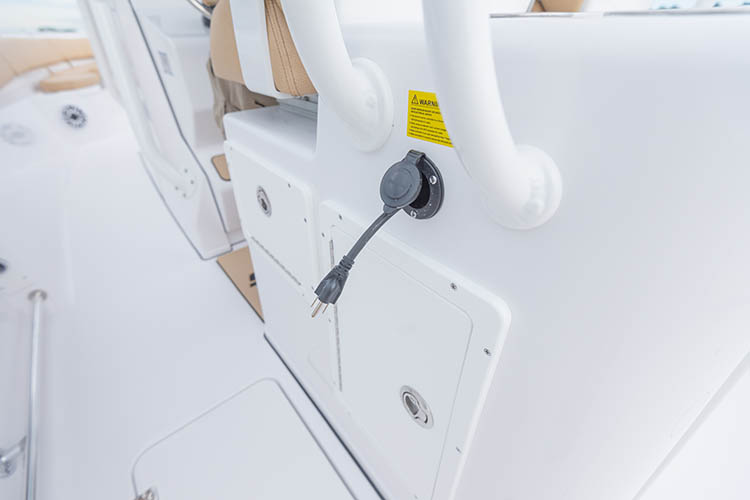 On-Board Battery Charging System (2-Bank)
Keep your batteries fully charged while you are away with this convenient trickle charger. The charger plugs into a regular 110V outlet and maintains the batteries fully charged by monitoring their charge, recharging as necessary. This is a 2-Bank battery charging system meaning all 2 batteries on-board will be charged simultaneously.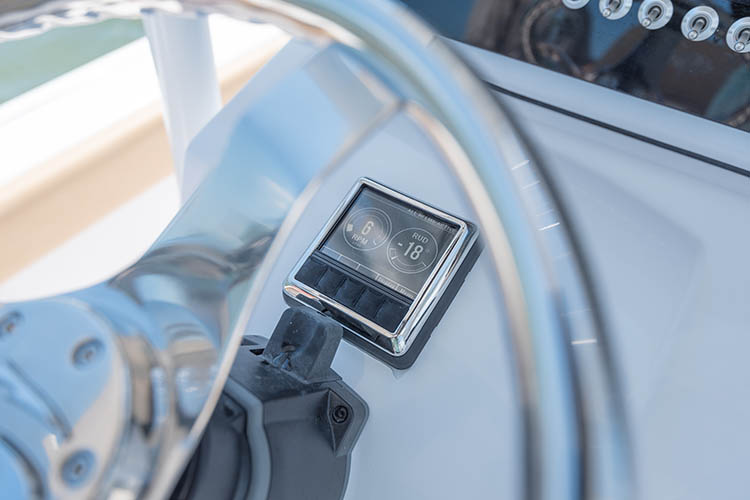 Optimus Electronic Power Steering w/ Tilt
The SeaStar Optimus Electronic Power Steering system raises the bar when it comes to comfort, control and maneuverability. It features adjustable speed sensitive turns lock to lock which means that the number of turns it takes to turn the engine from left to right adjusts automatically depending on the speed the boat is moving at. This truly makes steering feel like a sports car.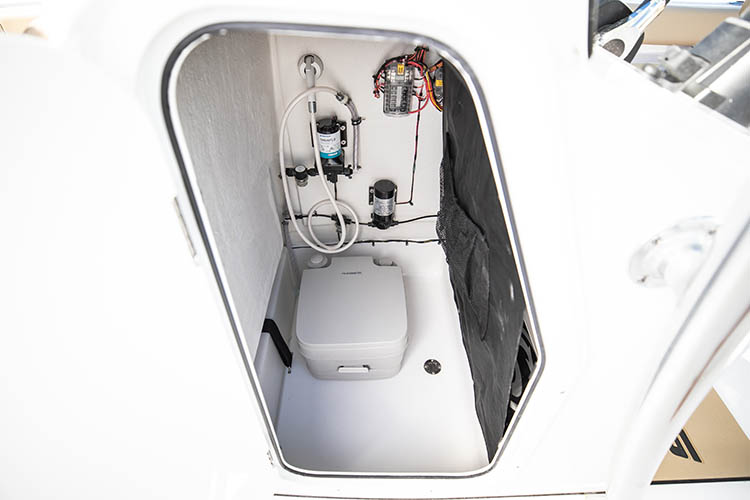 Porta Potti
This all-in-one system, has 2 separate compartments built in. The bottom most compartment contains freshwater for cleaning the bowl and the middle compartment holds any waste. It gets installed inside the head compartment with 2 brackets that secure it in place but comes apart easily for cleaning.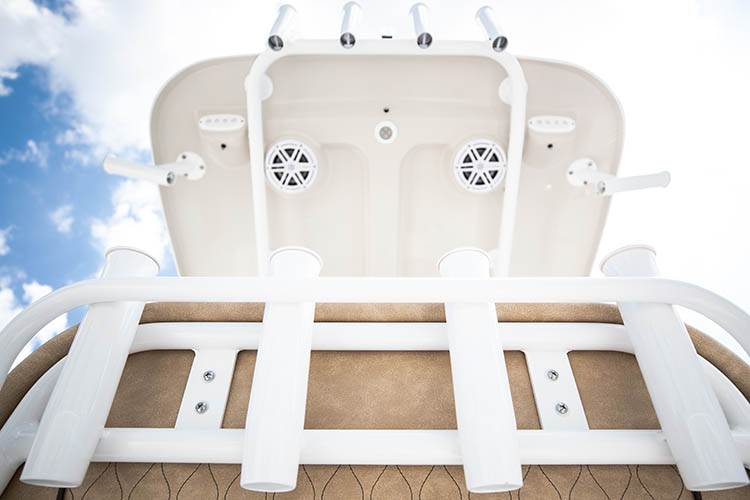 Powder Coating
Adds a strong protective and durable coating to the metals on the boat and is offered in White or Black to match the boat's color scheme.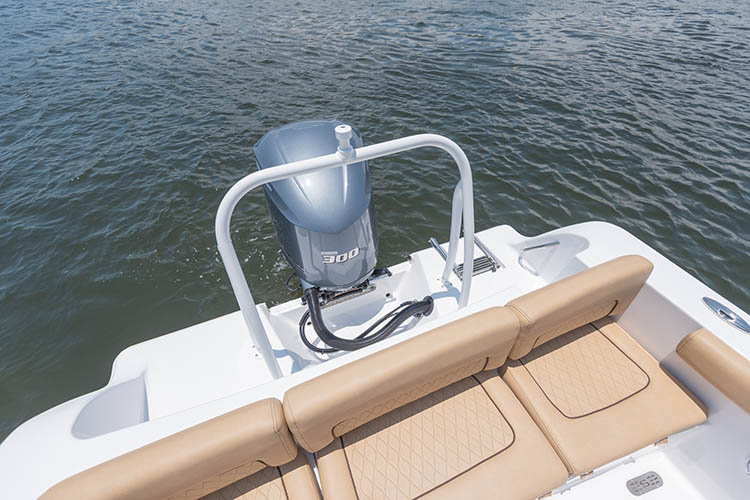 Powder Coating for Ski Tow Bar
Adds the same protective coating to the Ski Tow Bar option.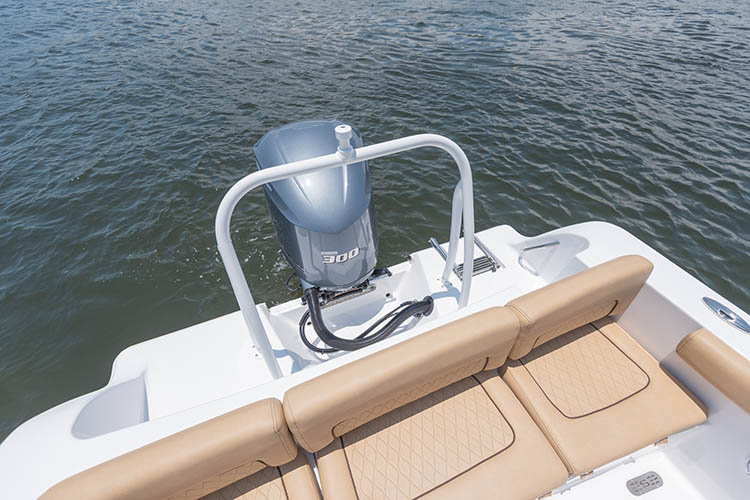 Ski Tow Bar
A Ski Tow Bar adds a new set of fun family activities during your boating outings.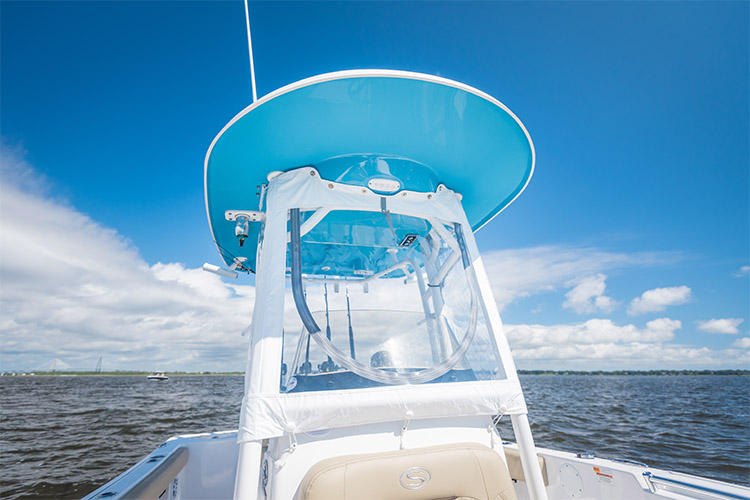 Spray Shield
The spray shield provides additional protection for those behind the helm from any spray. It is held in place using the included tracks under the hard-top and velcros to the bottom pipes of the frame. When not in use, there's virtually no sign of it left behind.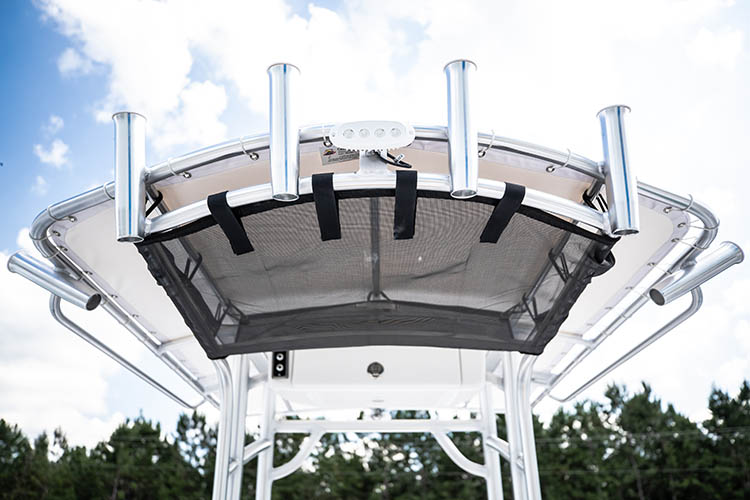 T-Top Cargo Net (Deluxe T-Top only)
When equipped with the Deluxe Top, this cargo net bag adds space for storing life jackets.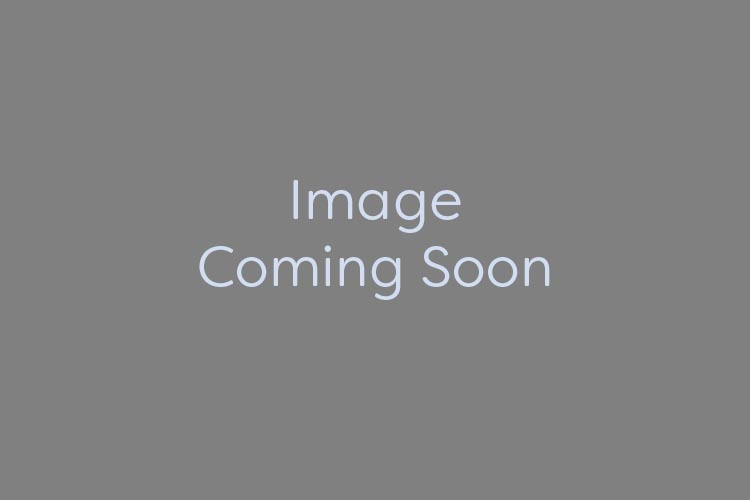 Table (Removable) w/ Mount - Bow
This option adds a table at the bow of the boat. It is completely removable and can be stored inside the console.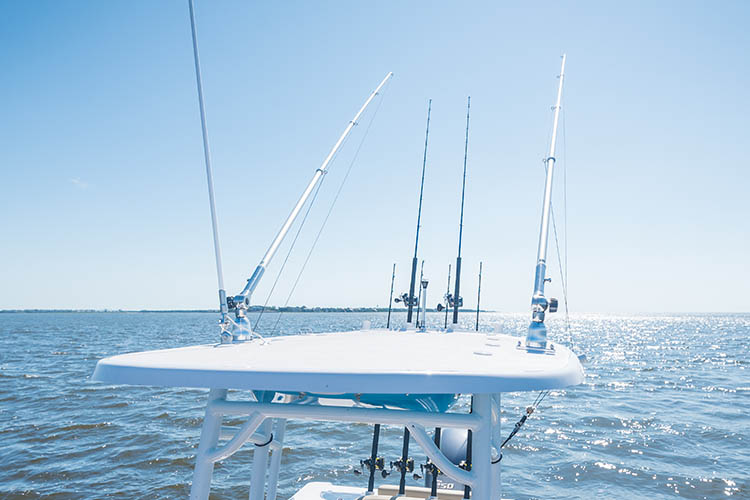 Taco Outriggers - GS280
With a rugged design, these outriggers will provide years of reliable service even in the most challenging saltwater applications. They feature a locking head and the latest in sleek and ergonomic shape. They are matched up to Taco's 15' poles and come with the basic rigging kit.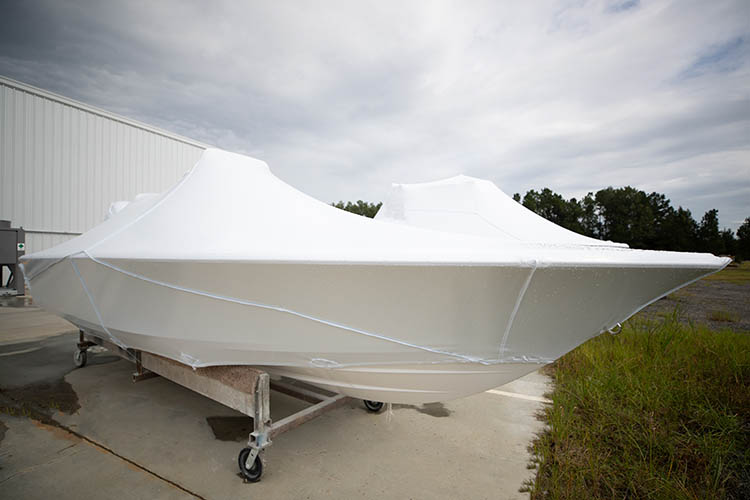 Transhield Shipping Cover
This is a one-time use transportation cover used for transporting long distances.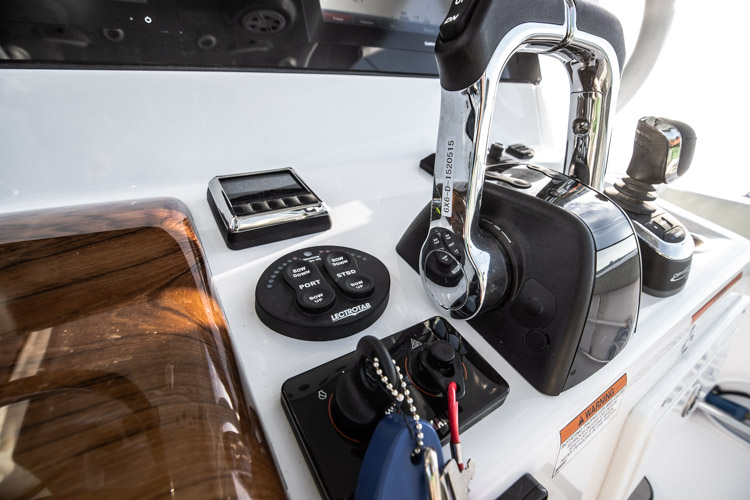 Trim Tabs w/ LED Indicator
The electromechanical trim tab system features self retracting capabilities. When the key switch is turned off, the tabs will automatically retract completely. The LED Indicator feature shows you exactly where the tabs are positioned at the helm control.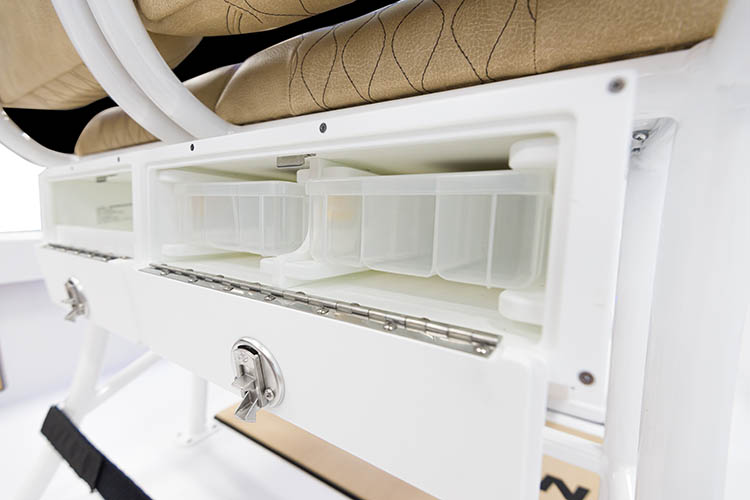 Under Leaning Post Tackle Storage
This compact unit adds some additional tackle storage under the leaning post seat. The drawers are lockable and include 2 plastic tackle organizer trays.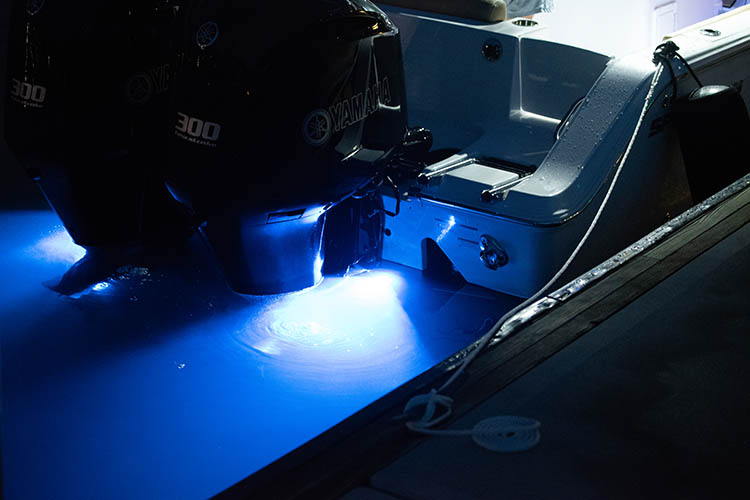 Underwater Lights
Built out of an anodized aluminum housing, these high quality LED underwater lights are a great feature for this model. The Lumitec underwater lights have a measured output of nearly 900 lumens, giving you plenty of blue glow behind your Sportsman. This boat comes equipped with 2 of them at the transom.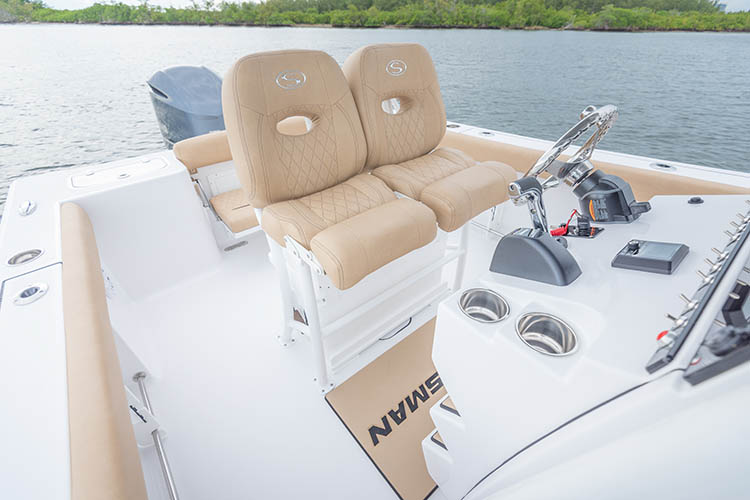 Premium Dual Chair LP w/ Flip Up Bolsters
Comfort and function meet when it comes to this deluxe leaning post. It is designed to accommodate two adults comfortably and features individually adjustable bolsters allowing you to operate your Sportsman standing up or in a seating position. Additional features include a flip-down footrest, rod holders and cooler storage space with a strap.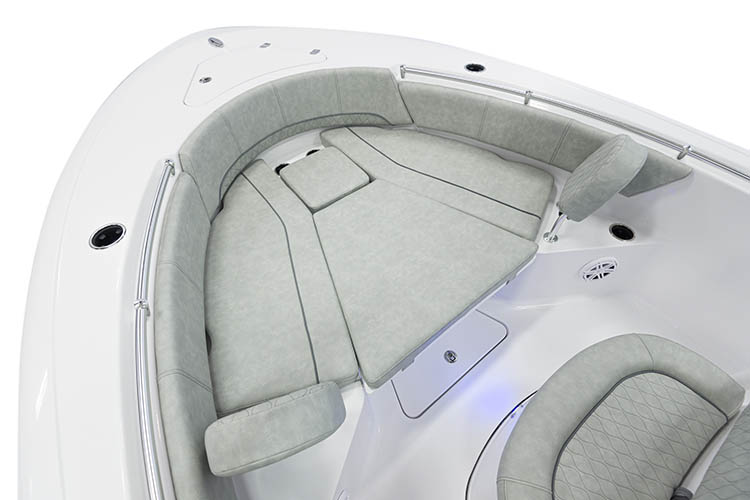 Bow Sundeck w/ Cushion
This filler piece connects the two bow boxes with a center cushion for additional sunpad area. Great option for adding additional cushioned space up-front.
When choosing what options you would like on your Sportsman, we have put together several optional packages. These packages are options that work well together and as experienced boaters ourselves, represent how we would option our boat. For those that would rather choose each option, we have all options available individually.
Platinum Package
Internet Price $10,105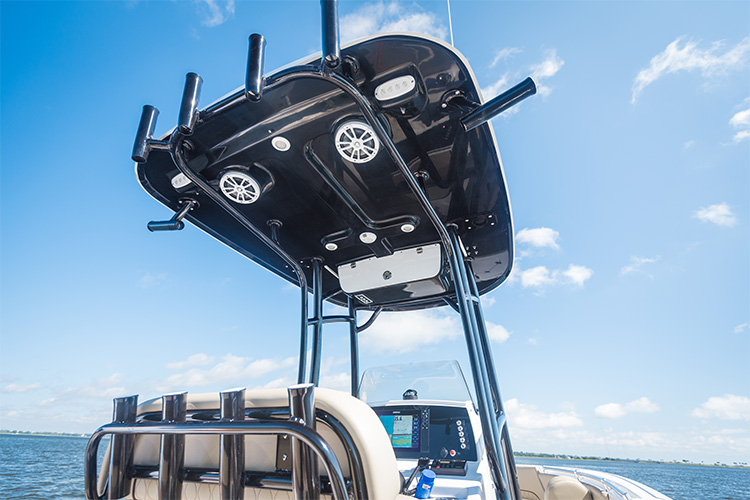 Fiberglass Hard-Top w/ LED Lighting
Included in Platinum Package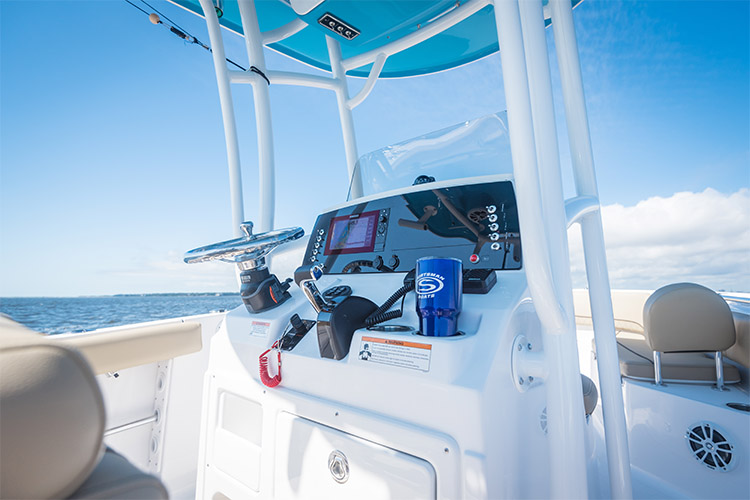 Powder Coating
Included in Platinum Package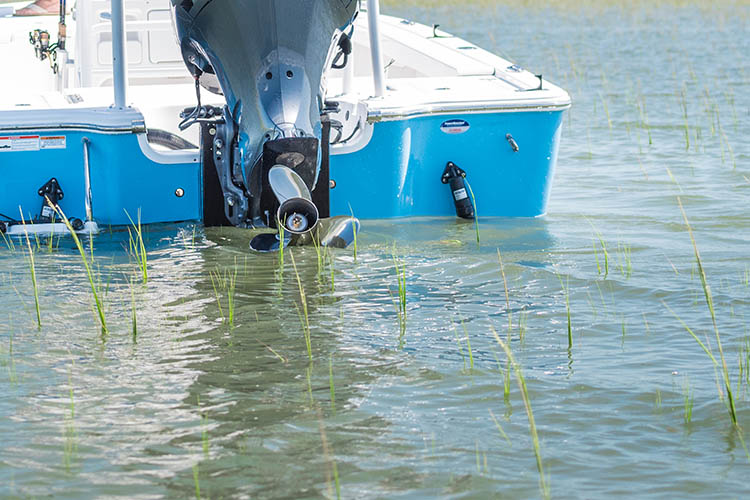 Trim Tabs w/ LED Indicator
Included in Platinum Package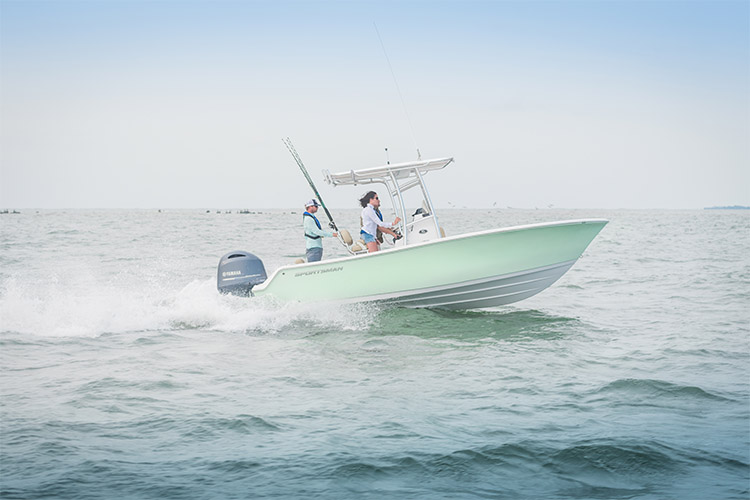 Light Hull Color
Included in Platinum Package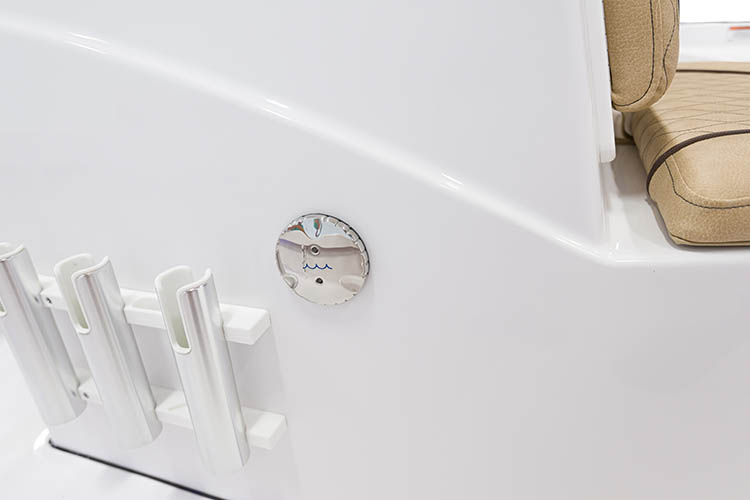 Freshwater Washdown w/ 15 gal. Tank
Included in Platinum Package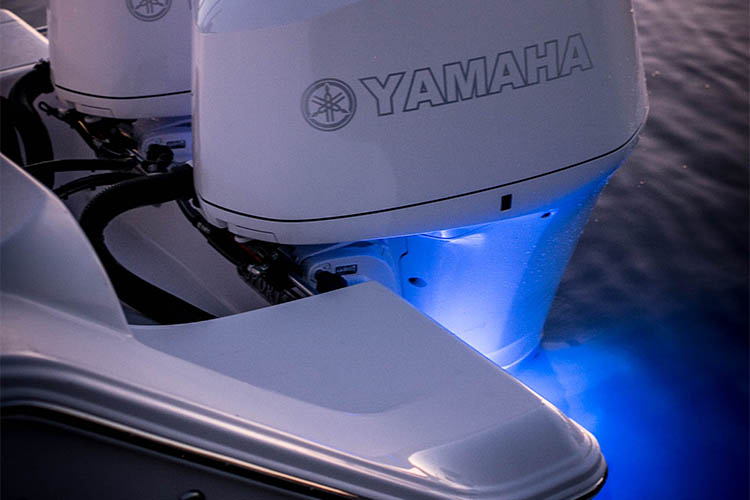 Underwater Lights
Included in Platinum Package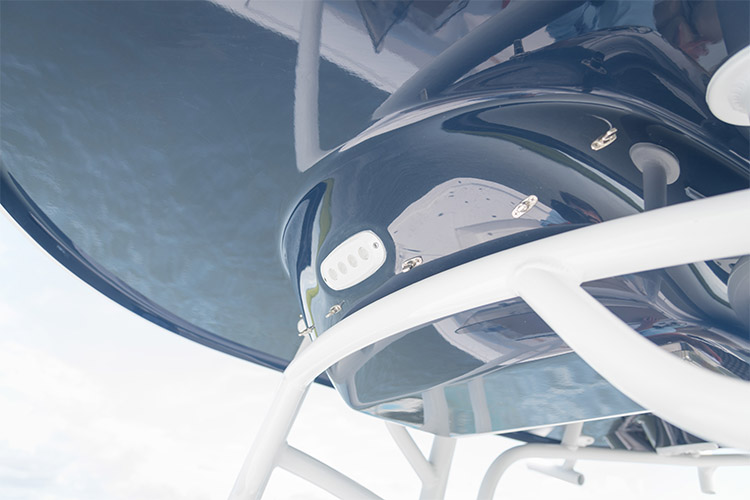 Matching Hard-Top Underside Color
Included in Platinum Package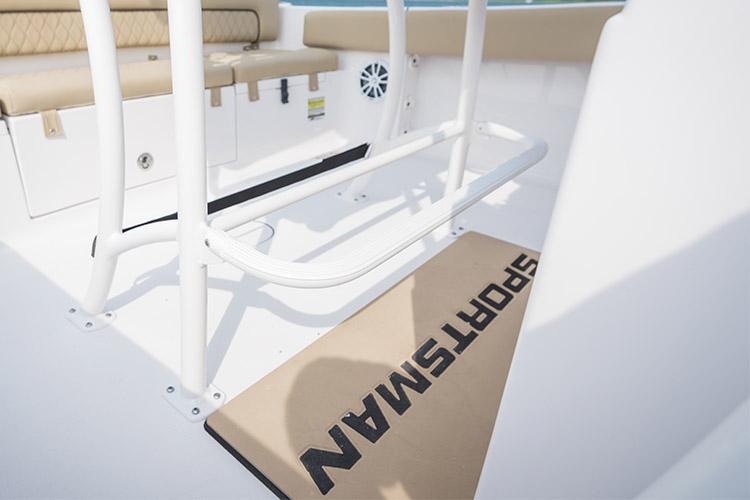 Helm Pad
Included in Platinum Package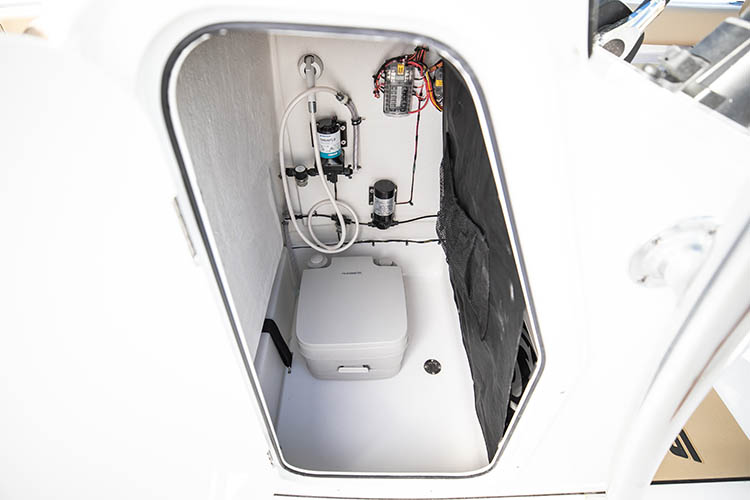 Porta Potti
Included in Platinum Package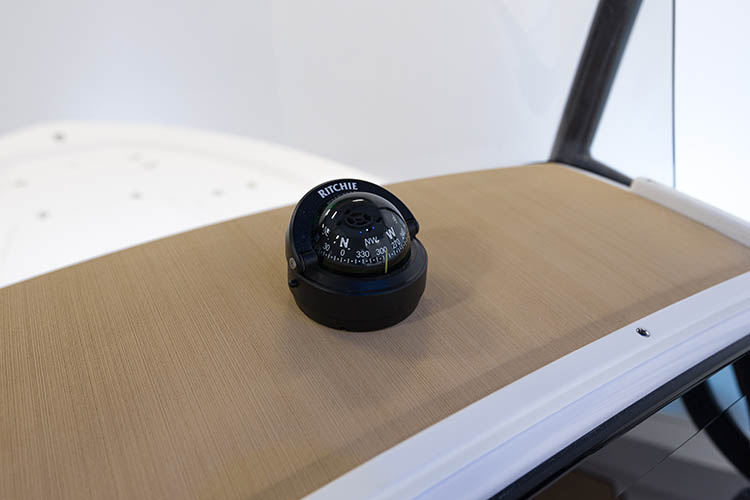 Compass
Included in Platinum Package

Offshore Package
Internet Price $5,700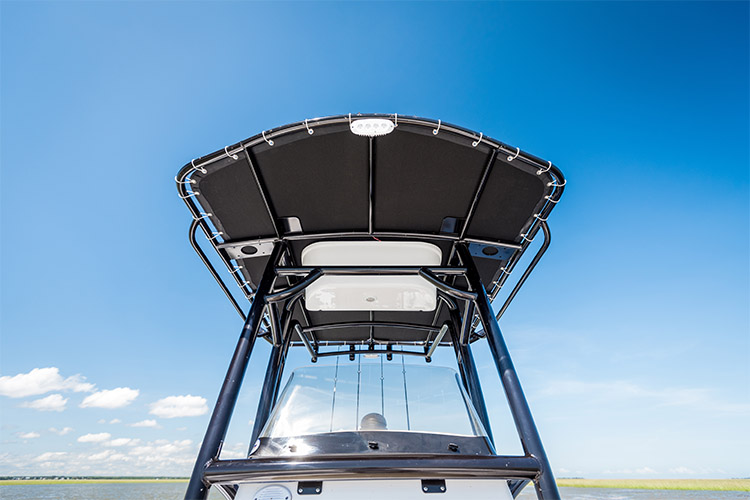 Deluxe T-Top w/ LED Lighting
Included in Offshore Package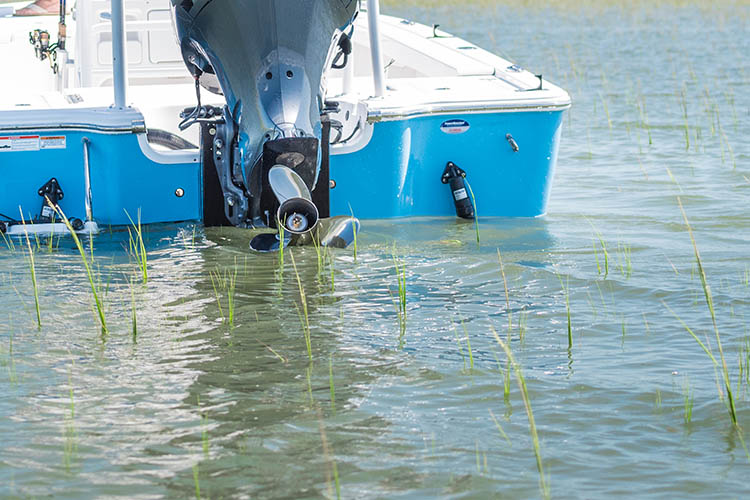 Trim Tabs w/ LED Indicator
Included in Offshore Package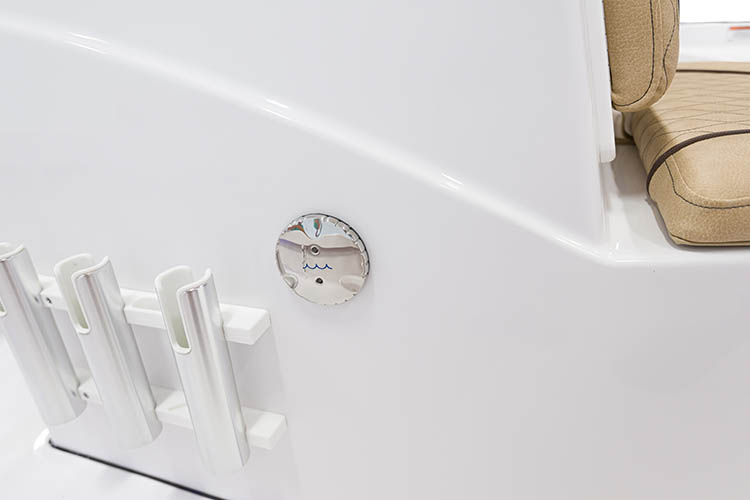 Freshwater Washdown w/ 15 gal. Tank
Included in Offshore Package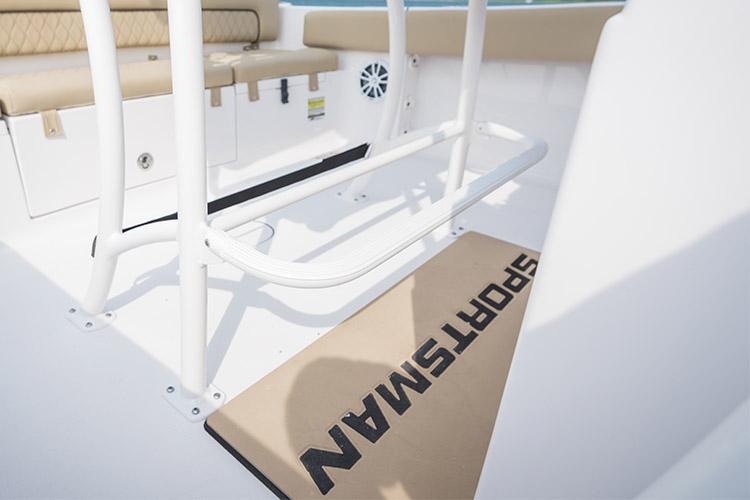 Helm Pad
Included in Offshore Package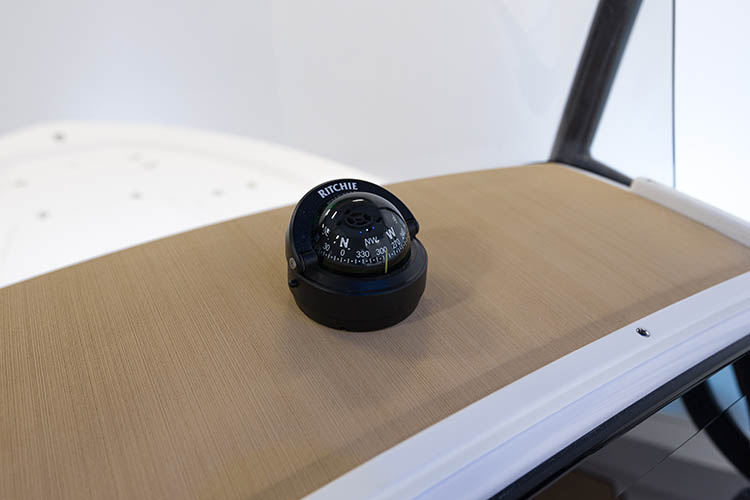 Compass
Included in Offshore Package