Open 282 Center Console
The Open 282 is designed for those looking for a great all around boat that is big enough to entertain and fish offshore but with all of the creature comforts included. Enjoy the electronically actuated bow table that turns into a sunpad, or the easy dockside loading through the side entry door. For those that like speed, a pair of Yamaha 300HP outboards is sure to make her go.
Open 282 Center Console
All models

Open 282 Center Console
Options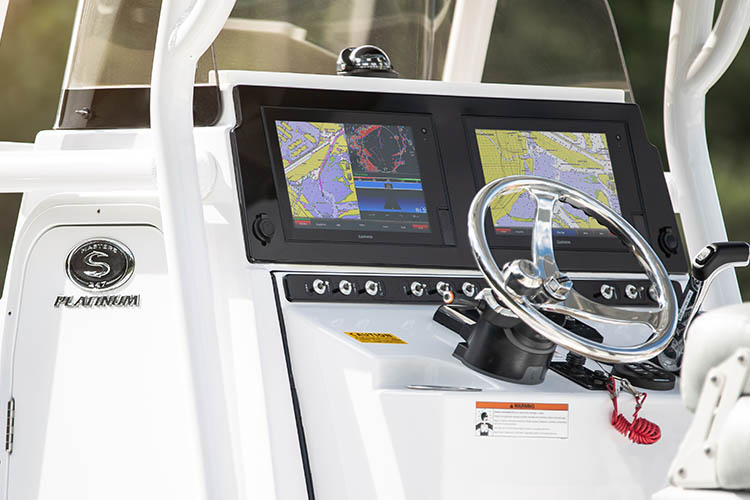 Second Garmin GPSMAP® 1242xsv Touch 12"
Adding a second screen duplicates all of the functions from the first screen and adds display real estate. Instead of having to split a single screen, you are able to split functionality across two full size displays. Keep in mind that all of the information is shared with both screens, meaning you are able to set each one to display exactly what you need.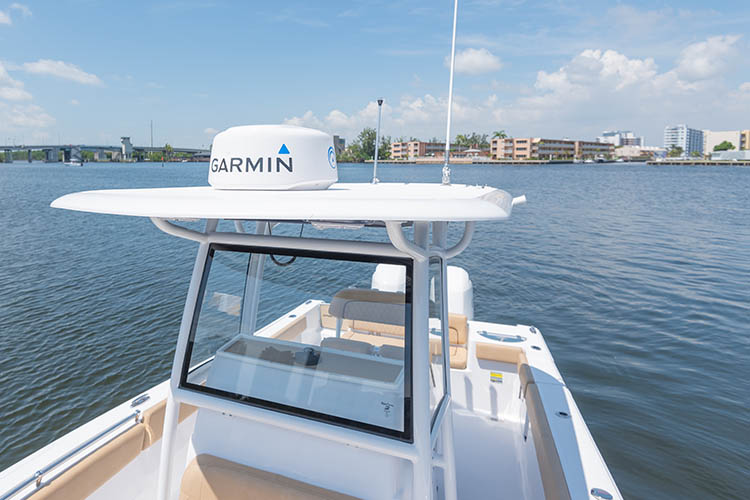 Garmin GMR™ Fantom 18 Radome
The 18-inch, 40 W solid-state Garmin GMR Fantom 18 dome radar features MotionScope technology, which uses the Doppler effect to detect and highlight moving targets to help you avoid potential collisions. Fully integrated with the Garmin chartplotter.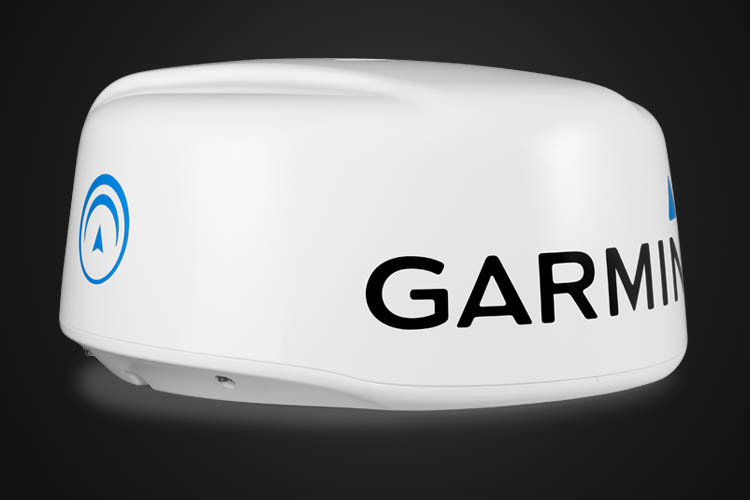 Garmin GMR™ Fantom 18 Radome (2nd Station)
This option adds an additional mounting bracket for boats equipped with the second station as the regular mounting location for the dome is taken up by the second station.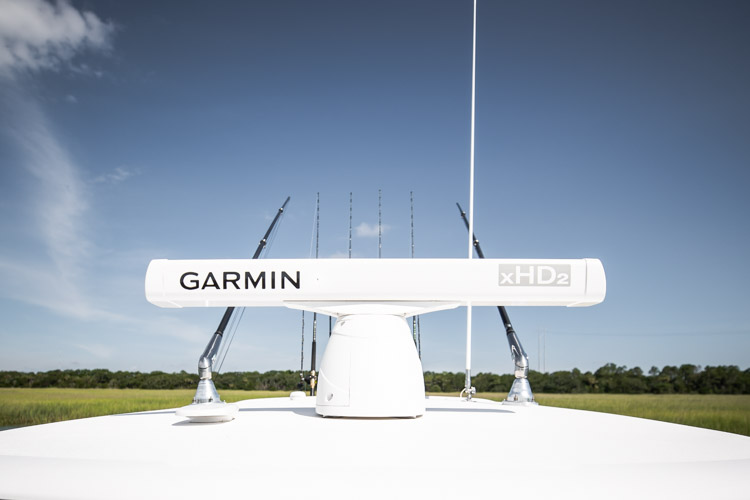 Garmin GMR™ 424 xHD2 Open Array
This radar provides advanced features, including beam sharpening for target separation control and increased target detection capabilities. A great addition to any SportLink® package.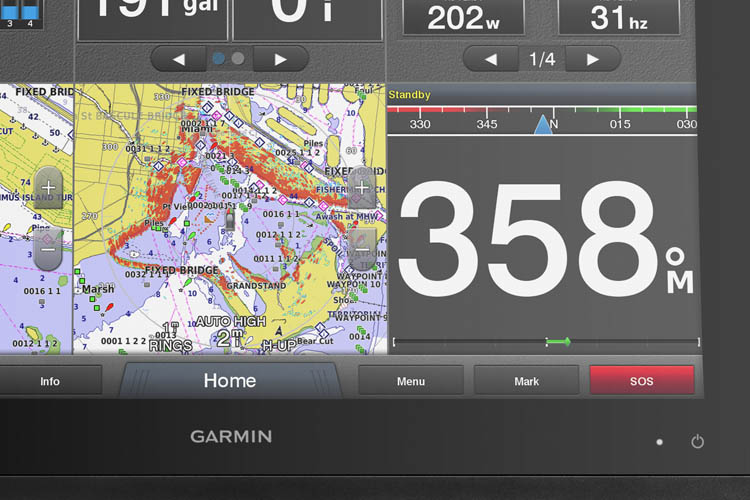 Garmin Reactor™ 40 Autopilot
Reactor 40 autopilot provides relief from manually holding the wheel to maintain course, especially when cruising at moderate to high speeds. Sit back at the helm and enjoy your time on the water as the solid-state 9-axis AHRS technology delivers a comfortable ride. This option requires Optimus Electronic Power Steering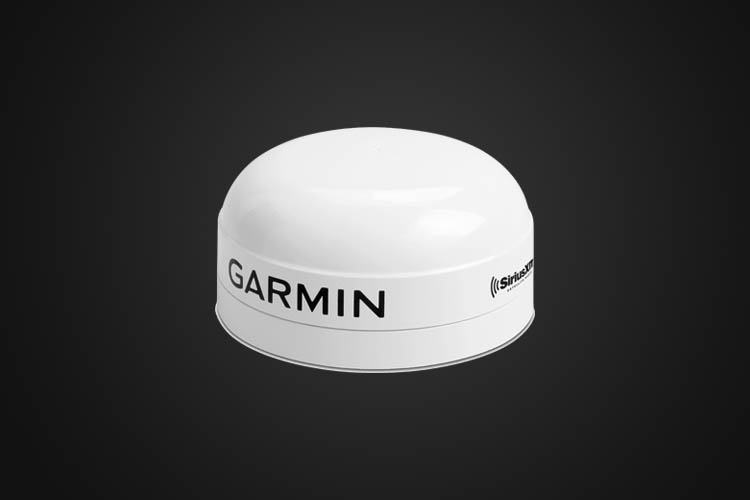 Garmin GXM™ 54 SiriusXM® Weather Antenna
The GXM 54 SiriusXM® weather antenna lets you enjoy added confidence and peace of mind on the water by always having access to the most current weather conditions and forecasts. The antenna adds highly detailed weather information directly to the screen including current weather information, NEXRAD, lightning, water temperatures, wind and wave current conditions and forecast data.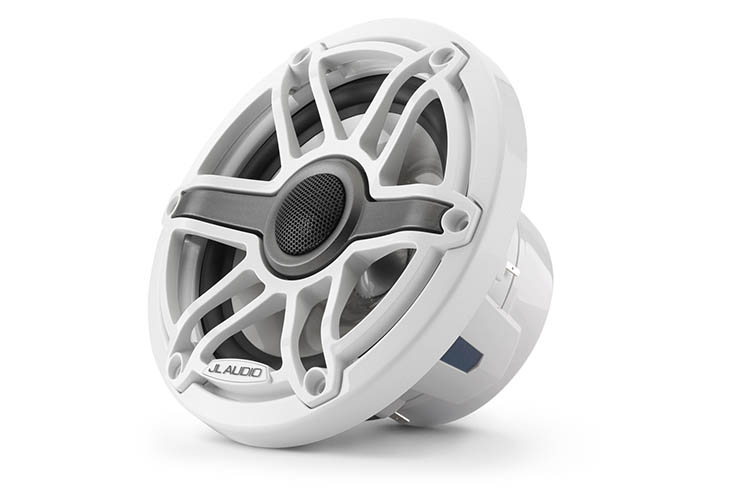 JL Audio Ultra-Premium M6 Upgrade
The JL Audio Ultra-Premium M6 upgrade features the all-new M6 marine loudspeakers, the benchmark for high-performance marine audio. The M6 speakers' low-distortion woofers and silk dome tweeters with tuned rear chambers spread audio energy evenly in every direction. This results in smooth, clean sound from a wide range of mounting locations. This package also adds the all-new MVi amplifiers with built-in DSP, powered by the MediaMaster MM100s-BE source unit.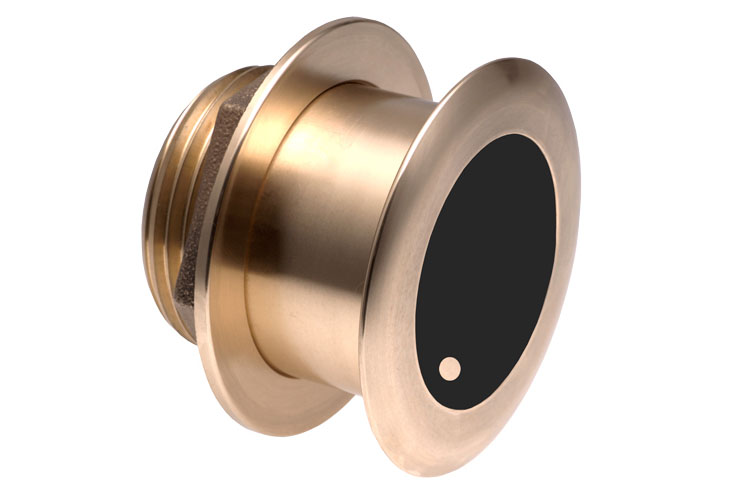 Airmar B175M CHIRP Thru-Hull Transducer Upgrade
With a range of up to 1500 ft, it is ideal for sportfishing. CHIRP technology delivers target resolution and depth penetration superior to traditional single-frequency sonar. This transducer is able to measure both depth and temperature in a single package, with a simple installation that requires just one connection to your Garmin multifunction display.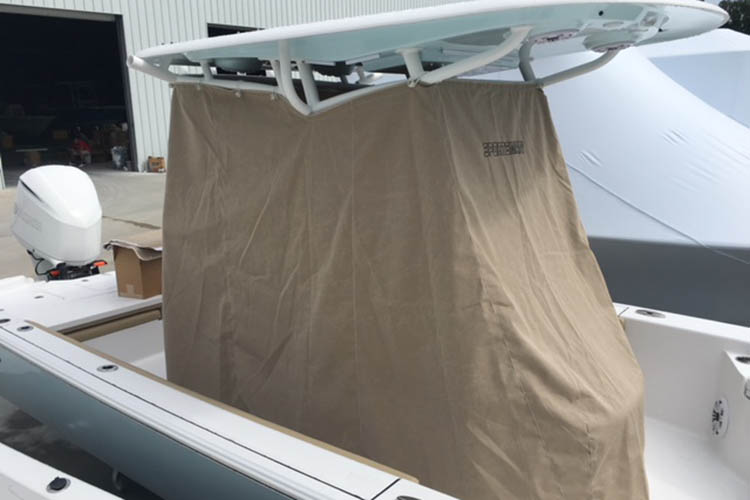 Console Drape (LP & Console, req. Top)
This console and leaning post drape cover is convenient and quick to set up. Attaches to the piping of the hard-top and creates a curtain coverage around the entire console and leaning post.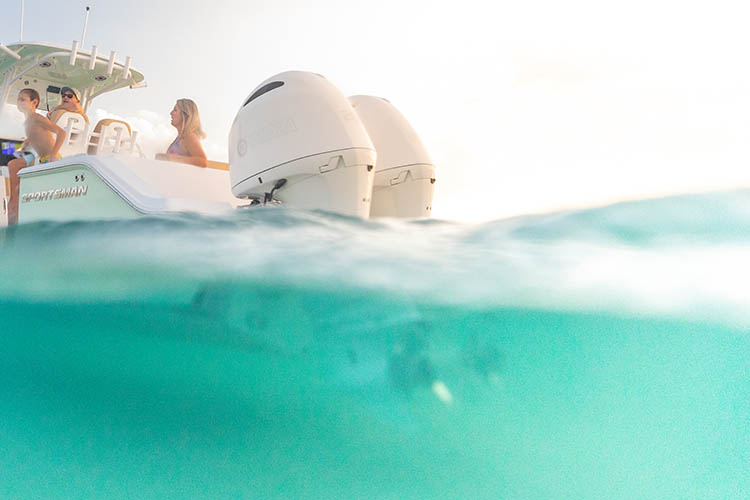 Custom Color Engine (Twins)
If the original paint color of Yamaha is not for you, opt in for the custom painted engines. Offered in White and Black, they surely will match the color theme of your Sportsman Boat. The paint job includes new custom silver decals to replace the original ones.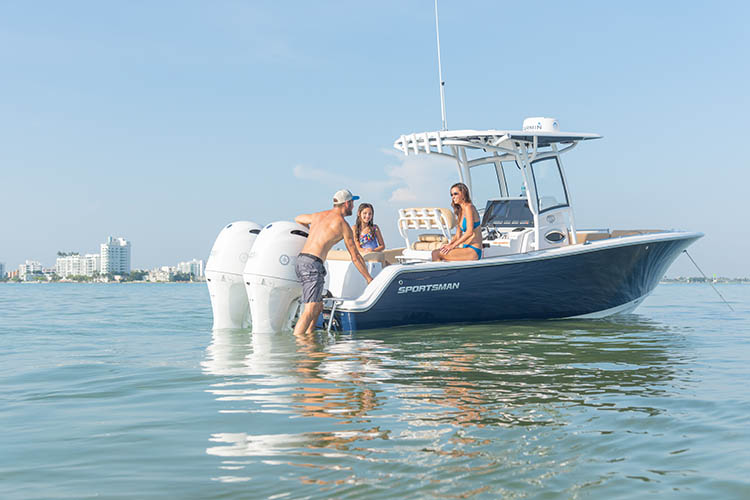 Dark Hull Color (Black/Steel/Shark) Upgrade
If the boat or package includes a light hull color already and you would like to a Steel Blue or Black hull color, this is the upgrade charge.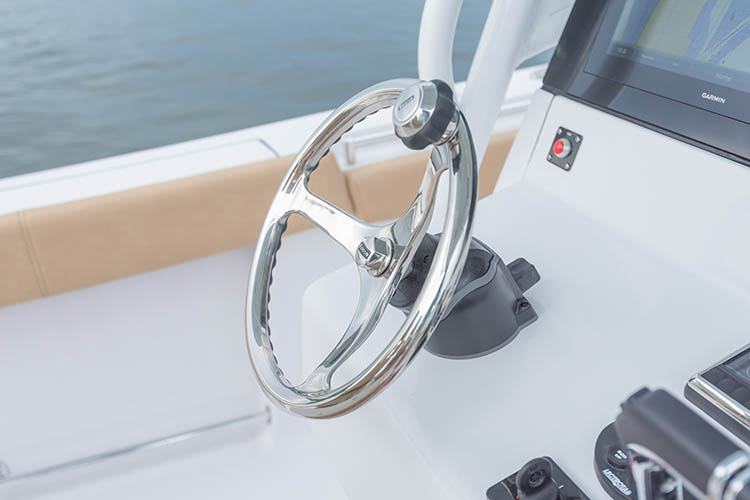 Edson 13" SS Comfort Grip Steering Wheel w/ PowerKnob
The perfect combination of durability, good looks and soft feel. The ComfortGrip PowerWheel features a unique rubber finger grip that provides ultimate comfort and with the ComfortGrip PowerKnob make precision turns.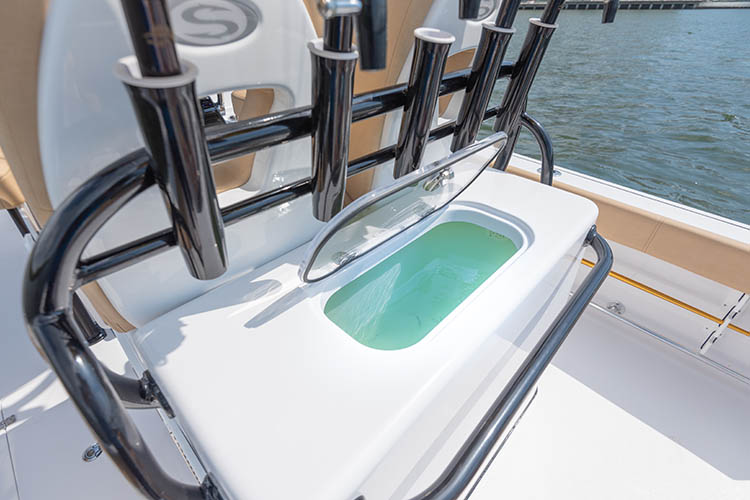 Fiberglass LP w/ Built-In 32 Gal Livewell
Standard in our 282TE, this fiberglass leaning post has a built-in 32-gallon livewell. It is a direct replacement to the standard leaning post but features a very large livewell with recirculating pump.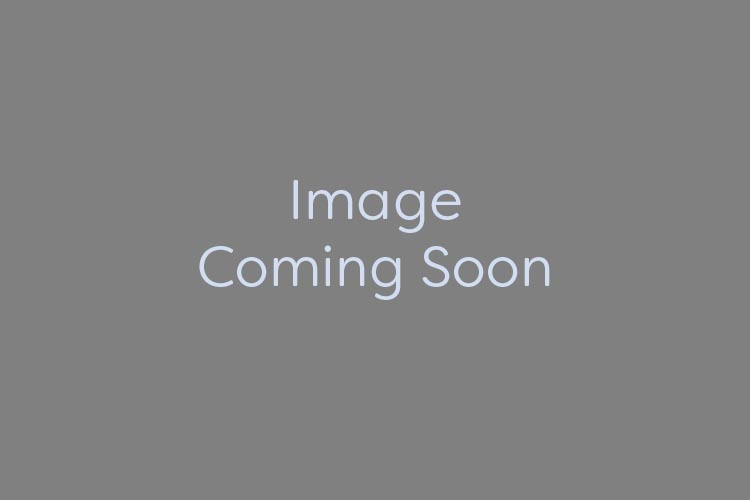 Gull Wings
This gull wings option serves as an extension to the spray shield with additional triangular coverage for both sides of the console and it is designed to block off any spray from the side.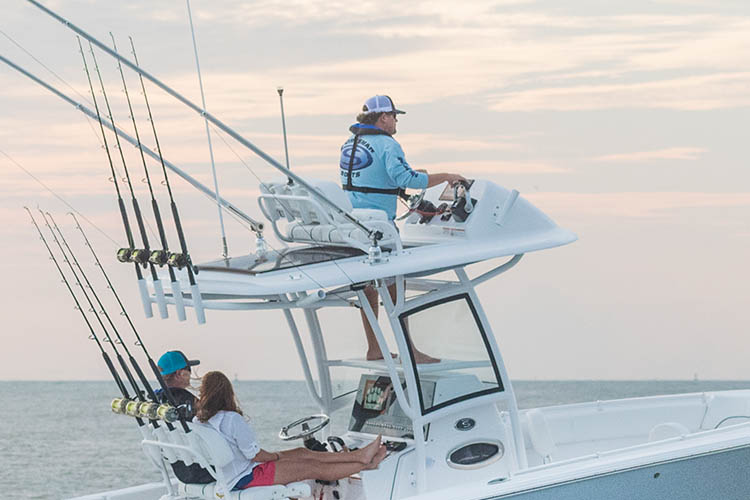 Half Tower w/ Second Station
For the ultimate addition, opt in for the half tower option. This adds a full helm with instrumentation at the tower level with leaning post, trim tab controls, engine controls and an additional 9" screen that shares all of the same data as the rest of the system.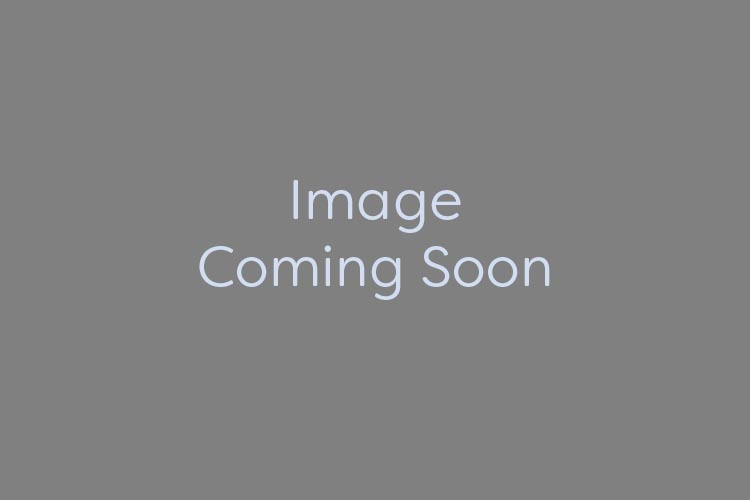 Mooring Cover (Sunbrella®)
Made out of Sunbrella® material, this full boat cover will protect your boat from the weather.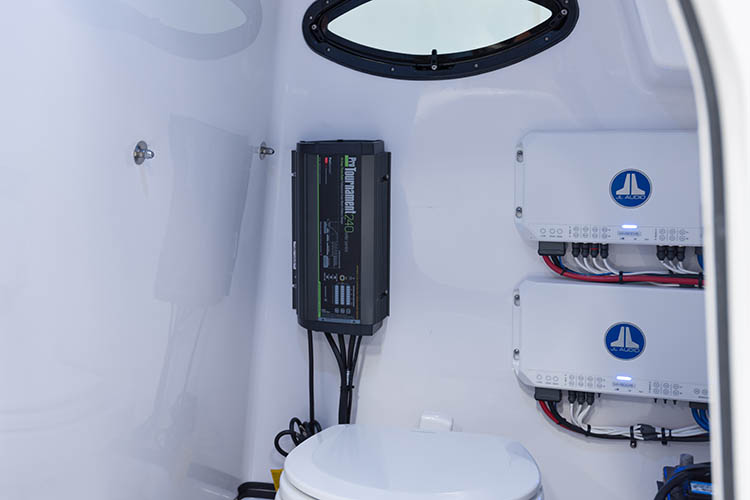 On-Board Battery Charging System (3-Bank)
Keep your batteries fully charged while you are away with this convenient trickle charger. The charger plugs into a regular 110V outlet and maintains the batteries fully charged by monitoring their charge, recharging as necessary. This is a 3-Bank battery charging system meaning all 3 batteries on-board will be charged simultaneously.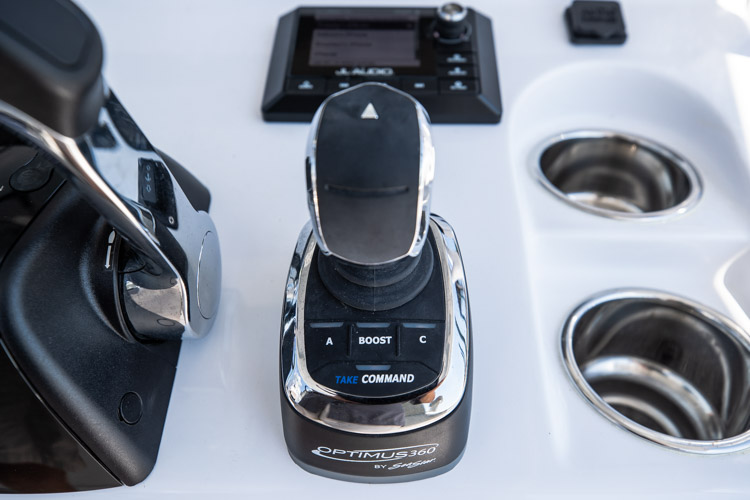 Optimus 360 Joystick
For ultimate control of your boat, add the SeaStar Optimus 360 joystick. Optimus 360 allows you to move your boat not only forward and back, but also sideways, by pushing the joystick to the left, or to the right, and even, rotate on a dime, all with a simple twist of the joystick. Requires Twin engines.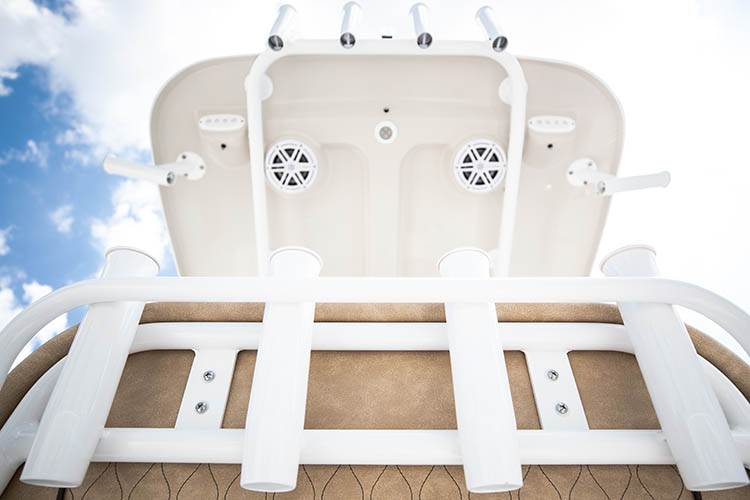 Powder Coating
Adds a strong protective and durable coating to the metals on the boat and is offered in White or Black to match the boat's color scheme.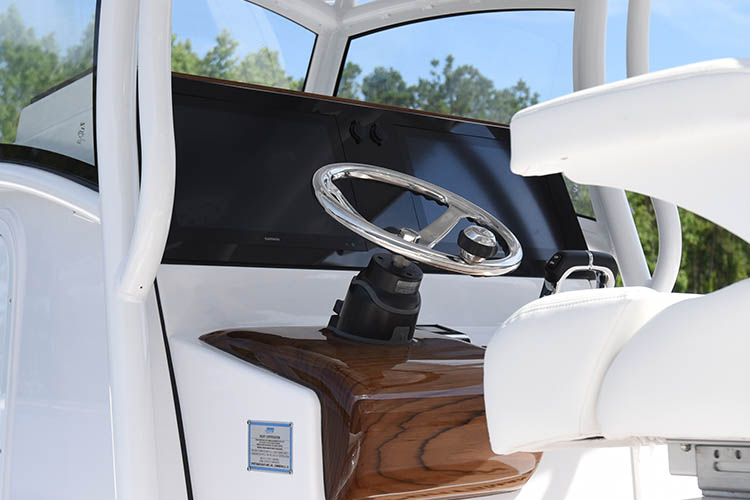 Release Marine Package
This package adds teak accents to the helm and a stunning steering wheel pod that will become the focal point of the console.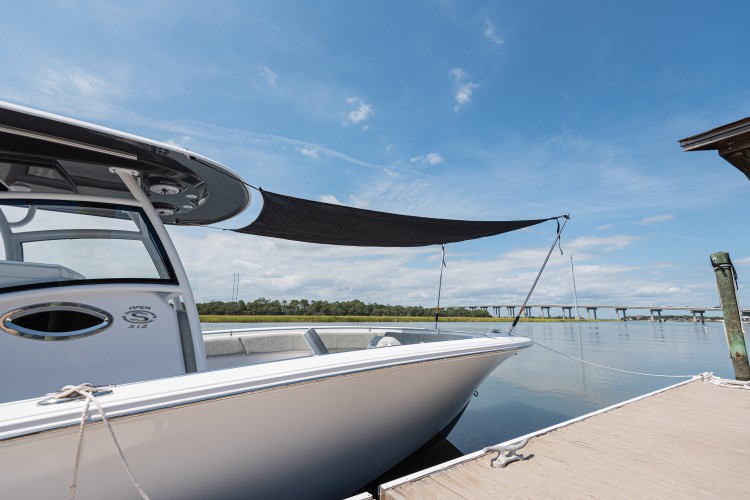 Sun Shade w/ Poles - Front
For those very sunny days, this sun shade kit will be a lifesaver. It includes two poles, a breathable fabric canvas and a carrying bag for storage. This option is for the front of the boat.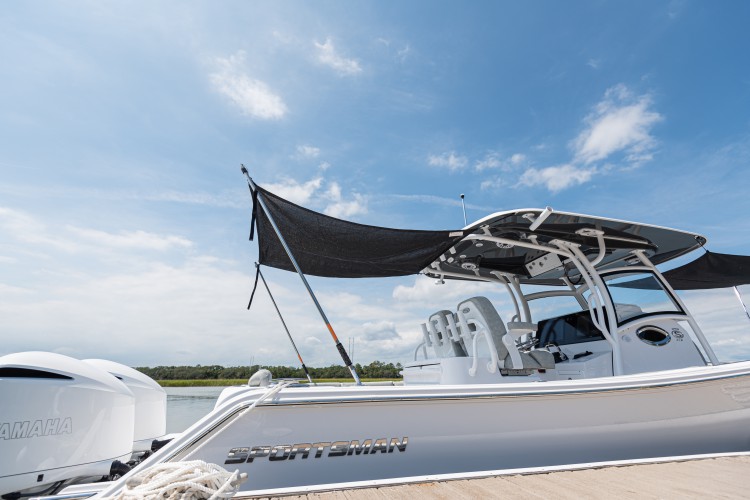 Sun Shade w/ Poles - Rear
For those very sunny days, this sun shade kit will be a lifesaver. It includes two poles, a breathable fabric canvas and a carrying bag for storage. This option is for the rear of the boat.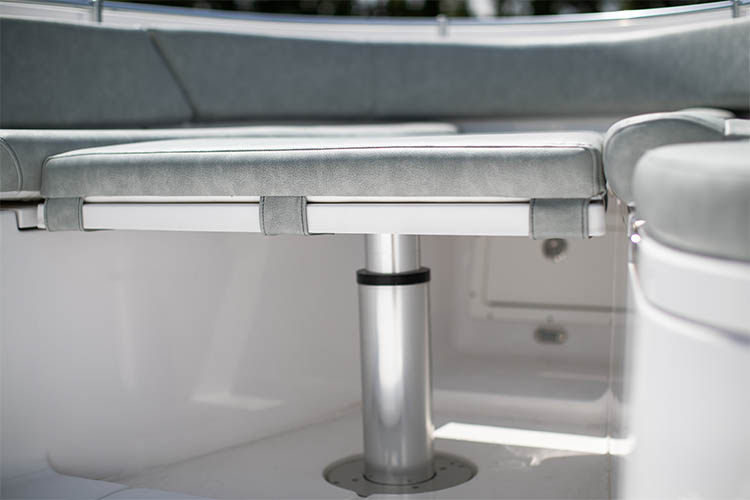 Sundeck / Table Cushion
When the table is at the middle position, this filler cushion will cover the top of the table for the complete bow sundeck option.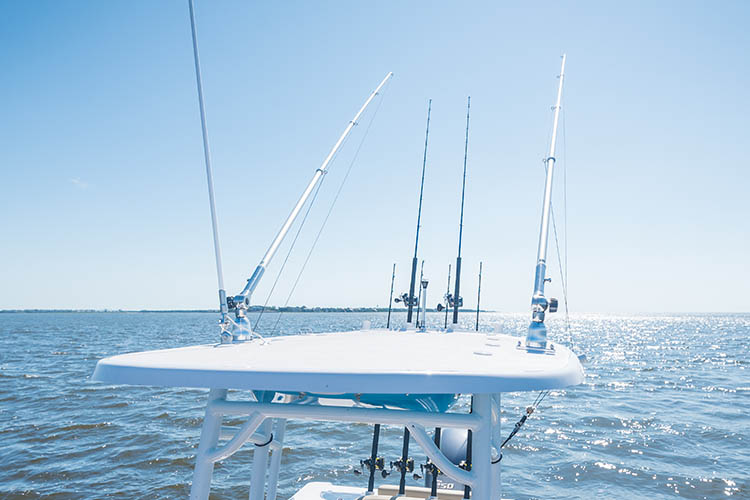 Taco Outriggers - GS280
With a rugged design, these outriggers will provide years of reliable service even in the most challenging saltwater applications. They feature a locking head and the latest in sleek and ergonomic shape. They are matched up to Taco's 15' poles and come with the basic rigging kit.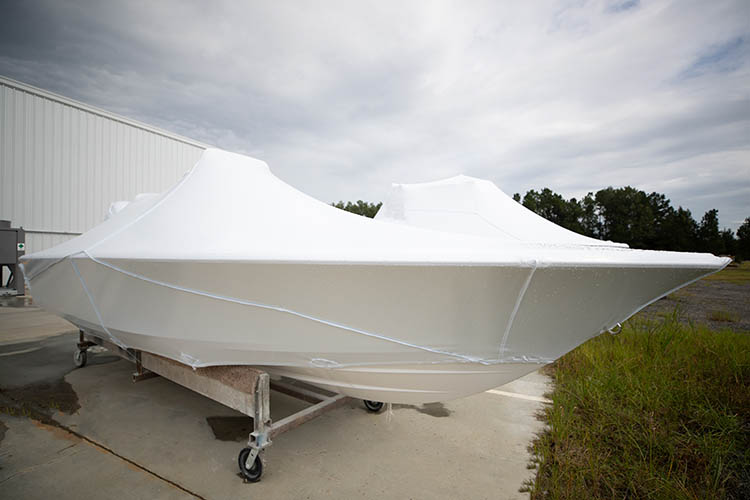 Transhield Shipping Cover
This is a one-time use transportation cover used for transporting long distances.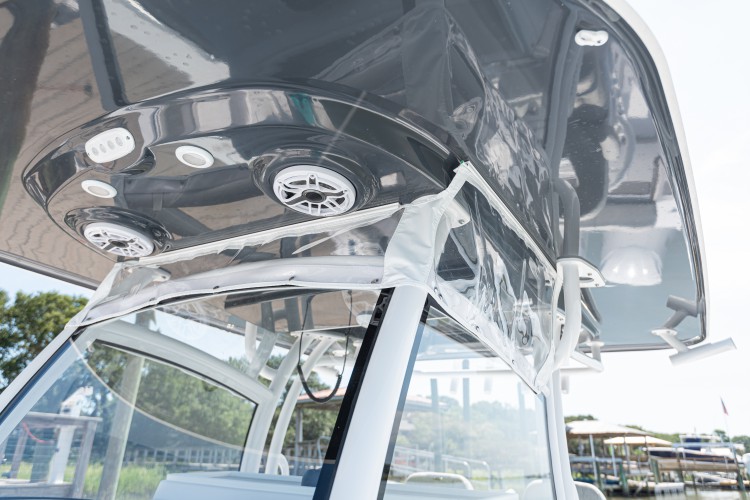 Windshield Close Out
This canvas covers the top vents on the tempered glass windshield and closes out any openings to prevent any wind coming through on the cooler days of the year.