Built Using Vacuum Infusion
In this process, all of the layers of fiberglass and core laminates are laid dry on the mold. Then, the mold is put under vacuum at which point resin is let in to impregnate the layers. This ensure the optimal ratio of fiberglass to resin for a stronger but lighter part.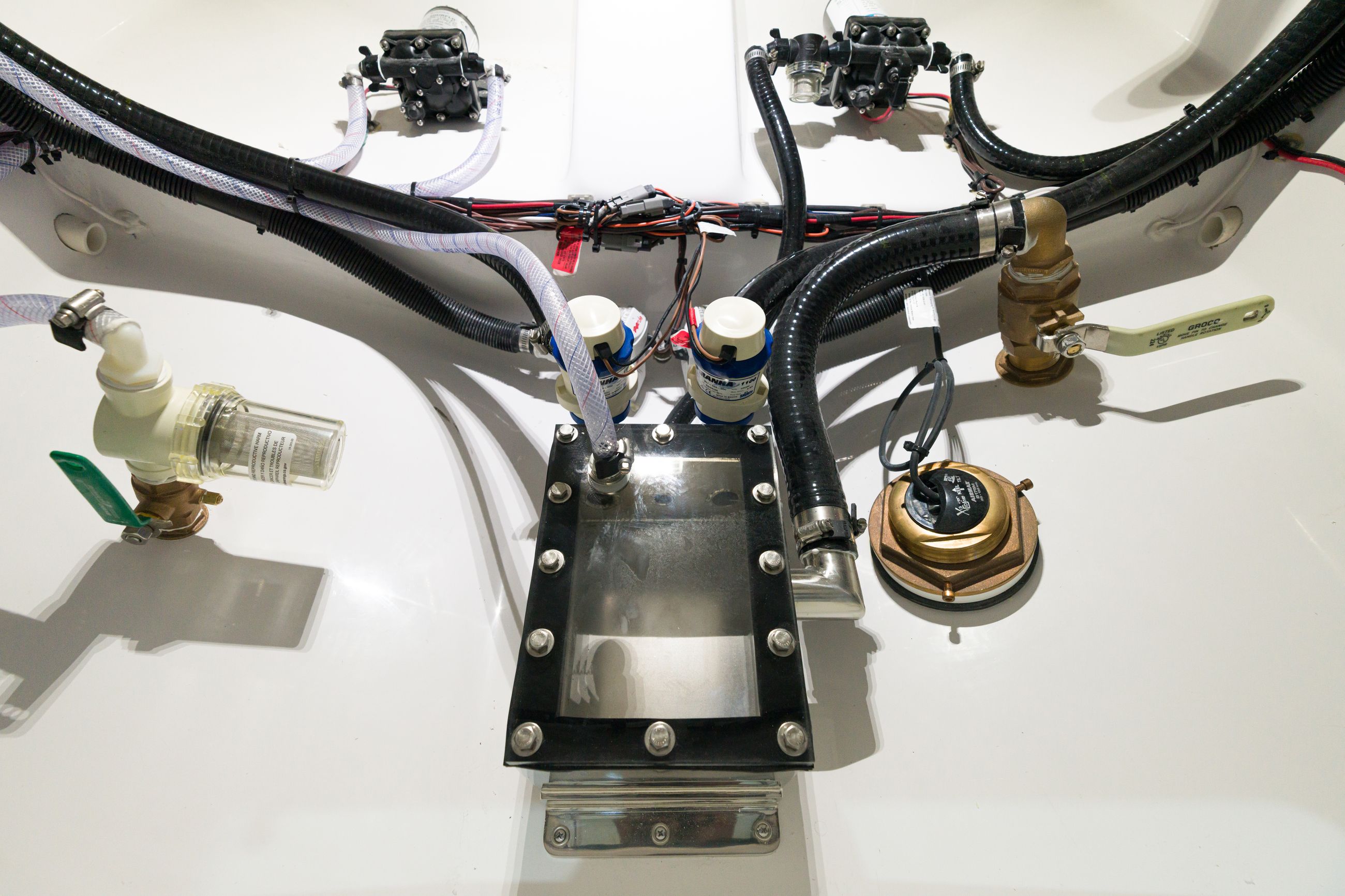 Raw Water Sea Chest Pump Box
Standard on this boat is a sea chest pump box and with it comes 3 major benefits. One, it helps to remove air from the water and prevents air locks. Two, it fully submerges the raw water pumps so they never run dry allowing them to run cooler and last longer. And lastly, it simplifies the entire system as there's only one thru-hull and one place for pumps, hoses and wiring.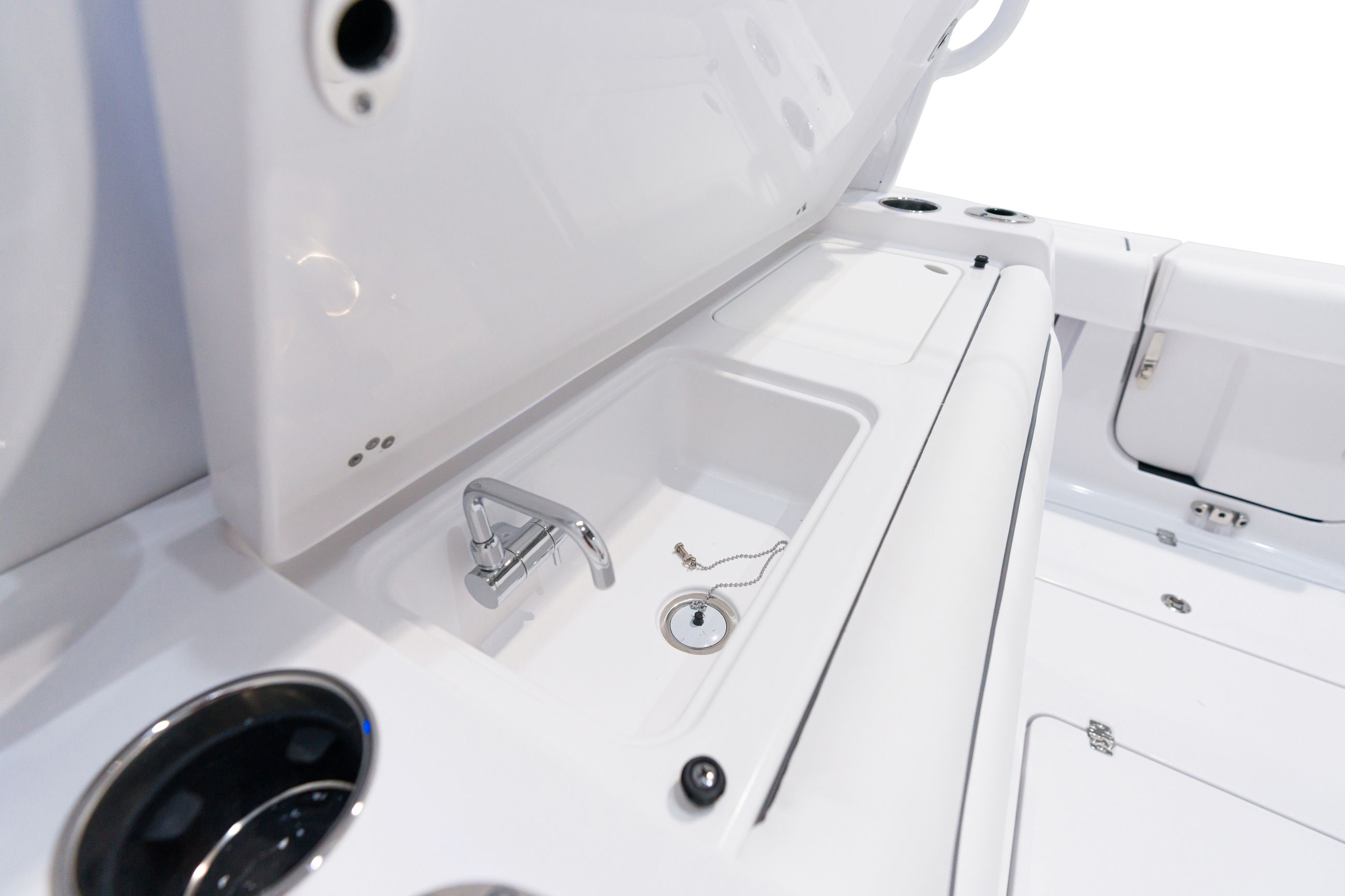 Leaning Post Sink, Cutting Board & Cooler
Over the top of the leaning post, opening the lid reveals a freshwater sink with a removable cutting board insert. Under the right side, you will find a great spot for some food or to thaw baits.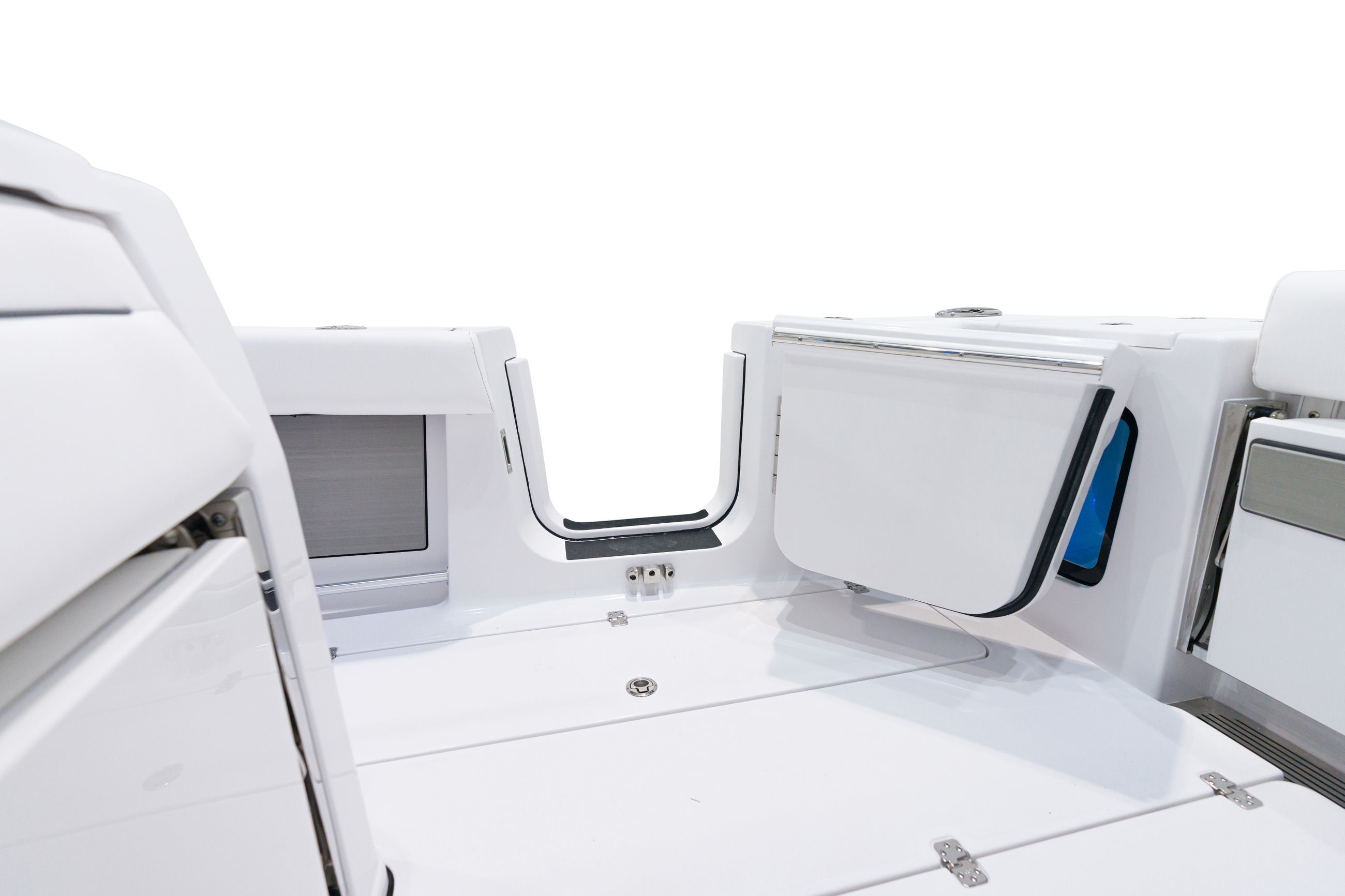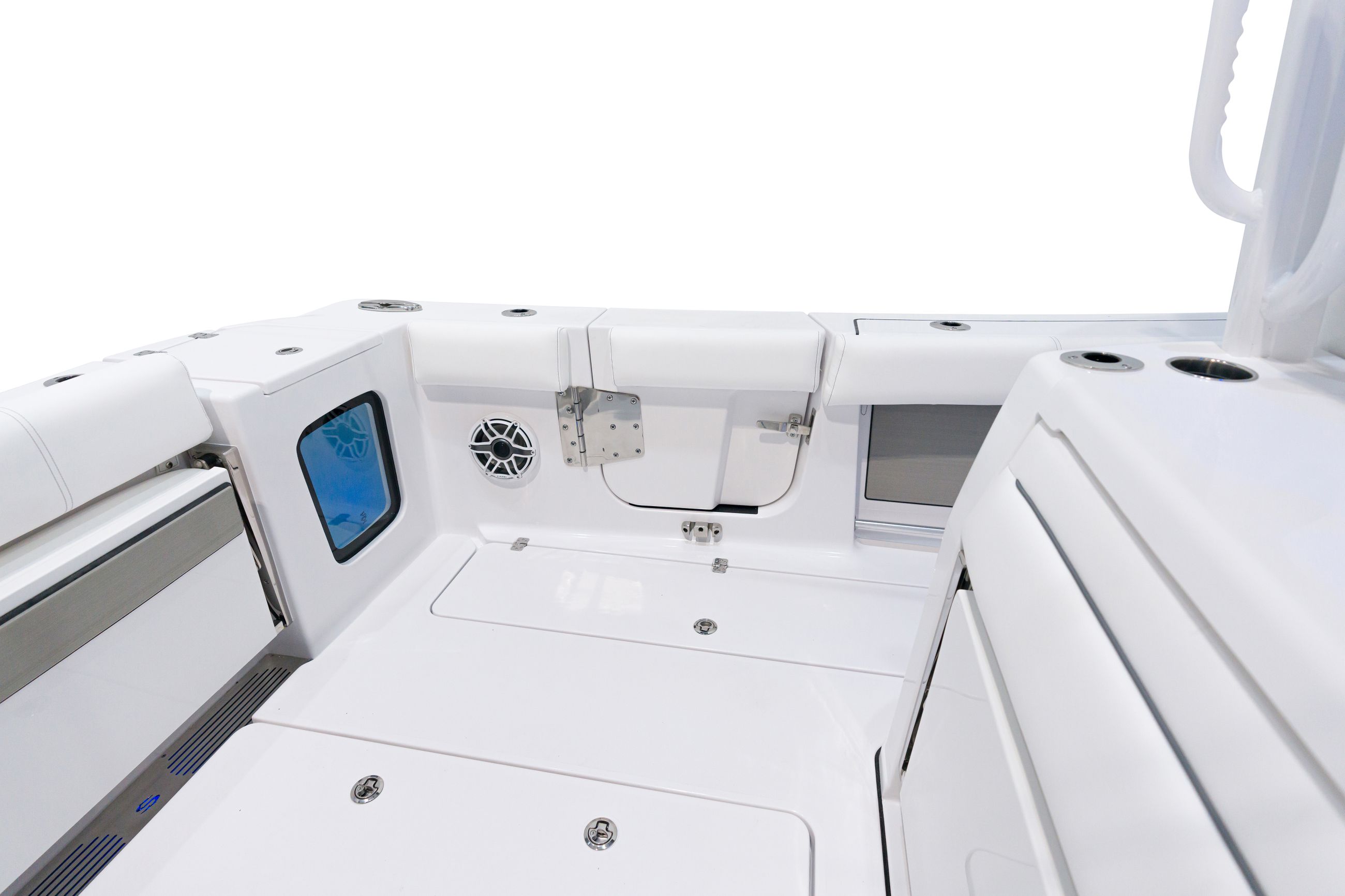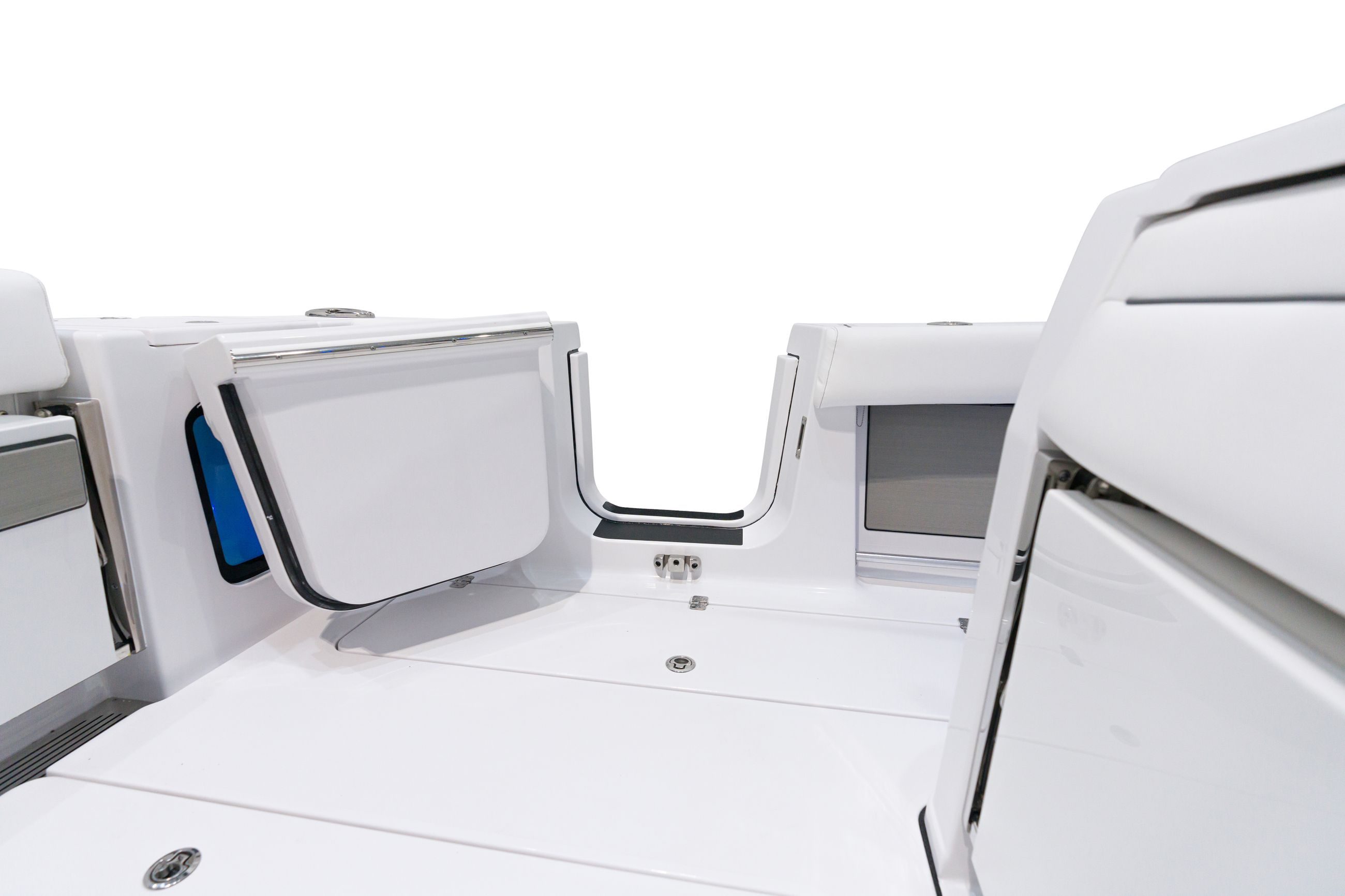 Side Entry Doors
Two are certainly better than one, at least when it comes to side doors. The side entry doors are a versatile feature that will quickly become one of your favorites and you'll love the ability to board from either side. Our side entry doors are part of the hull and deck mold. We designed them in this way to guarantee that they have the necessary structural reinforcements needed. Our stringer system supports the door and a large heavy duty hinge hangs the door.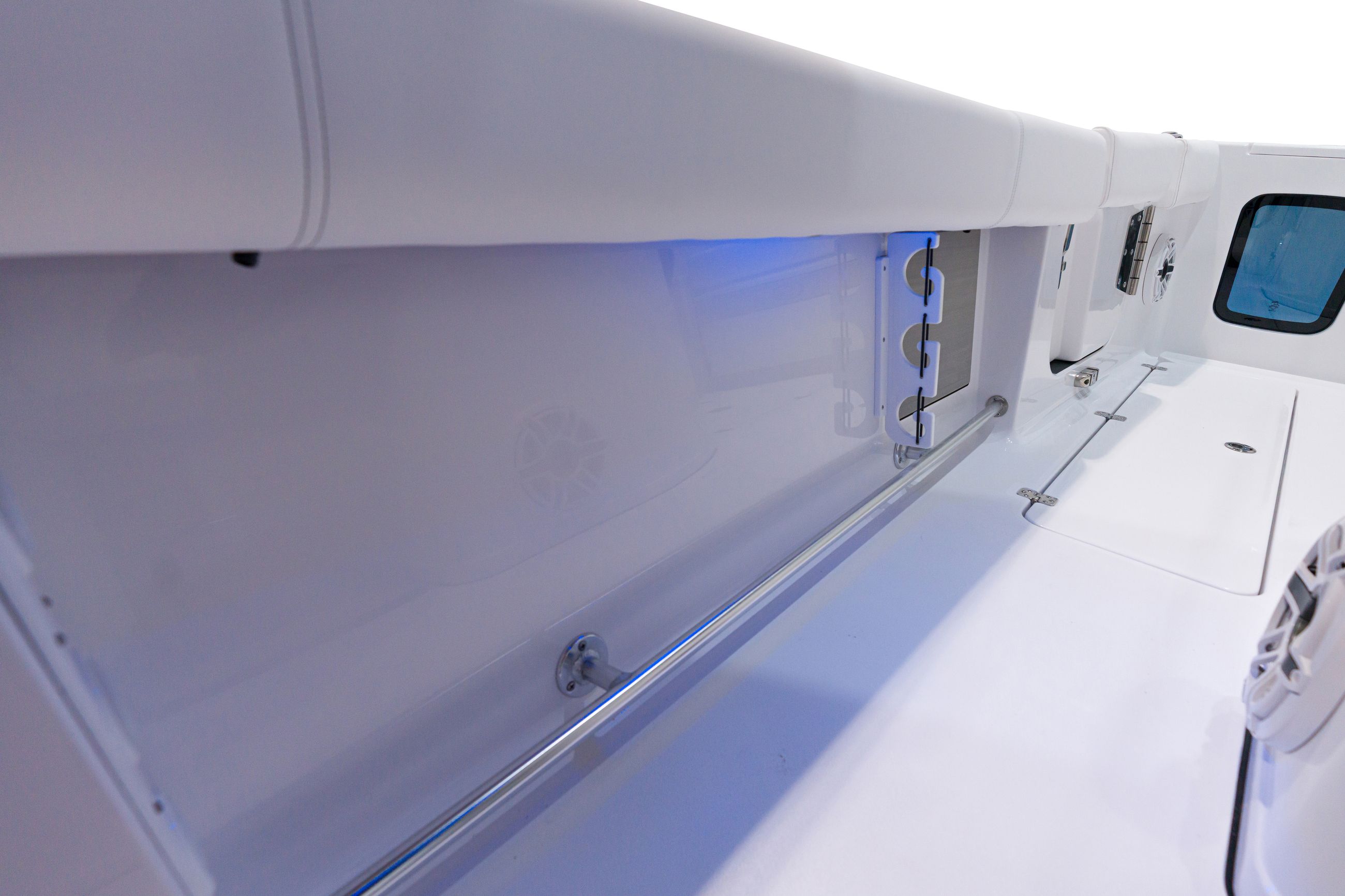 Port & Starboard Toe Rail
Located under the gunwale rod racks, the toe rail is designed as a brace point when heeling over the side of the boat to gaff or bring in a fish. You slide your toes under the bar and in conjunction with the bolster cushion, it provides a sturdy brace for your legs, even if the deck is wet or slippery.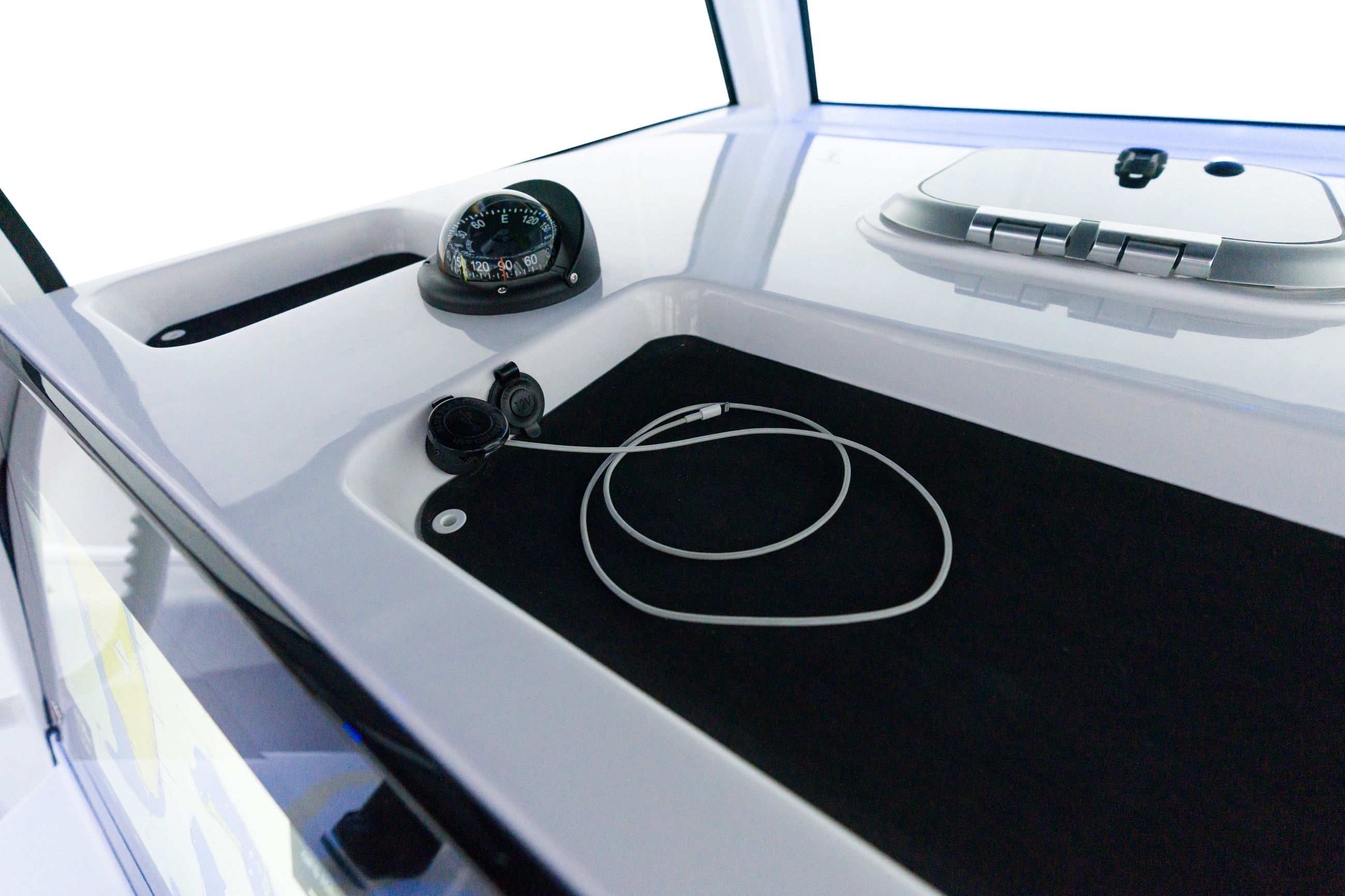 USB Plug In-Dash & 12V Receptacle
With the ever-growing demand to keep your devices charged, we include two USB plugs at the helm. The 2 included USB plugs are for charging and will keep your devices charged without interfacing with any other device. It also includes a 12 receptacle where you can plug in any cigarette-lighter style plug.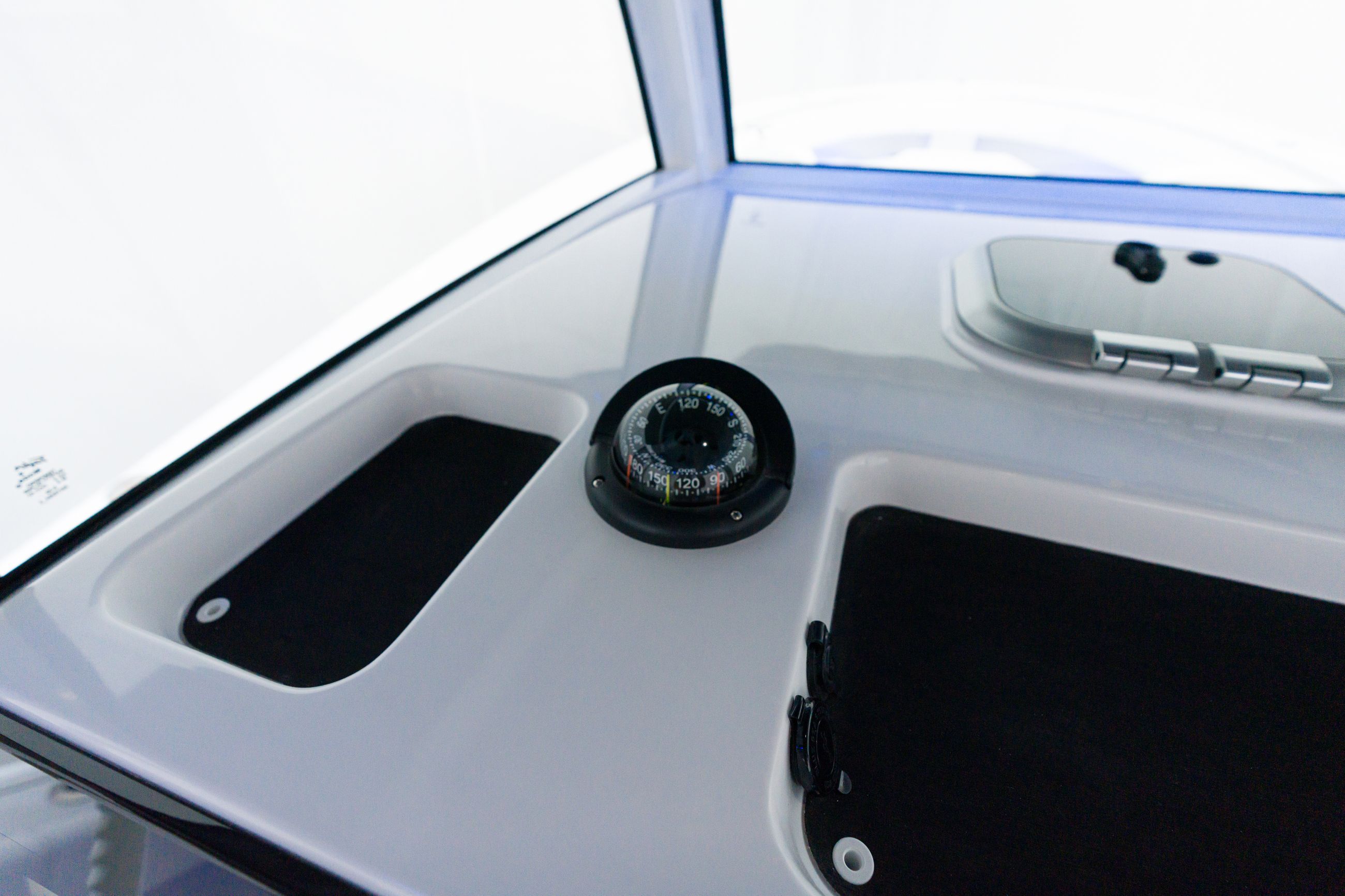 Compass
Considered one of the Four Great Inventions, the compass remains the cornerstone of any navigation system despite our advanced digital displays. Regardless of condition, your compass provides real-time heading and when used in combination with your GPS data, it allows you to optimize fuel efficiency & improve safety. When it gets dark, there's a built-in light inside the compass for night use.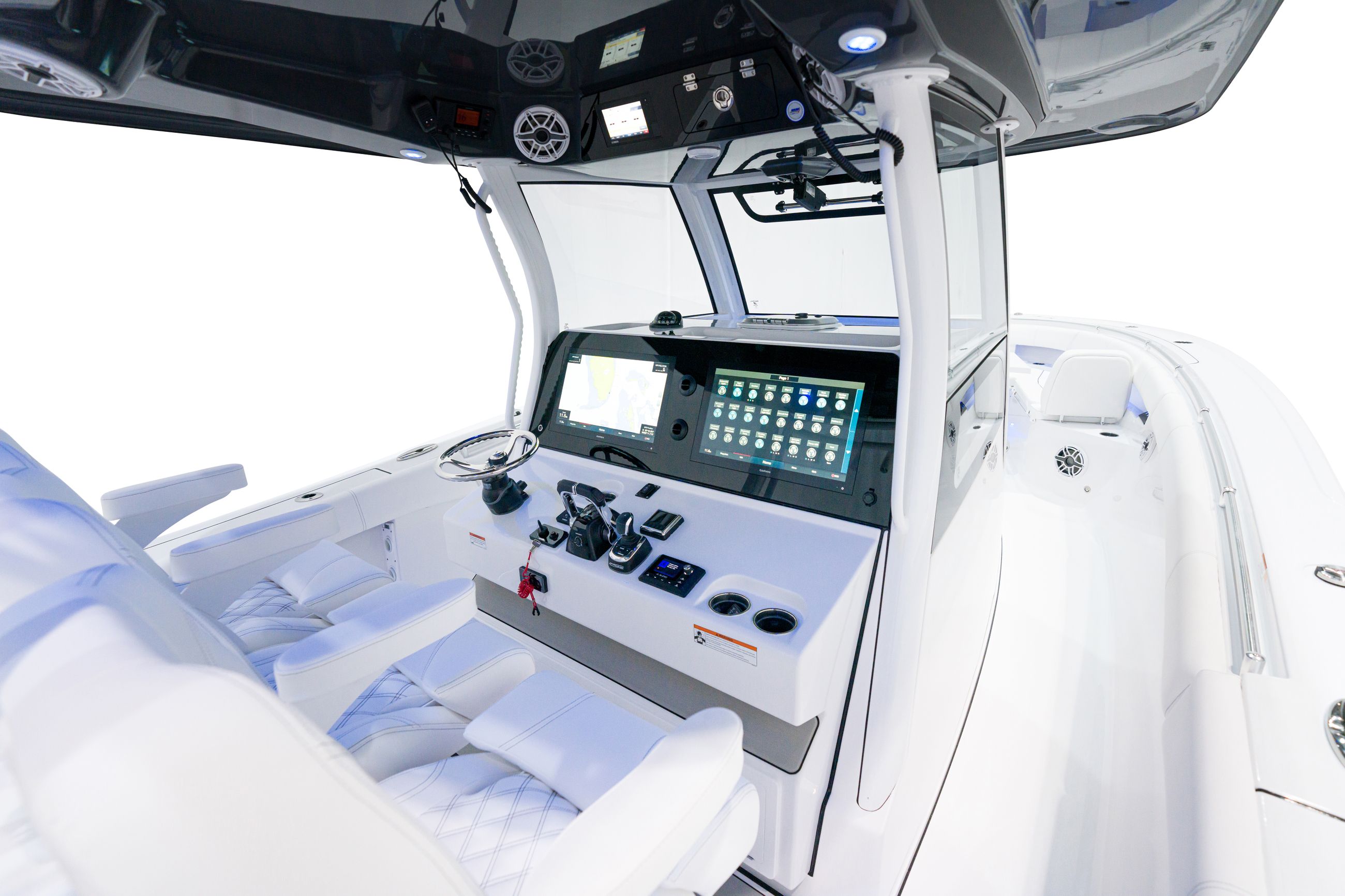 Hard-Top D-tubing Frame Structure
The 6-legged frame swoops seamlessly from the console up to the top and the design gives it immense structural stability. The class-first D-Tubing structure is not cut and welded as typically done, but rather it is bent and extruded out of a single piece of D-Tubing.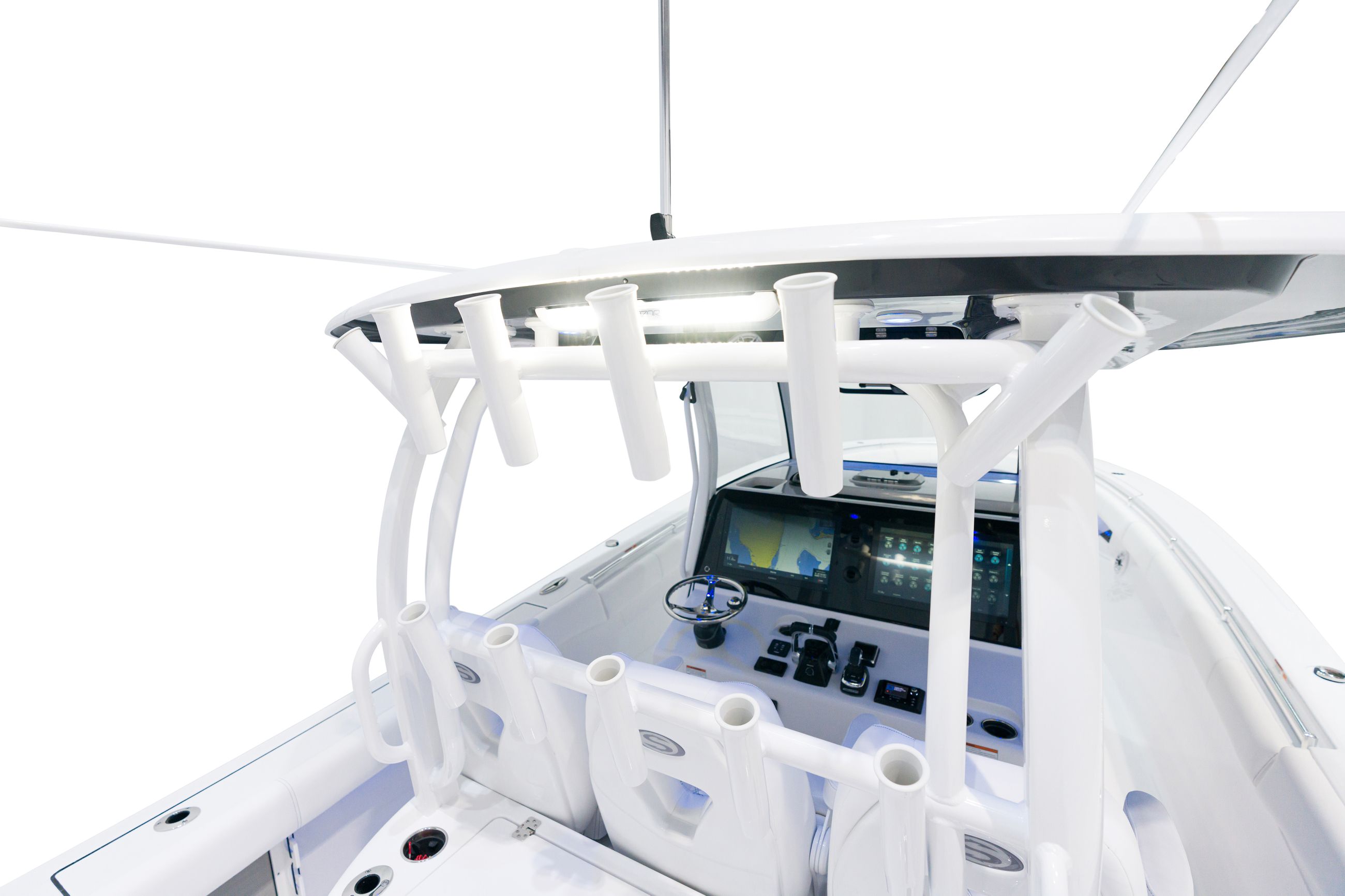 Rear Lumitec 18" Razor Flood Light Bar
Molded-in Lumitec 18" Razor Light Bar that will flood the rear cockpit, gunwales and surrounding areas with more than 10,000 lumens, perfect for those late night and early morning fishing trips.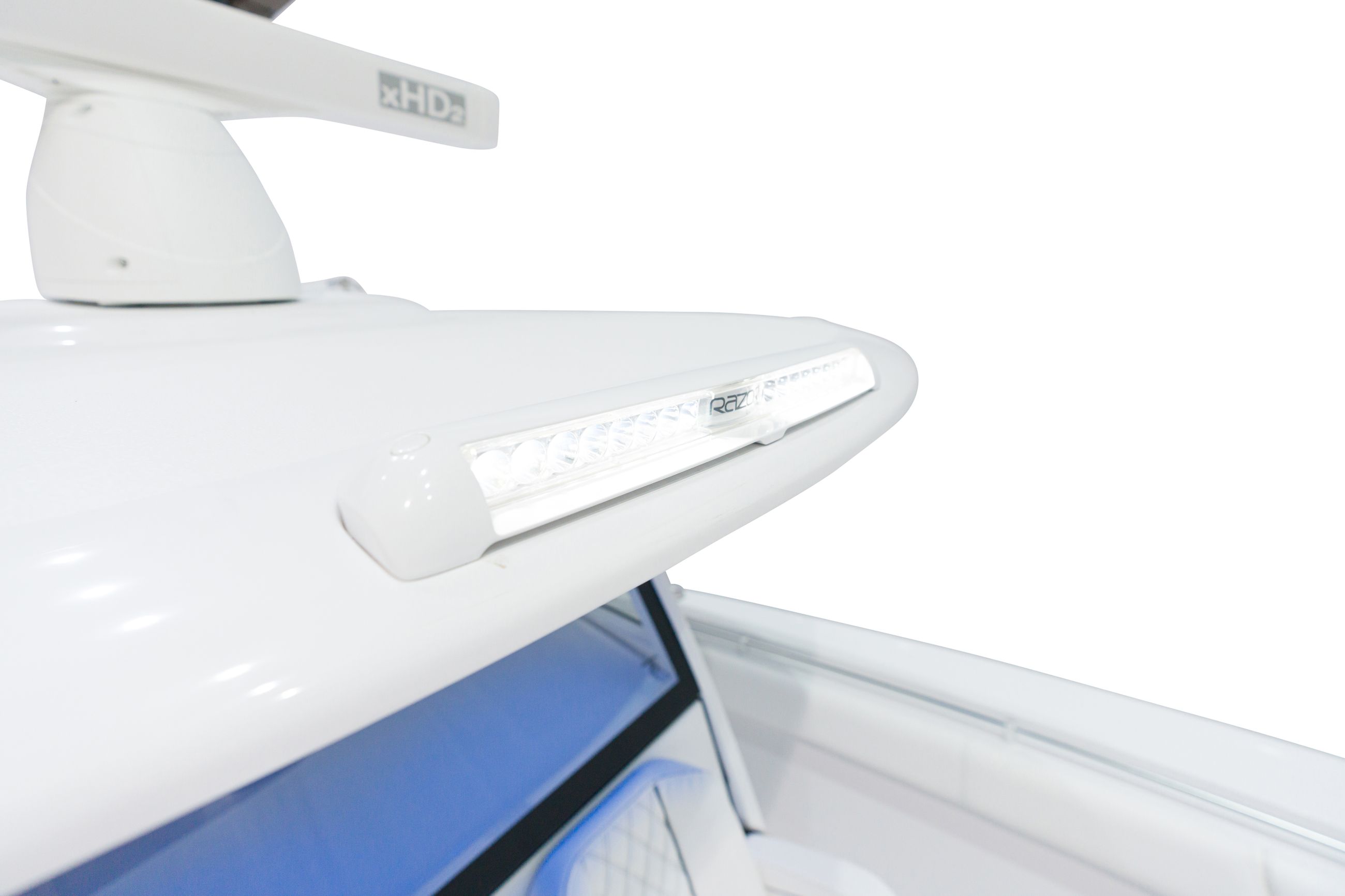 Front Lumitec 18" Razor Spot Light Bar
At the front of the top, another molded in Lumitec 18" Razor Light Bar but this one is a spot, perfect for illuminating the way as you are coming in after a sunset cruise.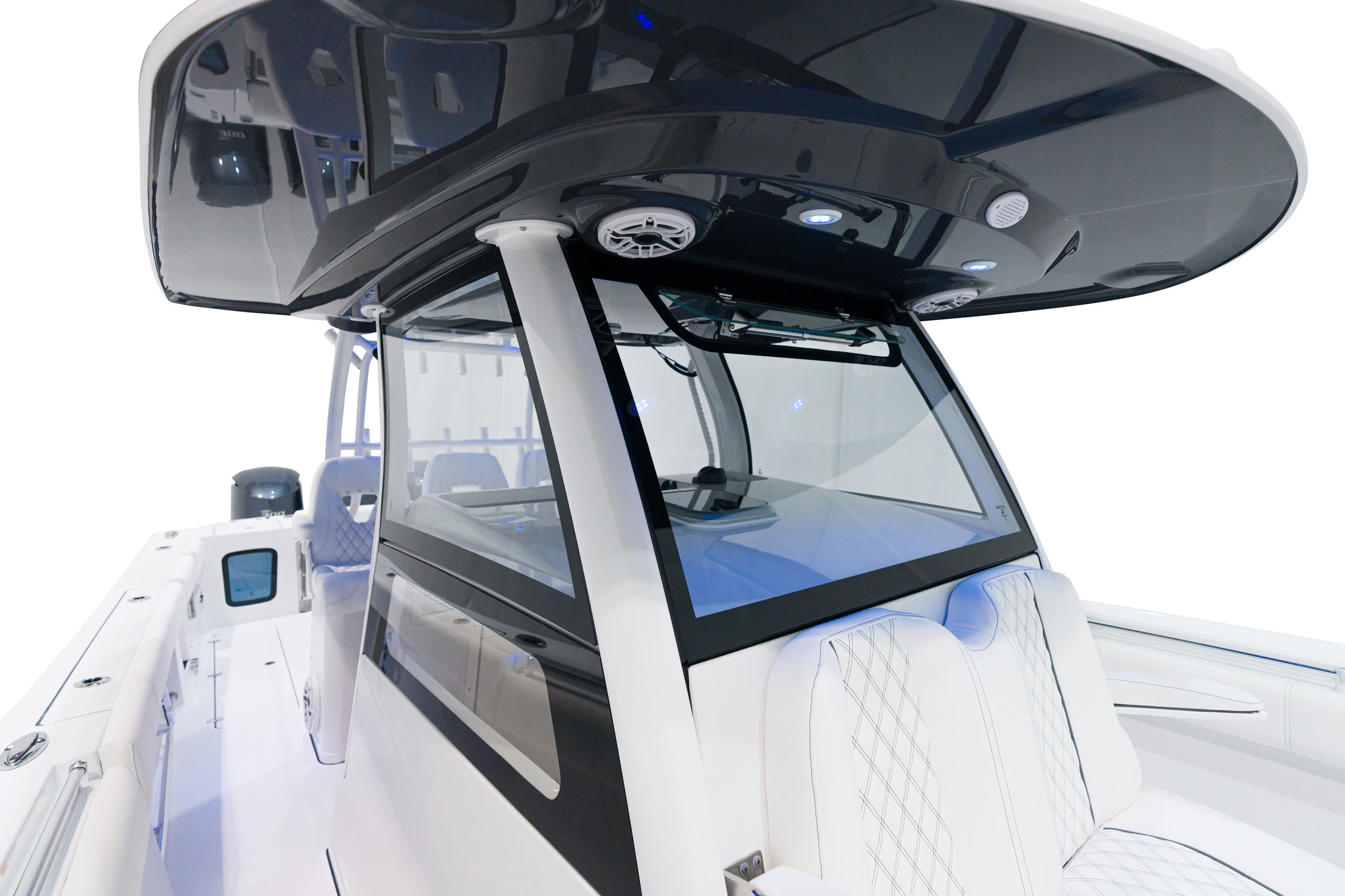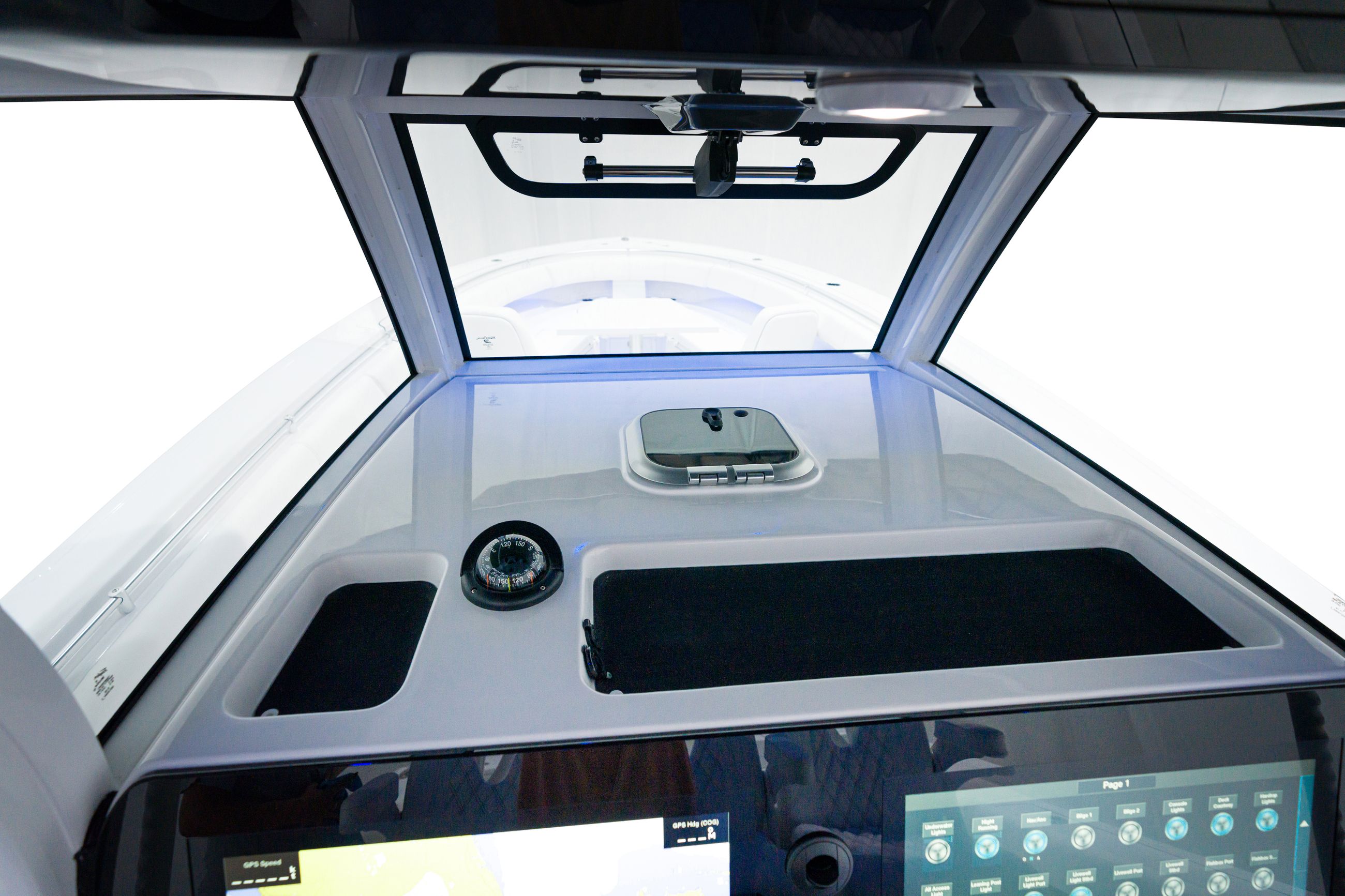 Integrated Tempered Glass Windshield w/ Actuated Vent
Made out of high-quality tempered glass, the integrated windshield protects the helm of excessive wind and rain while maintaining excellent air flow. The top section opens up at the push of a button to let in cool air. The glass is extremely easy to clean and will never fade, yellow or deteriorate.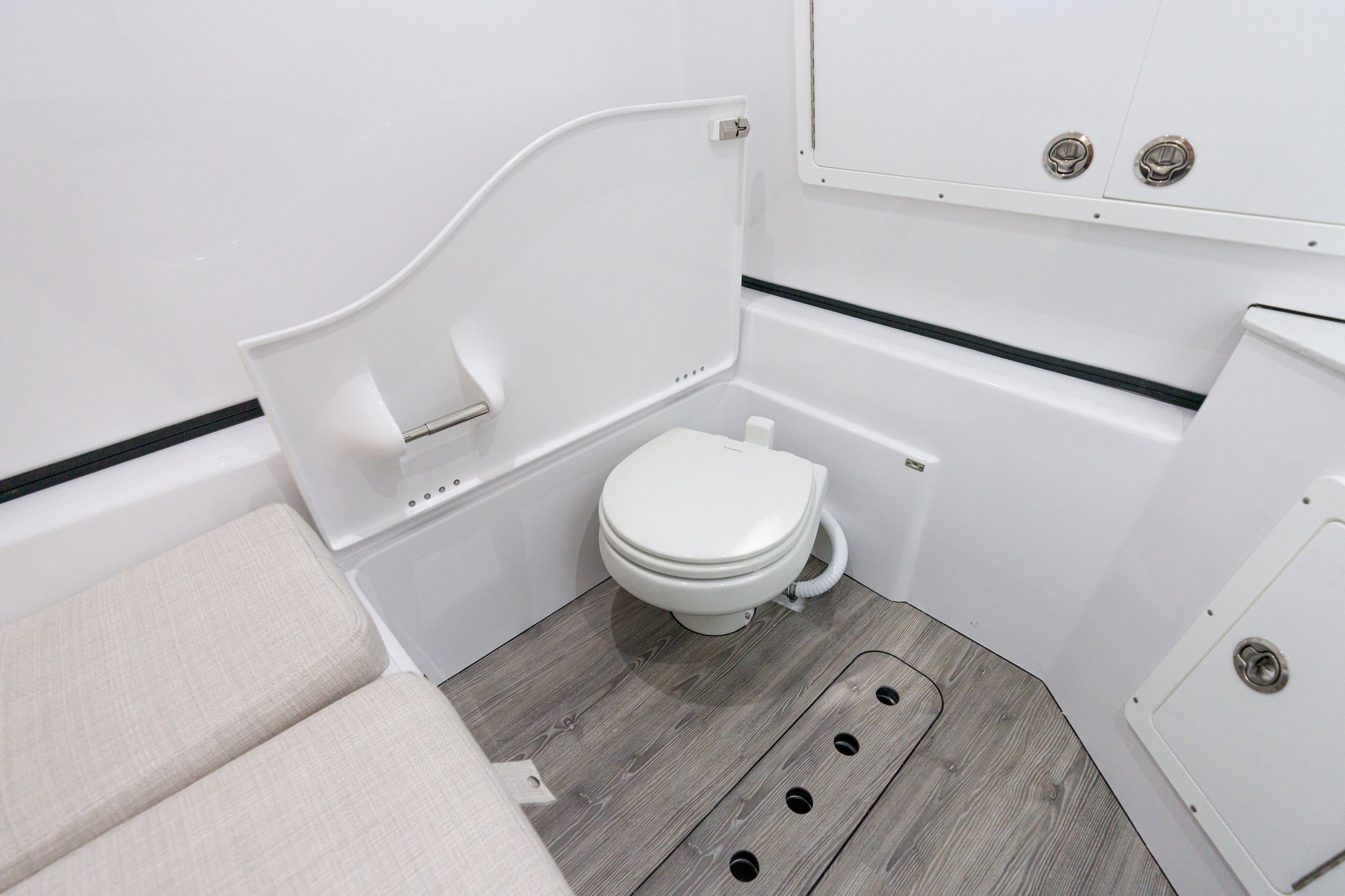 Electric Porcelain Toilet w/ Discharge
Standard feature on this boat is a freshwater electric porcelain toilet with overboard discharge along with an on-board holding tank. Once the toilet flushes, it gets piped into the holding tank. From there, where legally allowed, a push of a button discharges the tank. Making this a very easy and convenient way of having a fully functional toilet on your boat.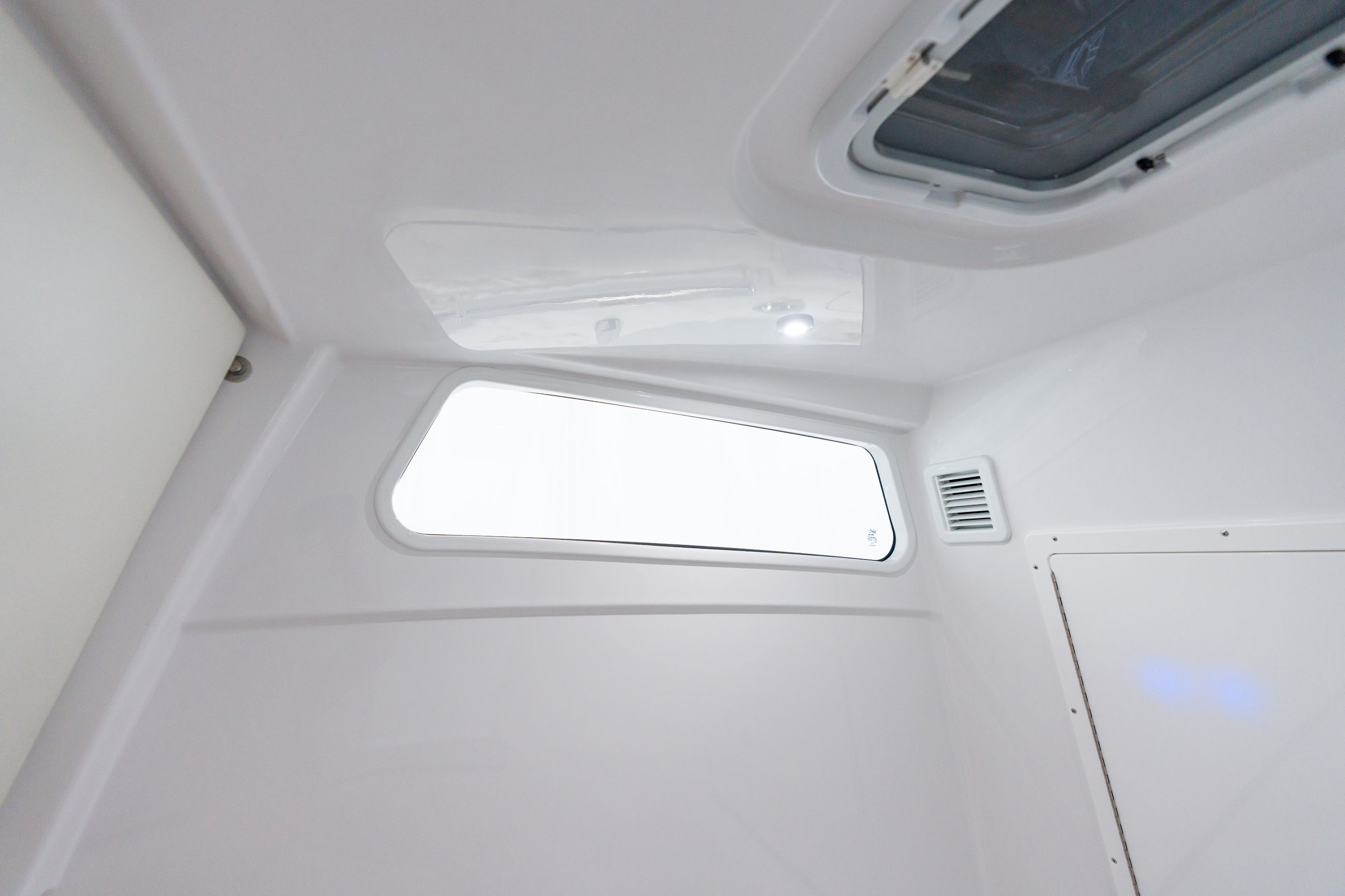 Large Horizontal Window w/ Curtain
When designing this space, it was extremely important to bring in plenty of sunlight. To achieve this, a large horizontal window on the starboard side was designed in. This flush glass design allows for the largest opening. We include a curtain to block off the window when privacy is needed.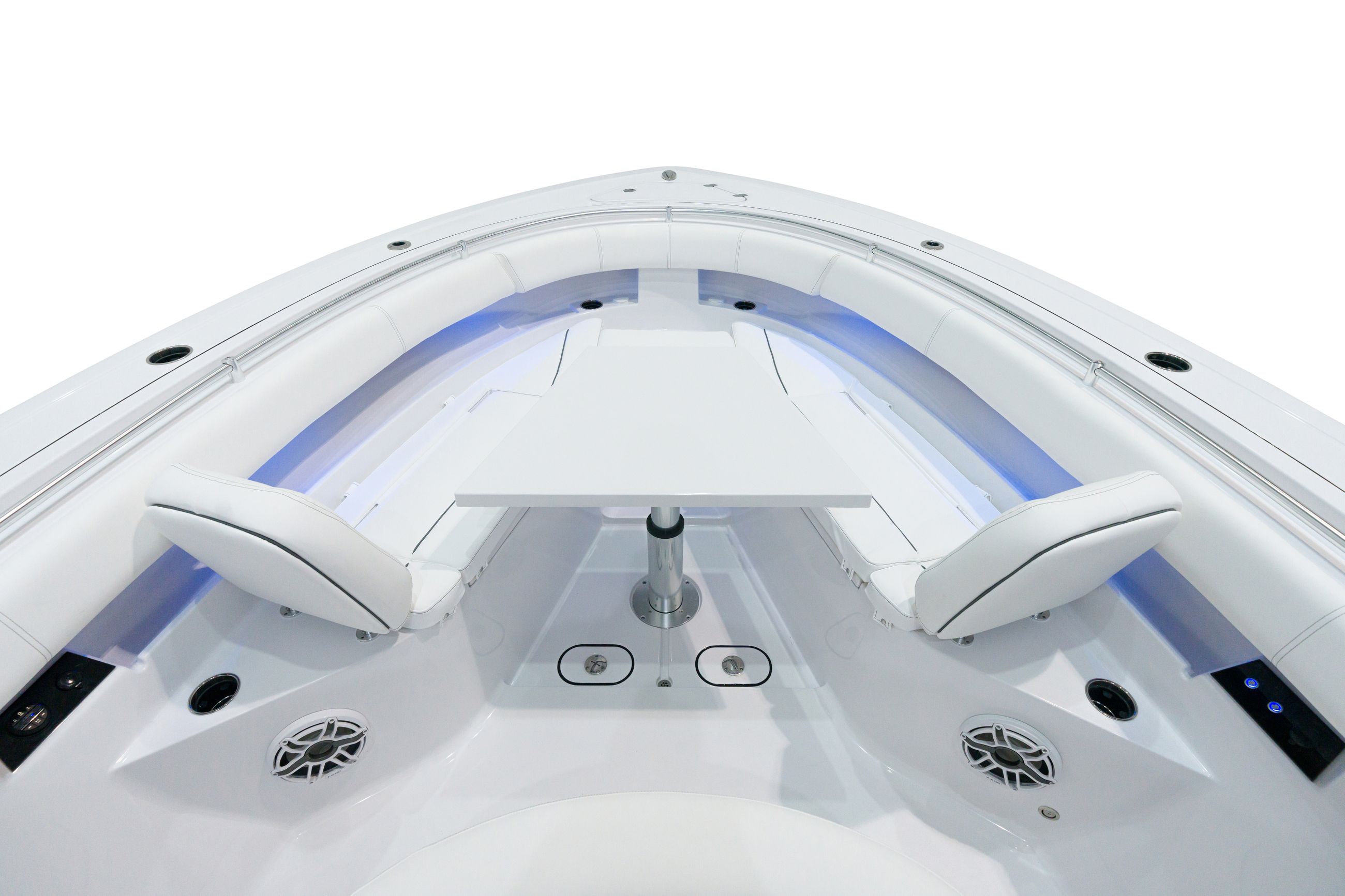 Bow Layout
The bow of this boat is designed with entertainment and versatility in mind. Features wrap around seating with oversized bow backrests, 2 easily accessible large insulated fish boxes, drink holders, JL Audio speakers to play your favorite tunes with remote control, USB charging plugs and molded-in under gunwale storage all the way around.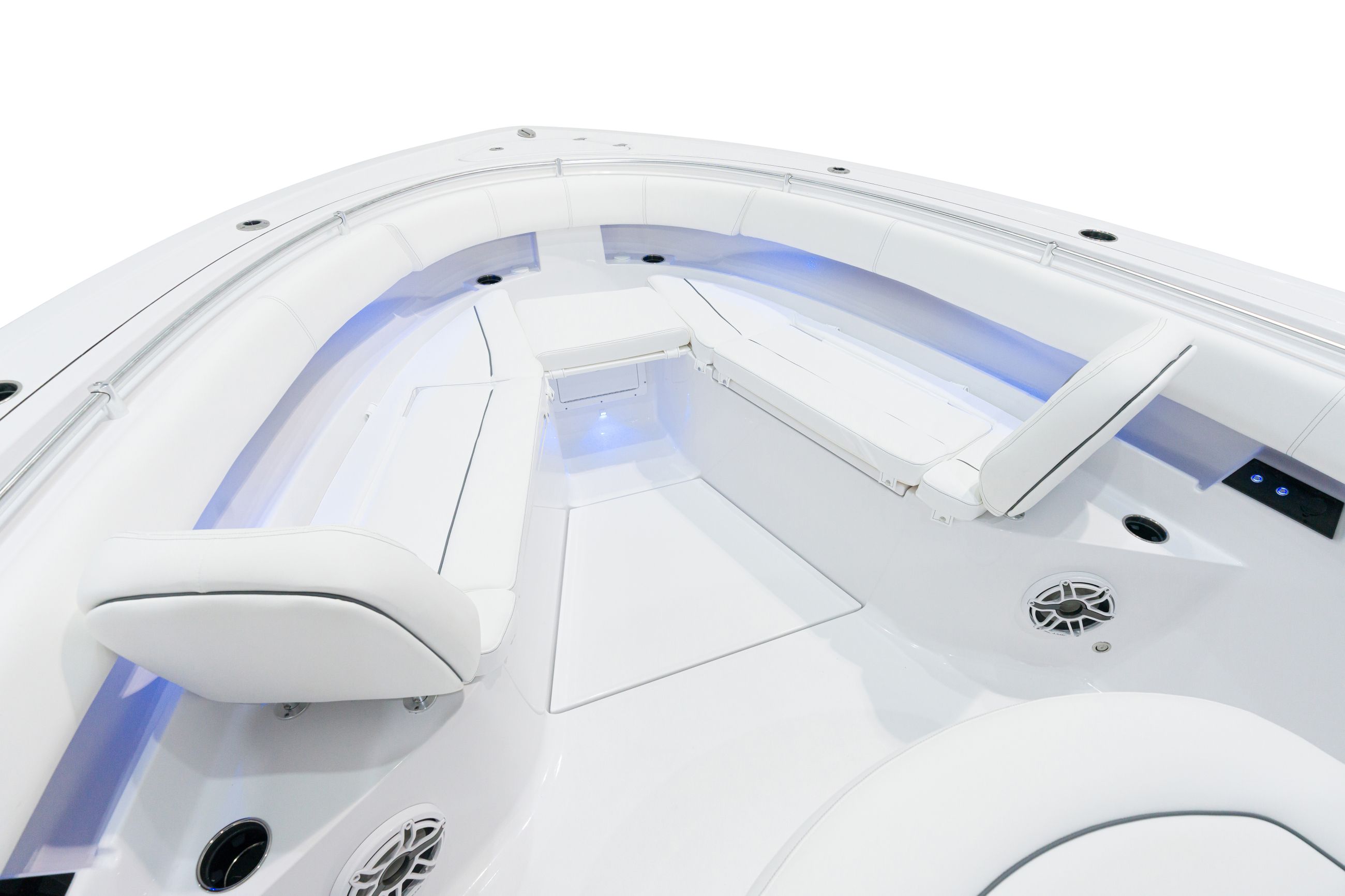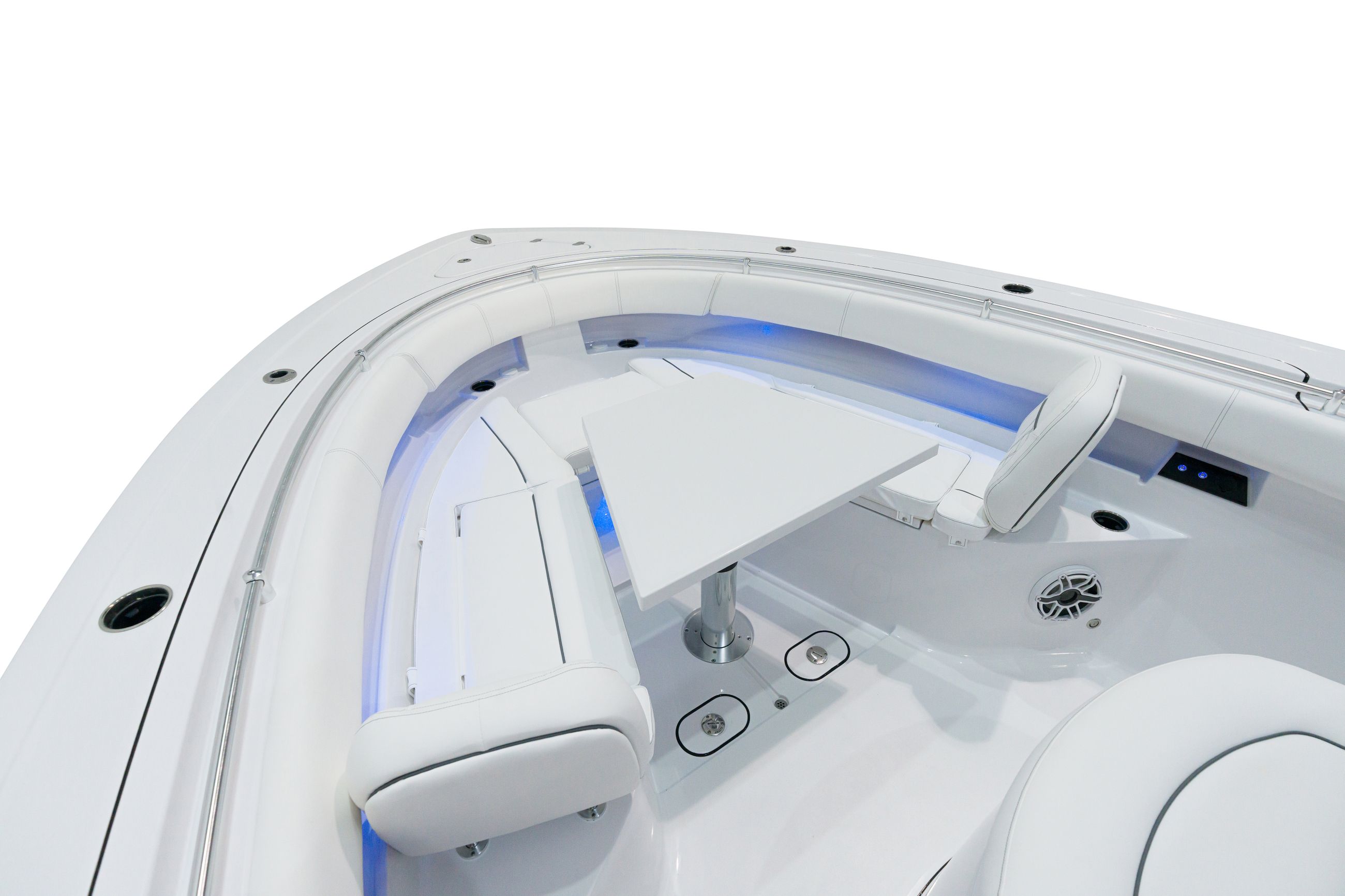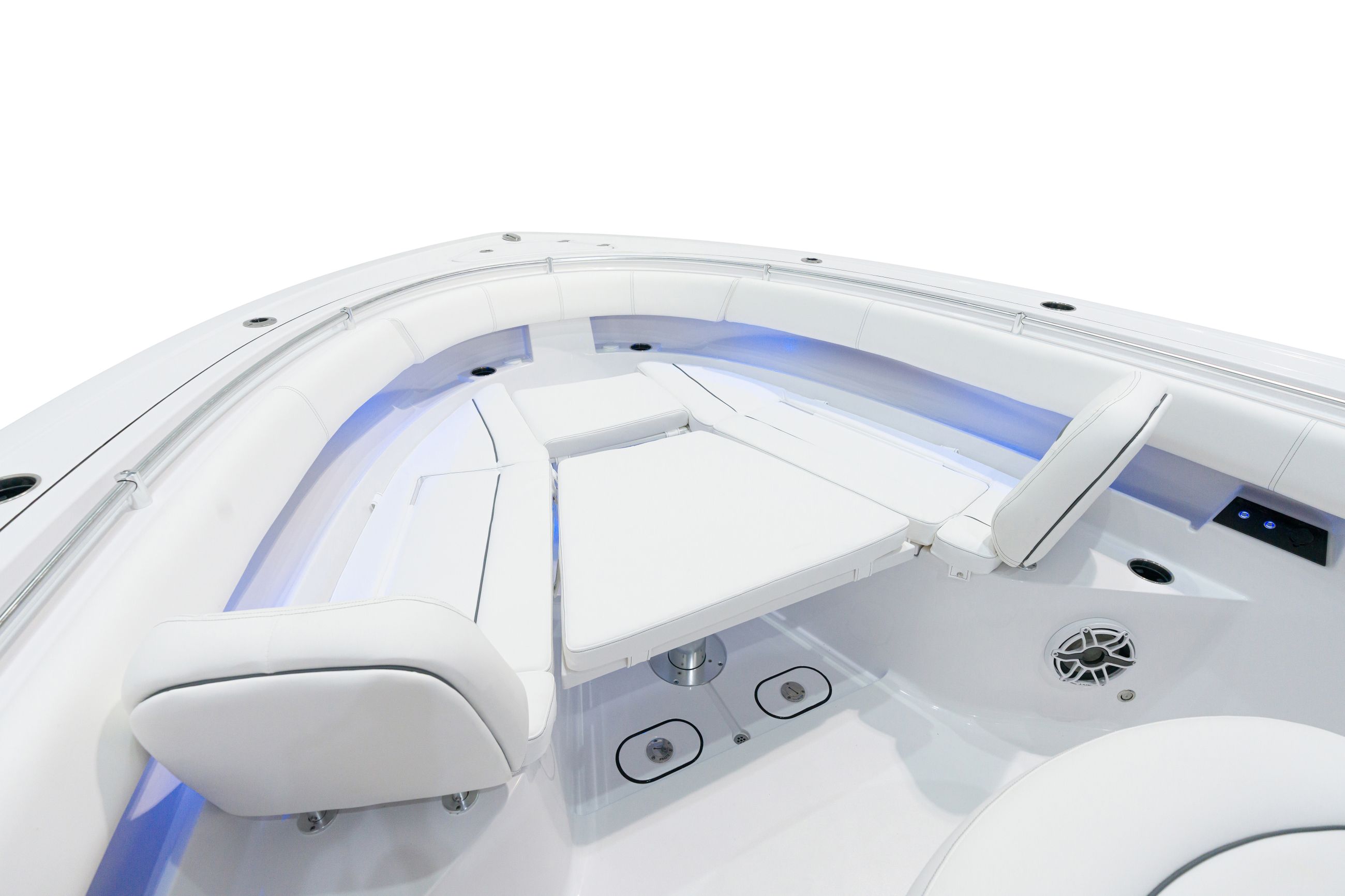 Actuated Bow Sun Deck / Table
A large electronically actuated table is the center piece. There are 3 main functions for this table. At the top position, it serves as a table. Lower it to the middle position and snap-in the additional cushion for the sun deck function. When not in use, lower it flush to the floor for an obstruction-free deck.