SeaStar Maximus DCM Digital Switching System
Redefining Convenience & Innovation
The SeaStar Maximus DCM Digital Switching System eliminates the need to have physical switches on the dash. This not only cleans up the dash of switches but it add longevity to the electrical system of your boat. This is the way of the future and here at Sportsman Boats, we are leading the pack in innovation.

The system communicates through NMEA2000 to your Garmin MFD to add a screen that shows all of your 12v switches, doing away with the need to have physical toggle switches on the dash. You are able to customize the look and feel of the switches as well as create presets and modes with your favorite combination of lights. This type of flexibility is just not possible without digital switching.

To wrap it all up, it also includes a fob that allows you to operate the 8 most used functions on your boat from up to 100 feet away from your Sportsman Boat. This remote can even turn all power on or off on the vessel, redefining convenience and innovation.

powered by
Sportsman Custom Key Fob
8-Button Multi-Function Sportsman Remote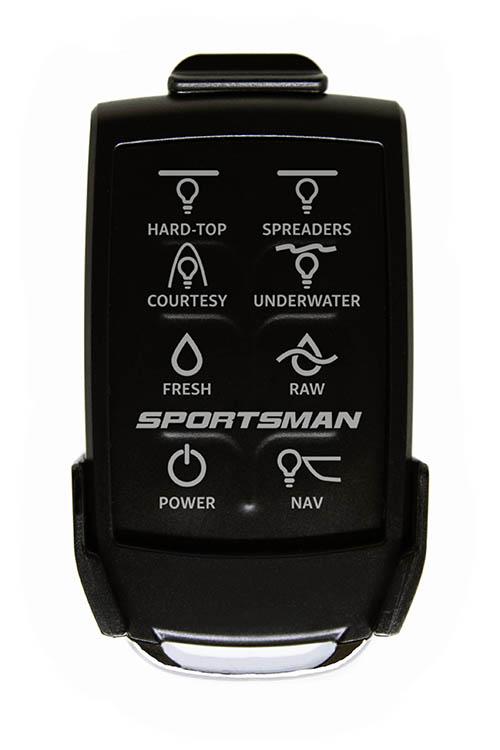 Hard-Top Lights
Operates the blue lights overhead on the Hard-Top.
Spreader Lights
Operates the bright white LED lights located at the front and back of the top.
Courtesy Lights
Operates the blue ambient lighting located throughout the cockpit.
Underwater Lights
Operates the blue underwater lights.
Freshwater Pump
Operates the freshwater pump.
Raw Water Pump
Operates the raw water pump.
Power Button
Operates all of the power to the boat. This button is very similar to the main battery switch, it will interrupt all power to the boat.
Navigation Lights
Operates the red and green navigation lights built into the rubrail at the bow.
Maximus DCM
The Brain Powering The Digital Switching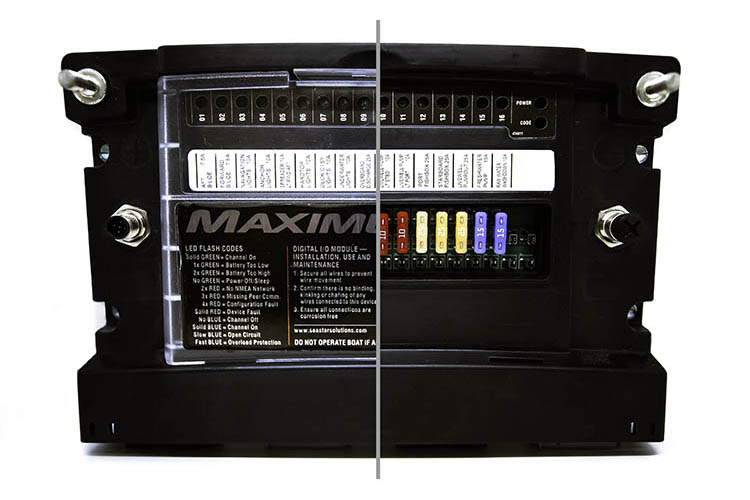 At the heart of the system is the Maximus DCM. The module is mounted inside the console behind your electronics and provides a single source of power and fuses for all 12v accessories on the boat. One of the key features of the unit is the ease of being able to bypass the system and physically turn on any of the ports. The unit ships with all of the fuses in the normal position. Any of the fuses can be moved to the bypass position (as shown in the diagram) to override the system.
As part of the SportLink® package equipped on every Sportsman boat, all of the Gamin & JL Audio components receive 3 years of product warranty. This added value is exclusive to Sportsman Boats only.
"Just another reason to buy a Sportsman Boat."